Tourist Couple Faces Six Years in Prison for Stealing Sand From Beach in Sardinia
A pair of French tourists have been found guilty of attempting to take home nearly a hundred pounds of sand from a beach on the Italian resort island of Sardinia
The unnamed pair claimed they were just taking the dirt back home as a souvenir, according to the BBC.
The duo were stopped as they prepared to board a ferry that sails to Toulon, France. Police found 14 plastic bottles filled with white beach sand—and weighing more than 90 pounds—in the trunk of their car.
They had taken the grains from the beach at Chia, on Sardinia's southern end. Questioned by police, they insisted they were unaware that leaving with Sardinian sand was a crime.
Newsweek subscription offers >
The pair were taken into custody and charged with theft with the aggravating circumstance of having stolen "an asset of public utility."
Sardinia's beaches are one its main attractions but they face dual threats. "One is erosion, which is partly natural and partly induced by the increasing sea level due to climate change," local environmentalist Pierluigi Cocco told the BBC. "The second is sand-stealing by tourists."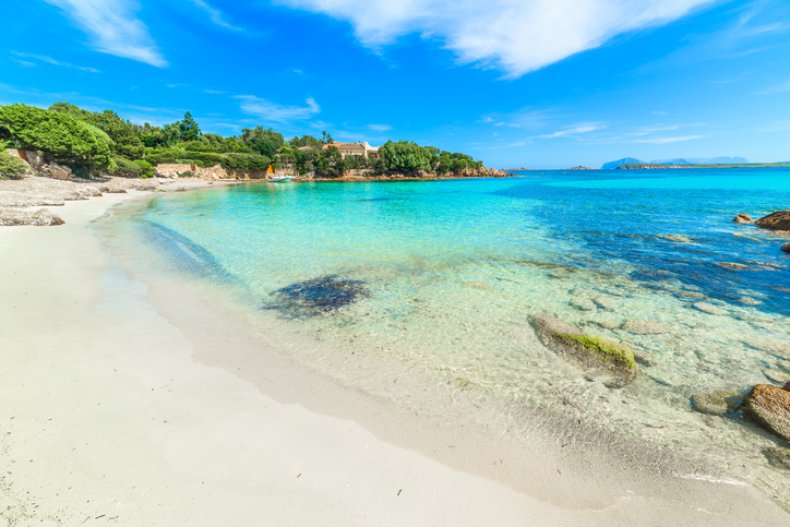 Sardinian sand is a popular item for resale on sites like eBay, and smugglers attempt to remove tons of it every year.
Newsweek subscription offers >
In August of 2017, the island passed a law punishing sand, stone or seashell smugglers with fines and sentences of up to six years in prison.
Sardinia is the second-largest island in the Mediterranean and attracts tourists not only for its pristine beaches but also its unique food, cultural offerings and miles of hiking trails. Nearly three million tourists visit the semiautonomous region each year.
Sand theft has been a longstanding problem: According to The Local, more than ten tons of beachfront dirt has been confiscated in the last decade from suitcases on outgoing flights from Olbia Airport.
Earlier this year, the airport partnered with nature preserves on the island to return stolen sand, pebbles and shells to their point of origin whenever possible. More than six tons has made its way back to Porto San Paolo alone.
Last year, one beach even considered banning large bags and towels to cut down on theft.
But Sardinia isn't the only place dealing with the sand smugglers: Hawaii has long struggled with tourists removing sand from its beaches. Fines in the U.S. state can reach up to $100,000.
And in 2008, industrious thieves in Jamaica made off with 500 truckloads of white sand from Coral Spring Beach in Trelawny. The sand was earmarked for a resort under construction, the Guardian reported, and police believe that it was taken to sell under the table to competing developments.
Tourist Couple Faces Six Years in Prison for Stealing Sand From Beach in Sardinia | News