'Six Years On From Mike Brown's Death, I Have Not Seen The Change We Need'
In 2005 I moved to Canfield Green, the apartment complex in Ferguson, Missouri where Michael 'Mike' Brown Jr. was killed in 2014. I didn't know him, but I lived in a building on a side street off Canfield Drive. My front doorstep is less than 500ft from where he was killed. From my unit, I had to walk across that very same spot in the street all the time to get to my mailbox.
I'm a film-maker, and on August 9, 2014 I was working on a set as a director of photography. I kept getting text messages saying that people had heard someone had been killed in my apartment complex and asking if I was alright. When I came home that night I remember seeing a small makeshift memorial and a gentleman sitting in front of it, looking at it.
The next day I was on my balcony and I could hear chanting. I went out and saw hundreds of people on the street, and I realized the circumstances had to be pretty heinous to bring a crowd of that magnitude. So that was when I got my camera and started to film.
I believe part of the reason the crowd grew in size after Mike Brown was killed was because his body was left in the street for four and half hours in the heat and humidity of Missouri in August—there was shock that a body could lay there that long, a portion of that time uncovered. It was a disrespect of human life that I do not believe would happen in white spaces or affluent areas.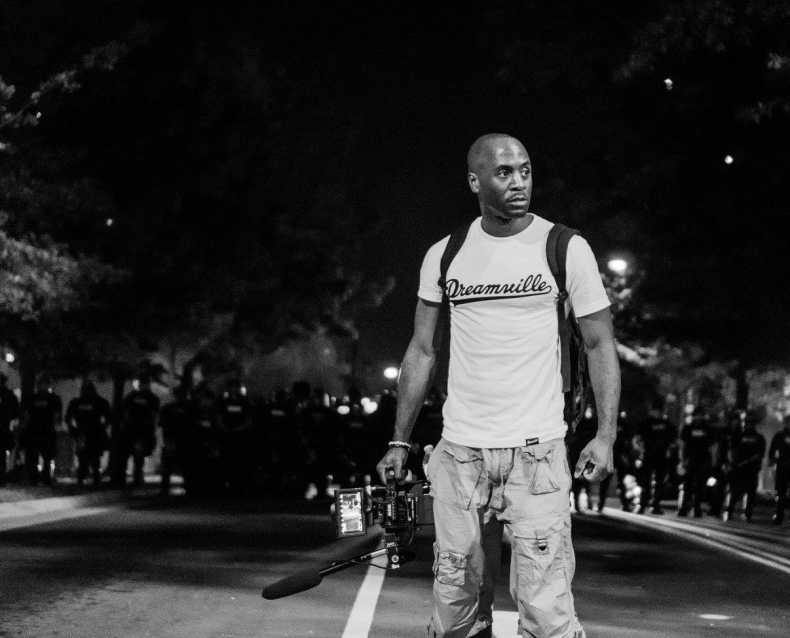 So August 10 was when I really saw things explode in Ferguson. The pain of the people was met with a forceful police response, and further officers arrived from as far as 45 minutes away. My short film Ferguson 365 chronicles that first year since Mike Brown was killed, but also signifies these events happen year-round.
I saw this surge and rebirth of activism that we haven't really seen since the 60s. Once again, Black people; African Americans were at the epicenter of that activism. When Trayvon Martin was killed in 2013 it was horrific and that is where the phase "Black Lives Matter" originated. But it was Mike Brown's death and the Ferguson protests where the movement really gained momentum. The hashtag was used hundreds of thousands of times in the months that followed his death.
Then, in the months that followed, the aggravation felt in the community about the grand jury proceedings provoked me to create a short called 100 days 100 seconds. It took more than 100 days for the grand jury to announce their decision on November 24 and they did not convict Darren Wilson, who killed Mike. I saw the town burn during those protests that day—people were expressing their pain and frustration that once again the system had let them down.
On March 4, 2015 the following year, when the results of the Justice Department's investigation into the Ferguson Police Department were revealed, it showed the racial bias in the police and courts and the discriminatory policing that adversely affects the African American community here. But that seemed to be disregarded by a certain segment of white people. Protests began to dissipate, though there was a large gathering on the date of the shooting.
My objective has always been to make work for people all over the world, so they can understand the authenticity of what is happening. It's not comfortable for some people to watch, but people need to be emotionally moved to be compelled to change.
But Ferguson hasn't changed much, it has not recovered in the six years since Mike Brown was killed. The community is 67 percent African American and the part of the town where I lived in the south east is very neglected. It is a stark contrast to the other side of town, due west, where most of the white residents live and where most of the public resources lie. At the time of Mike Brown was killed, all of Ferguson's top positions, such as police chief, mayor and prosecutor were white and the majority of the police force were white. And we're a town that is 67 percent black, so that impacts us directly.
Since 2014 many businesses have closed, and this was before the pandemic. The handful of new ones don't have as much of a direct community impact. Whereas the community saw the QuikTrip gas station that burned down as a resource because it was the only place we could go for to get necessities after midnight.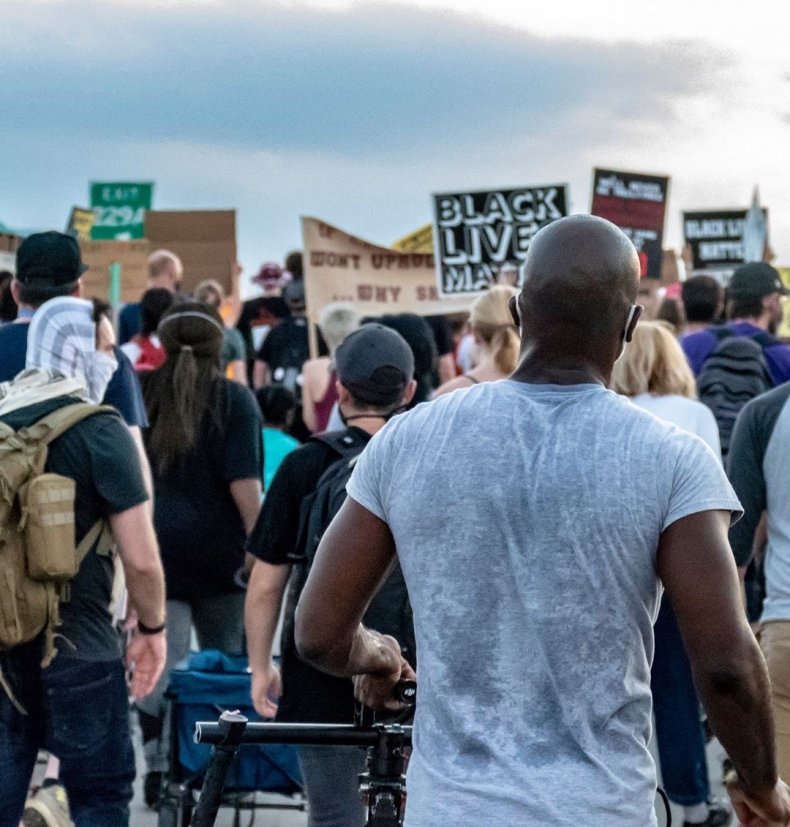 It's unfortunate because there are opportunities in Ferguson to build a bridge between the two sides of town but they haven't been taken advantage of. The mayor said in the first week after Mike Brown's death that there was "no racial divide" in Ferguson. The fact we had a mayor who didn't acknowledge that racism existed speaks to the problem.
So we have a long way to go and there are lots of battles still to be fought. I've been to different places with similar incidents across the country in the years since Mike's death—Baltimore, Chicago and Minneapolis.
In 2020 we are seeing support for Black Lives Matter on a national scale since George Floyd's death. But there were plenty of opportunities to do that prior, like with Sandra Bland and Laquan McDonald. The NFL reversed its stance on player protests and the Black Lives Matter movement that Colin Kaepernick previously took a knee for, indicating to me that some of this Black Lives Matter support may only be because it is trending at the moment.
I was at the protest in St. Louis where Mark and Patricia McCloskey aimed their guns at protesters. There was a photo where I'm holding my camera and Patrica McCloskey is pointing the gun at me, people claimed my microphone was a gun. Seeing that response and false narrative, and how President Donald Trump got involved and gave his two cents to support them—it just shows how polarizing these issues are.
I really have a hard time saying that I've seen true progression in the past six years. The amount of change that has happened is so miniscule; one police department out of thousands doing something, changing a policy or getting body cameras. And accountability has not changed—we don't see consequences for the unjust killings of Black people at the hands of the police, and we don't see laws and policies changing to protect them.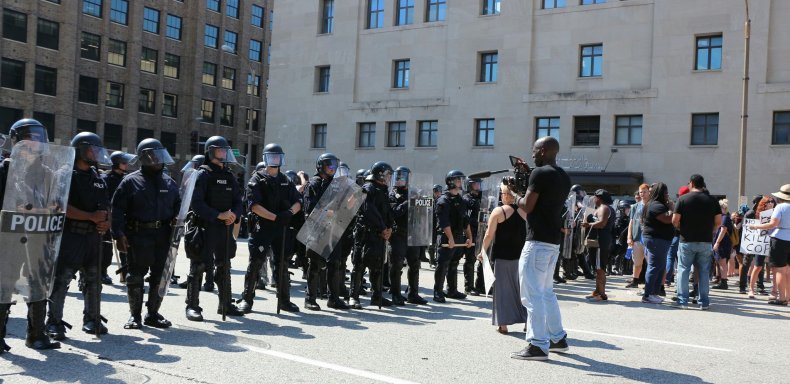 The protests I saw for Mike Brown in 2014 and those for George Floyd in 2020 were very much the same. What was surprising is that six years later the police in Minneapolis didn't appear to have learned from Ferguson protests by the way they handled, there's little attempt to control the situation in a diplomatic way, resulting in lawsuits concerning violations of rights.
When you start seeing chemical munitions and rubber bullets used and innocent people are getting harmed by those things, it enrages people and causes people to come back more frustrated than before. Within minutes of me arriving in Minneapolis for George Floyd protests, I was met with tear gas.
These protests and this movement is not about lifting Black voices higher than any other voice. By now, people know we're not saying that all lives don't matter. It's about making sure there is equity and acknowledging the fact that since 1619, when we were brought over to America as slaves, racism has been built into the DNA of this country. The substantial effect and impact of slavery and racism continues on to this day, it has just transformed. When I hear people saying "All Lives Matter"—all I hear is hate.
Because it's 2020 and there's no excuse for that—we know that people are choosing a side when they're saying that. You just have to consider all the things that had to be established in this country in my mom's lifetime; The Civil Rights Act of 1964; The Voting Rights Act in 1965 and The Fair Housing Act in 1968. All of these things had to be established as law because we did not have those rights. And we haven't had any reparations. Black people have not gotten that and we were brought here on slave ships.
So when people say, "I don't see color," I say that it's important for us all to acknowledge that we see color. Because the fact of the matter is, if you don't see color, you don't acknowledge I am adversely affected because I am Black man—as if racism or white privilege doesn't exist.
I'm trying now to get people excited and reinvigorated about voting, because our ancestors died for that right. But, I also understand why younger Black people aren't as enthused. When we see these constant examples of the systems not working fairly on our behalf—or the lack of justice for Breonna Taylor—people lose their faith in the voting process.
Ultimately we can't put the burden of racism and oppression on Black people. White people have to fix that, it is something they established and created, and that is where the epicenter of true change needs to come from.
That's the biggest challenge. What I try to do with my work is to try to get white people to understand their role. White people have to look at how to dismantle these systems—they need to take steps forward and listen to Black voices.
I do work with homeless people and I give out that food no matter who that person is. If we had a society that looked at every child with that same respect, compassion, and humanity, it would be the world I believe God truly wants for us.
Christopher Phillips is a filmmaker, community servant, and strategist forming Maverick Media Group, a media production company that focuses on film, television, and branding with creative content. His short documentary film "Ferguson 365," appeared in 12 festivals across the globe winning five awards. His cinematography work has been featured in the Oscar-nominated James Baldwin documentary "I Am Not Your Negro."
All views expressed in this piece are the writer's own.
As told to Jenny Haward.