Sixteen inmates at Cook County Jail in Illinois were indicted after a large brawl broke out in a maximum security unit earlier in February.
The February 16 fight left two inmates with puncture wounds that required treatment at local hospitals, a statement from the sheriff's office said. Other inmates were treated for injuries at the jail.
The sheriff's office said that none of the injuries were believed to be life-threatening.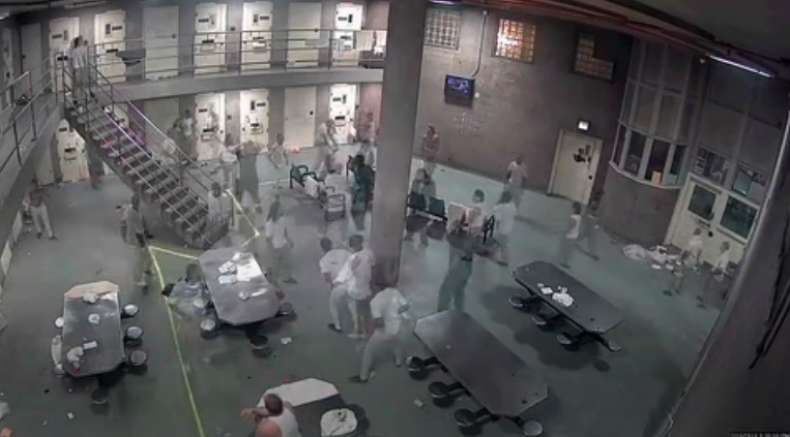 The brawl broke out around 9:30 p.m. local time in Division 9 of the jail and lasted about two minutes, video released by the sheriff's office revealed. According to the Chicago Tribune, the fight began with a shove and eventually escalated into several other fights.
Video showed some inmates trying to stay clear of the fight or taking protective positions near walls. As guards attempted to break up the fight, some inmates could be seen sitting on the ground with their hands up as others continued to fight or get away.
Guards recovered a homemade weapon at the scene of the brawl, the sheriff's office said.
On February 23, a grand jury indicted the 16 inmates on one count of mob action each. The inmates were identified as:
Breily Sotomayor, 24
Richard Duncan, 20
Javonte Daniels, 19
Eddie Howlett, 25
Miguel Webster, 23
Matthew Cobbs, 24
Garlin Minor, 24
Robert Morales, 28
Sylvester White, 23
Eugene Spencer, 26
Larry Woods, 39
James Ford, 29
James Wilson, 34
Nicacio Munoz, 28
Antonio Davis, 28
Devonte Marsh, 22