Sixteen U.S. Marines Arrested On Human Smuggling And Drug-Related Offenses
Special agents from the Naval Criminal Investigative Service arrested 16 U.S. Marines during a battalion formation on Thursday morning for their alleged roles in various illegal activities, ranging from human smuggling to drug-related offenses, Marine Corps officials said.
The Marines arrested are members of 1st Battalion, 5th Marine Regiment, an infantry unit out of Camp Pendleton, located about one hour north of San Diego in California. The multiple arrests stem from a previous human smuggling investigation, officials said in their statement.
Lance Corporals Byron Law and David Javier Salazar-Quintero, who are also members of 1st Battalion, 5th Marine Regiment, were taken into custody by Border Patrol agents earlier this month on July 3.
The pair of Marines are facing federal charges for their alleged attempt to smuggle undocumented immigrants further into the United States in exchange for $1,000 in U.S. currency. Quartz first reported the federal complaint.
However, Major Kendra Motz, Communication Strategy & Operations Director for the 1st Marine Division, said in an email update on Friday that the Marines have not been charged. Should they be charged with a crime, the commanding officer of 1st Battalion, 5th Marine Regiment, will "act within his authority" to hold the Marines accountable, Motz said.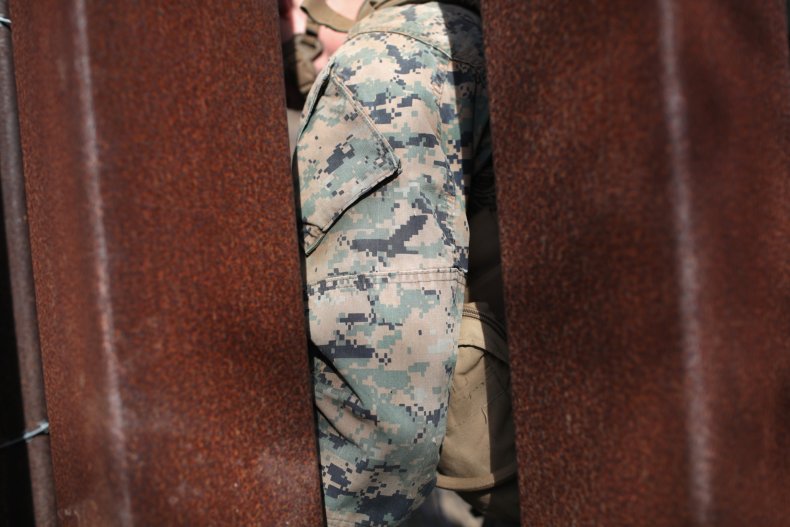 The three immigrants who were arrested identified Law as the driver of the car that picked them up on July 3. Two of them said they were going to pay $8,000 in U.S. currency to be smuggled into the U.S.
Officials also said in their statement an additional eight Marines were questioned regarding their possible involvement in alleged drug offenses in matters unrelated to the arrests Thursday morning.
Military authorities said none of the Marines arrested or detained for questioning served in support of President Donald Trump's southwest border mission.
1st Battalion, 5th Marine Regiment returned from a seven-month overseas deployment as apart of the 15th Marine Expeditionary Unit. Lieutenant Colonel Eric M. Olsen took over the battalion in May 2018.
In September 2018, Olsen had his unit complete an organizational climate survey from the Defense Equal Opportunity Management Institute. The survey is taken by service members anonymously and on a voluntary basis.
Newsweek obtained the climate survey through a Freedom of Information Act request. 426 members of 1st Battalion, 5th Marine Regiment took part in the survey that measures a wide spectrum of issues, including, the behavior of unit members. You can read the full report at the bottom of this article.
In the survey, 1st Battalion, 5th Marine Regiment leadership ask Marines, "What do you know about this unit that leadership does not know but should?"
One respondent said, "Hazing takes place but Marines are too scared to tell because they fear no one will believe them or nothing will happen and it will get worse for them or the rest of the Marines will push him away." While another listed off some of the battalion's cultural issues, "Hazing, underage drinking, drugs, cocaine."
Newsweek sent an inquiry on Thursday to 1st Marine Division seeking information about what measures the battalion took after receiving the data and information from the September 2018 command climate survey. At the time of publication, no response had been received.
"1st Marine Division is committed to justice and the rule of law, and we will continue to fully cooperate with NCIS on this matter," said officials in their statement Thursday. "Any Marines found to be in connection with these alleged activities will be questioned and handled accordingly with respect to due process."
This article has been updated to include a statement from Major Kendra Motz, Communication Strategy & Operations Director for the 1st Marine Division.