Sixth Skier Dies After Alpine Snow Storm Traps Group on Mountain
Six skiers have died after they were stranded in the Swiss Alps by an unexpected snowstorm on Sunday.
Four people had already been confirmed dead on Monday, and two more succumbed to their injuries on Monday night, Reuters reported. Another two climbers died after becoming stranded further to the east and a Russian climber is missing in the Pennine Alps. The BBC reported that another two skiers also died in separate accidents across the border in the French Alps.
The group of 14 ski hikers were attempting to reach the Vignettes Hut in the Pigne d'Arolla area of the Swiss Alps on Sunday. They were traveling along a route known as "The Serpentine."
Before they could reach the stop—which sits at an altitude of 10,357 feet—a snowstorm descended on the mountains and stranded them in the open.
The group was trapped on the mountain overnight at a height of around 10,730 feet, police said. Several members of the group were suffering from hypothermia. In the morning, an employee at the hut realized the group must have spent the night outside and alerted the authorities, who launched a search and rescue mission with seven helicopters.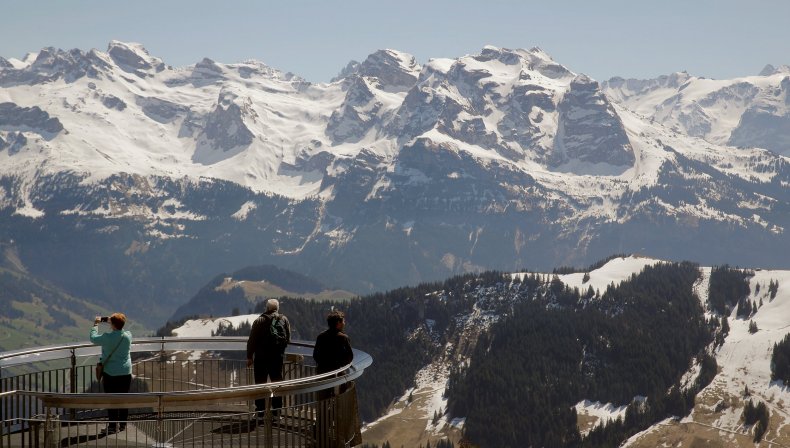 One of the victims was already dead when rescuers arrived, likely as a result of a fall; the other five died in the hospital. Another three women remain in the hospital, one of which is in a critical condition. Several others have been treated for non-life threatening hypothermia.
The group was made up of Italian, French and German nationals, and police said they are working to identify those involved and contact their families. Italian media has reported that five of dead were Italians and include the group's mountaineering guide. The other fatality is believed to be a Bulgarian woman.
The bodies of two climbers were also discovered further east in the Bern canton on Monday, police said. The 21- and 22-year-old had been missing since Sunday, but bad weather slowed search and rescue attempts.
Multiple accidents have been reported in the Swiss Alps in recent weeks. German retail billionaire Karl-Erivan Haub is still missing after going on a solo ski excursion earlier this month. Police called off the search and rescue operation after seven days, admitting they had given up hope of finding the 58-year-old alive. The search for his body continues.
On March 31, three Spanish skiers died in an avalanche in the Fiescheralp area of the Swiss Alps. Poor visibility meant rescue operations were called off overnight and the bodies were only discovered the next morning. Two others skiers were injured and taken to the hospital.
According to the Swiss Alpine Club, 154 people died in Swiss mountains in 2017, mostly while hiking and mountaineering.