'The Size of a Fig': Man Creates Dish Each Week Using Ingredient the Size of Growing Baby
Two expectant parents have gone viral on TikTok for sharing their fertility journey with the internet. In their latest iteration, the couple shared one of the ways they are celebrating big news—a baby on the way. Each week, the dad-to-be has created new recipes using ingredients inspired by the size of their growing baby.
The first two videos of the series, which have each received over 1 million views on TikTok, is not the first time Rachael and Tom Sullivan have shared intimate parts of their lives with the internet. In February, TODAY reported about the secret Instagram account Tom created chronicling the recipes he was making for his wife after being diagnosed with polycystic ovary syndrome (PCOS.)
She told TODAY that doctors recommended a gluten- and dairy-free diet to help regulate hormones "and Tom just went full force into it." Rachael said she discovered his secret food account in the "people you may know" section of Instagram and was touched.
TODAY reported that in the days after telling the story of her husband's secret account, @mealssheeats, to her TikTok followers the account went from 69 followers to over 6,000. Today, almost a year later, the account has over 160,000 followers.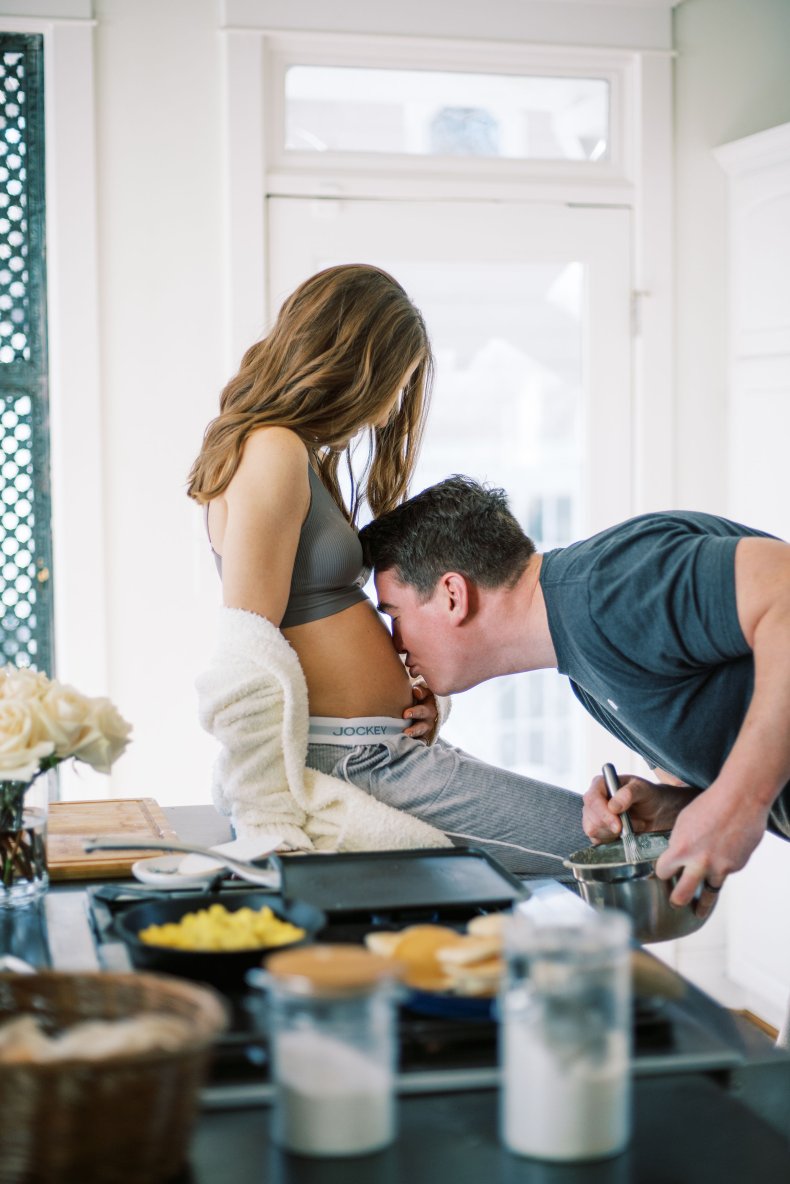 Tom told Newsweek that while at the time of the diagnosis they were not trying to get pregnant, they thought they'd try to get ahead of any fertility issues by introducing the new diet.
"And—it worked!," he told Newsweek.
The new series of videos showing Tom's new cooking adventure started January 2, which Rachael shared on her Instagram was week 11 of her pregnancy and her baby was the size of a fig.
"Every week my husband makes a dish with food that is the size of our baby...," she wrote over the video posted to TikTok from the account @rachsullivan__.
In the video she walks up to her husband who is standing over his creation: a pizza made using the week's special ingredient—figs.
The following week, on January 11, Rachael posted the second video in the series where she shared that her baby was now the size of a lime. To celebrate, her husband concocted a "mocktail" topped with none other than a slice of lime.
Tom told Newsweek that when developing the recipes he keeps in mind his wife's food aversions that have come along with the pregnancy.
"It's not like she has a bite and she's nauseous," he said. "It's like if I talk about she's like 'nope!'"
He said after finding out the "mystery basket item," he will start listing ideas and as soon as Rachael hears something she likes he knows that that's what's up next.
Rachael told Newsweek that upon entering her second trimester her cravings have geared toward dessert items—a 180-degree flip from her cravings during the first trimester.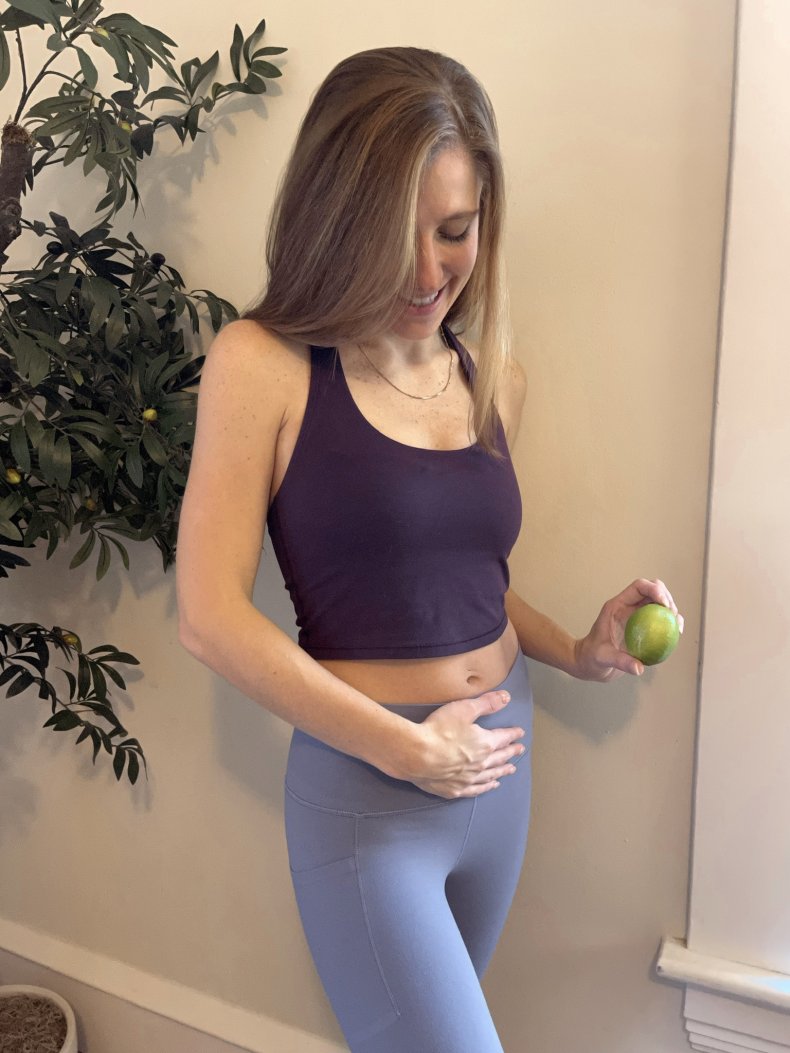 With next week's item, peach, she said she's looking for something sweet.
Commenters could not get enough of the feel-good videos, leaving hundreds of messages complimenting the excited parents-to-be.
"The absolute enthusiasm and joy illuminating from both of you is truly a gift to see," one commenter shared. "[T]hank you for sharing these moments!"
"Does he have a younger brother or cousin that's equally as sweet and thoughtful?!," another wrote.
Rachael, who is a flight attendant, shared footage of her countdown to telling Tom when she first found out she was pregnant. Starting with "23 hours and 3 flights" before all the up until moments after, this video also went viral with over 5 million views.
Rachael told Newsweek that she has always been an open person and growing up she felt like topics such as heavy menstrual bleeding or missed periods and cramps, which ended up being symptoms of PCOS, were taboo—or just accepted as normal.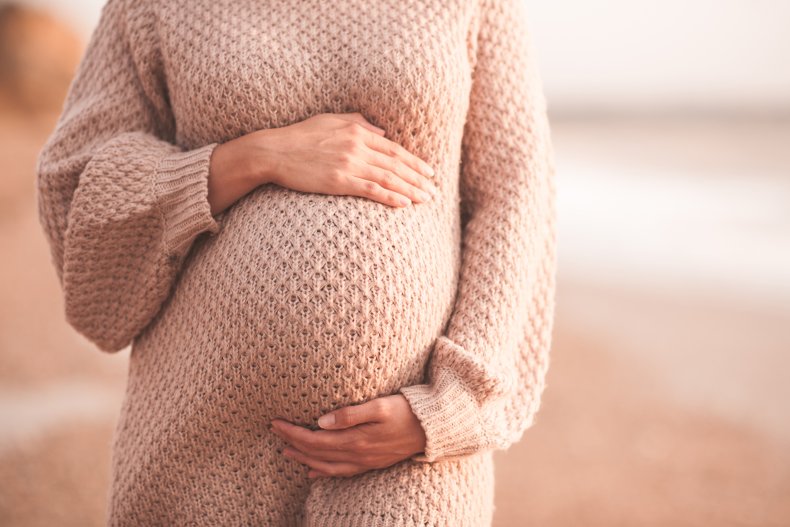 "I just wanted to share with the world, you should not be bedridden for six days with your period...," she said. "I didn't have anyone to look up to talk about these things."
The couple told Newsweek they just finalized a deal for a book that is underway and will be a combination of recipes and a lifestyle guide about how to manage PCOS. The book is expected to hit the shelves at some point in late 2022 or early 2023.