Skai Jackson Jodie Woods TikTok Drama Explained Amid Bullying Allegations
There's beef going down on TikTok after a prominent user on the platform made false accusations against actress Skai Jackson.
A TikTok video went viral today (April 1) in which user Mia J, accused the Jessie star of bullying Jodie Woods—the younger sister of Jordyn Woods, who was embroiled in a Kardashian cheating scandal in 2019.
On Wednesday, Mia J shared a video that suggested Jackson was gaslighting and bullying Jodie Woods on Instagram by duplicating images that the younger Woods sister posted to her social media. Titled "Surviving Skai Jackson," Mia J also claimed that the actress made her life "hell."
This prompted Jordyn Woods to post a video in which she said she will not stand for people "messing with my family."
However, the 23-year-old model said the person was "much older" and as Jackson is only 18 years of age, fans speculated that she was referring to someone else.
Now leaked screenshots of messages between Mia J and Jackson have been circulating that show the bullying allegations were false, with Mia J even attempting to extort $3,000 from the actress and influencer in exchange for taking the video down.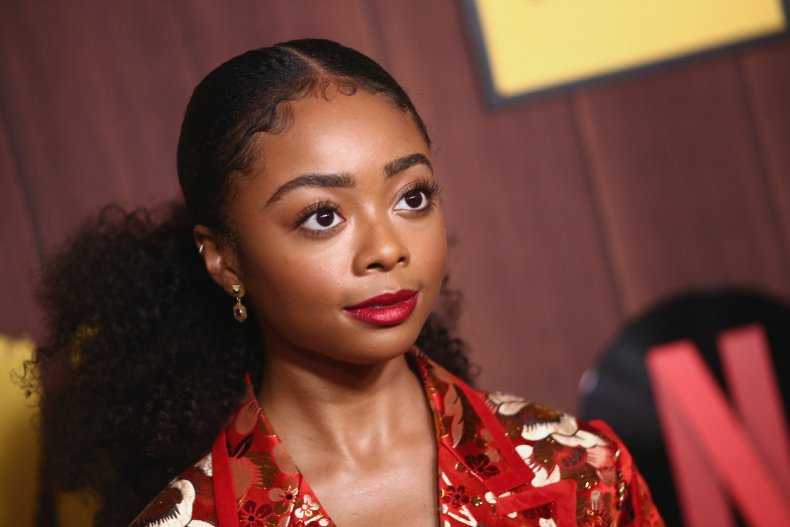 "I didn't know that it would even go viral but that's how I make my money," Mia J can be responding in the screenshots.
Jackson took to Instagram to address the allegations against her and denied ever having an issue with Jodie Woods.
"Please stop with this fake news.. Jodie and I have talked, we have never had any drama, and people are trying to make something out of nothing on both ends. Y'all are very quick to believe something on the internet," Skai wrote on her Instagram stories.
She added: "Again, that dm of 'Jodie' is not her.. it's FAKE. people are trying to make something out of nothing. Stop believing everything you see on the internet."
Instagram gossip account, The Neighborhood Talk posted details of the drama on Wednesday, prompting Jackson to respond.
"Exactly... making fake dms on both ends and LYING for attention and money. It's sad they want to pin two black, successful girls against each other," she commented. "Like what did you gain from this?"
However, Mia J later posted another video with the caption: "The messages I provided are real. The story I told is real. Skai is messy asf and anyone that is associated with this little girl is as well."