Monday night on Dancing With the Stars may be emotional for Disney Channel star Skai Jackson. The Bunk'd actor will use her dance to pay tribute to her late friend and colleague, Cameron Boyce, who died in July 2019 from a seizure.
Boyce and Jackson stared together on the Disney Channel show Jessie from 2011 to 2015. His death shocked the Hollywood community, particularly those from a Disney Channel background, and Jackson is just one of many to share grief for the young loss.
So, Jackson will channel her love for Boyce through dance. The Dancing With the Stars celebrity will take the stage Monday night with a Foxtrot to the John Legend song "Ordinary People."
How, exactly, the song will reflect on Jackson's friendship with Boyce is still unknown.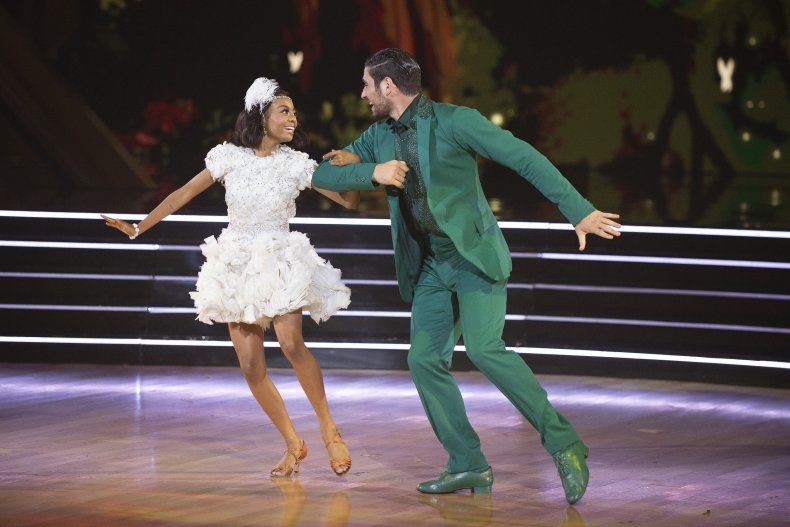 Jackson has been vocal about her connection to Boyce. "He was just such a loving down-to-earth person—how you saw him is how he really was," she told Good Morning America in 2019. "I miss him, and we'll just continue his legacy and do everything that he would want to do."
Most recently, Jackson shared photos and videos of Boyce on her Instagram feed for what would have been his 21st birthday in May. Before that, though, Jackson shared memories that included Boyce very often—so often that some of her followers took an issue with it. Jackson responded to a now-deleted comment that suggested she let Boyce "rest in peace" instead of bringing up the memories repeatedly.
"I've known Cameron for half of my life. He was a brother to me/all of us.… " she replied in a comment screenshotted by The Blast. "I can do as I please just like take pics with your mouth open…not flattering girl."
Jackson's foxtrot, however emotional, may be crucial for her to stay in the competition on Monday night. Last week, she danced a jive to The Princess and the Frog's "Almost There." But her scores didn't help her too much in the competition. Jackson got an 18/30 from the judges, who said the performance was "stiff."
Due to the score, Jackson found herself at the bottom of the group and narrowly missed the bottom two. Tiger King's Carole Baskin was sent home after dancing to the "Circle of Life" over Anne Heche, who was also in the bottom two for her "Zero to Hero" quickstep. You can catch up on the full episode here.
Dancing With the Stars will air on ABC Monday night at 8 p.m. ET.