Real swagger means being (and feeling) cool without trying, a.k.a. the cast of Skate Kitchen. Based on character alone, they stand out as an engaging, intelligent, compelling group of women. I know first-hand. I peeped Nina Moran racing down the side streets on the cusp of Downtown Brooklyn, where I lived years ago, near Flatbush Avenue Extension and Tillary. Under the Brooklyn-Queens Expressway and next to an abandoned playground is a renovated skatepark that was only blocks away from my barren loft building. It was hard to miss Moran, and others, fearlessly cruising in neons alongside traffic barreling toward the Manhattan Bridge. A few YouTube holes later, I was following Skate Kitchen on Instagram. This location is present in the film, which arrived in select theatres last weekend.
Skate Kitchen is based on a true story. It follows Camille (Rachelle Vinberg), a kid from Long Island desperately in need of a crew who understands her … and who can keep up with her on rolling fours. The top half of the film sees Camille fulfill that dream. She stalks a women's skate group dubbed "Skate Kitchen" on Instagram, and becomes a part of the crew (after running away from home, of course). That was the first sign that Skate Kitchen may veer away from its inherently engaging flat premise and plot, but at that point I didn't care. The film was still presenting a comforting picture: six teenage girls talking smack to fuckbois wearing long-sleeve graphic tees and fanny packs in the Lower East Side.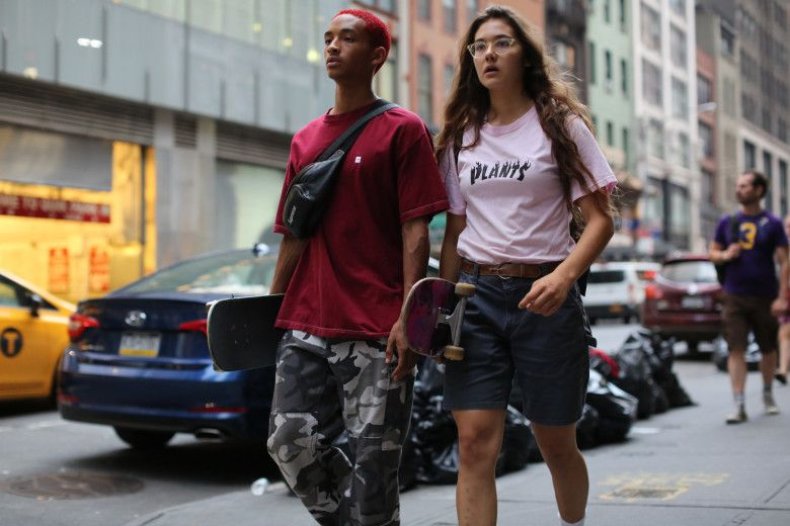 Skate Kitchen gave me what I hoped for and more: teen girls stomping on prescribed identity and standing up for themselves in BDE environments, skills that will benefit them all their lives. But after Jaden Smith is introduced midway, Skate Kitchen starts to send mixed messages. He isn't the girls' protector, a welcome twist. He's actually an asshole, until he notices a girl can shred. As his relationship with Camille grows, she's attracted to his lack of character. And that's confusing, not because that doesn't happen in real life, but because it was irrelevant to begin with. It's a movie about skate culture, and Camille already had everything she wanted—a social life and solid BFFs to shred with — yet all of this changes for a boy who dyed his hair because his favorite color is red.
Sure, we lust after shitty people all the time. What makes it harder to take in Skate Kitchen is that Camille fails to challenge or even question the shift in narrative; instead, the secret romance blossoms into a dramatic teenage girl-fight. No, not it's not just passive aggressive texting, it's a full-on brawl. While implemented as a plot twist of sorts (turns out, her friend used to "date" him until he became disinterested), the real surprise here came from the film's sudden willingness to abandon its foundational themes.
Skate Kitchen presents itself as content without the trappings of a traditional plot. It finds grounded surrealism largely due to its compassionate storytelling, playing to Crystal Moselle's strengths as a documentary filmmaker. Its first hour is a quiet, humble coming-of-age drama that never commits the sin of trying too hard, and succeeds even if you don't like skateboarding. And for that reason, the third act is forgivable, but not forgettable. Camille ditches her Skate Kitchen crew for a group portrayed as "better, faster, stronger" dude skateboarders. A film about the challenges of being a girl within skate culture ends with the girl needing validation from the men, not the perspective in its reverse. And maybe that was the point: the ending shows the women without concern for what the guys think, skating into the sunset together. But somehow, Smith's presence, while not a terrible performance, made it all the more unnecessary.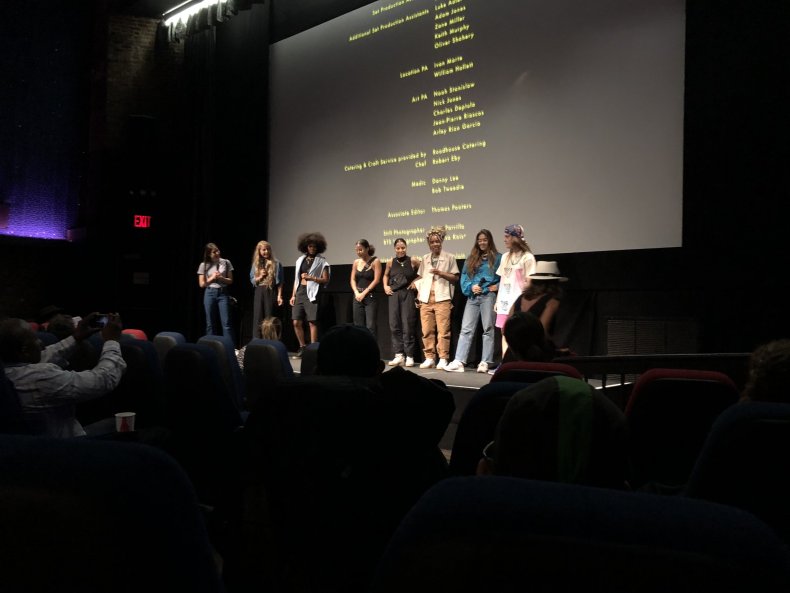 Walking out of Skate Kitchen is like dipping your head in the fountain of youth without a fluffy white towel to dry off. It starts off rooted in imaginative bliss and ends with a fictional smack of unnecessary reality. Still, it's hard not to appreciate the authentic performances from Vinberg, Moran, Jules Lorenzo, Ardelia "Dede" Lovelace, Kabrina Adams and Brenn Lorenzo. It's a refreshingly modest, vibrant, funny coming of age story. Just go ahead and follow Skate Kitchen on Instagram already.