Skechers GOrun Razor Excess Review: Bouncy, Everyday Running Shoes That Are Mostly Comfortable
Not all running shoes are tuned the same way. Some are geared toward comfort and helping you make it to your finish line, while others are meant to be fast. The Skechers GOrun Razor Excess running shoes are firmly in the speed camp. While these don't have any special plates or materials embedded, these shoes are for people wanting to keep pace with their own personal records.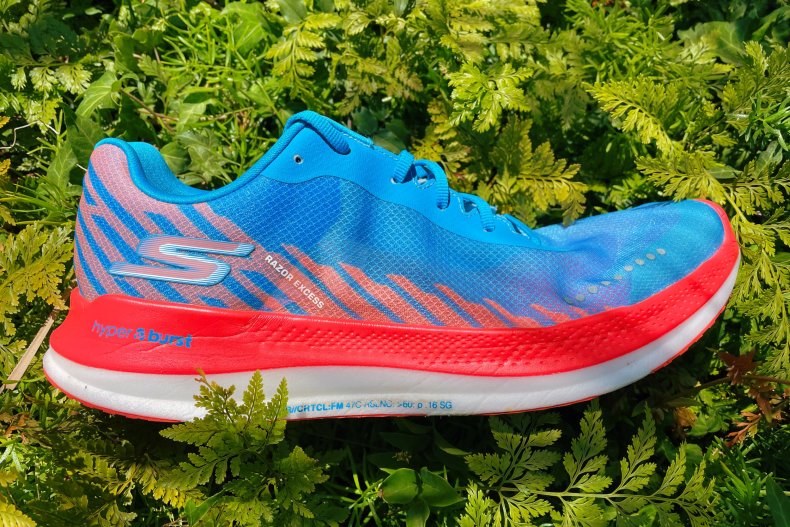 I spent more than 50 miles in these shoes to see how they felt and performed. I got to compare both of those things when they were fresh and new as well as after they had been worn in a bit. Although they aren't flawless, I do think they are successful in their purpose. The shoes are speedy, capable of daily wear and mostly comfortable while helping you move quickly.
Fit and Feel of Skechers GORun Razor Excess
Like most running shoes meant for speed or tempo runs, these have a minimal feel and appearance. The midsole is compact, while the upper is thin and breezy. Similar to New Balance's FuelCell Rebel v2, the upper here is transparent. Unlike the Revel v2, however, these Razor running shoes use an upper material that is more rigid and, ultimately, one of the only reasons they aren't unapologetically comfortable.
Skechers calls the upper an athletic mono mesh. While it might be mesh in that it allows air to flow through with ease, it doesn't feel like other, softer mesh fabrics. This one is more plasticky than it is soft. In my experience, its creases around the front of my shoe can hit sharply and have been noticeable at various times across all my miles. I actually began to notice the upper poking my foot more as the miles piled up than I did the first few runs. This wasn't an every time occurrence, though—just enough to leave a memory.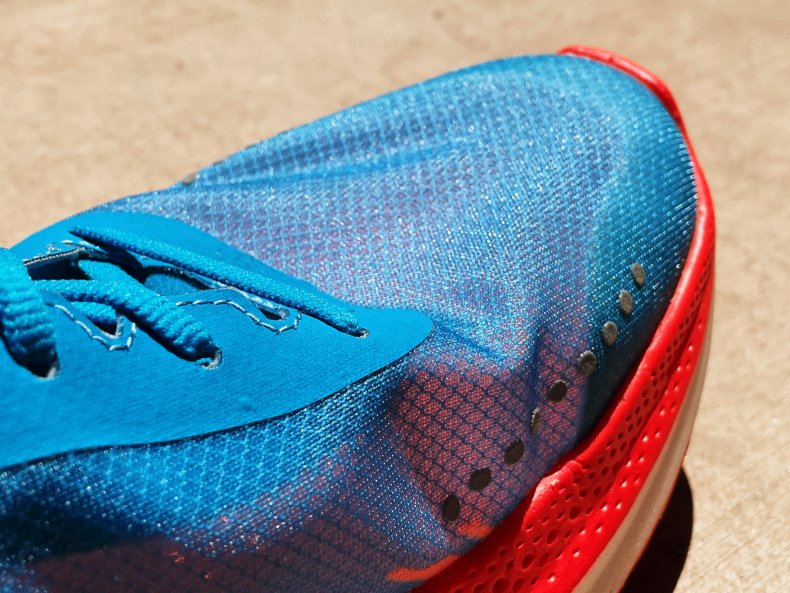 That's why the upper material is not a deal-breaker like a small, cramped toe box might be, but it is the least flattering aspect of the shoes.
Out on the road, the GOrun Razor Excess midsoles feel firm but include a bit of bounce. This is a result of the Skechers' Hyper Burst midsole cushioning. The shoes also feature a Hyper Arc rocker bottom to promote a smooth running stride. All of these elements felt great. The heel always stayed secure, and the toe box provided enough room so my toes didn't bump up against the front. My 10.5 shoes felt true to size and weren't too large or small.
Skechers Razor Performance
In the last six months I've spent time with similar shoes from New Balance, Hoka One One, On, Reebok and Allbirds. All of these have revolved around daily wear and faster rather than slower use. These Skechers fit into that collection of competitors nicely. Like the others in that group, the GOrun Razor Excess don't have any plates—carbon fiber or otherwise. They are just lighter-weight shoes with responsive foams. This makes the Razor Excess perfectly suitable for everyday use.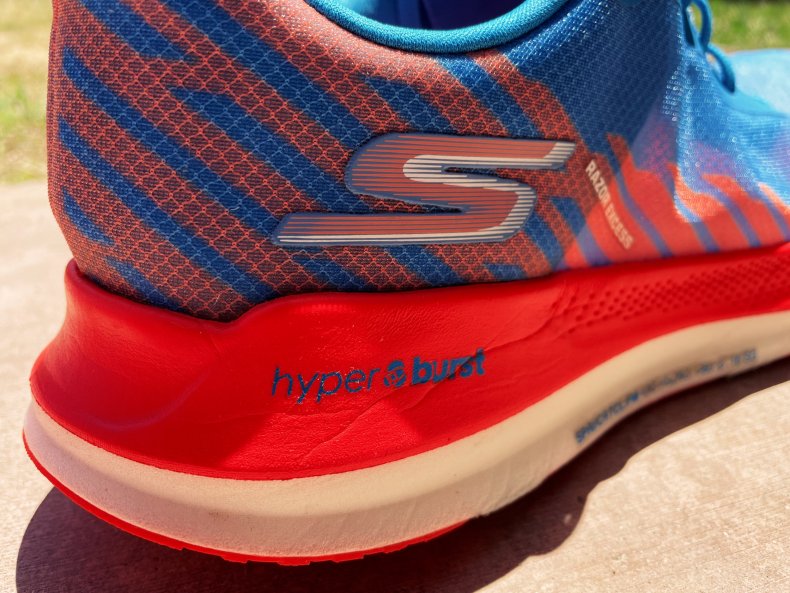 I typically stick to 3 to 5 miles in my daily runs. Within that context, I didn't have any issues with the midsole being too firm or hard. The Hyper Burst midsole from Skechers provides enough cushioning—a stack height of 26 mm to 30 mm—mostly to blunt the harshness of the road during short- to mid-range distances. My 6-mile run made me hesitant to push these shoes much farther. These likely won't be as enjoyable after 7 to 8 miles, but that decision will be more about knowing your body, legs or feet.
The shorter distances were enjoyable, though. Even in miles 3 and 4, I still noticed a bit of bounce in the midsole foam. But, more than that, I really liked the rocker curvature of the shoes. Skechers calls this the Hyper Arc and says it adapts to your stride and provides a smooth transition. I'm not sure about its claim of adapting to my stride, but I did notice a natural rolling stride, which I assumed could be attributed to the Hyper Arc.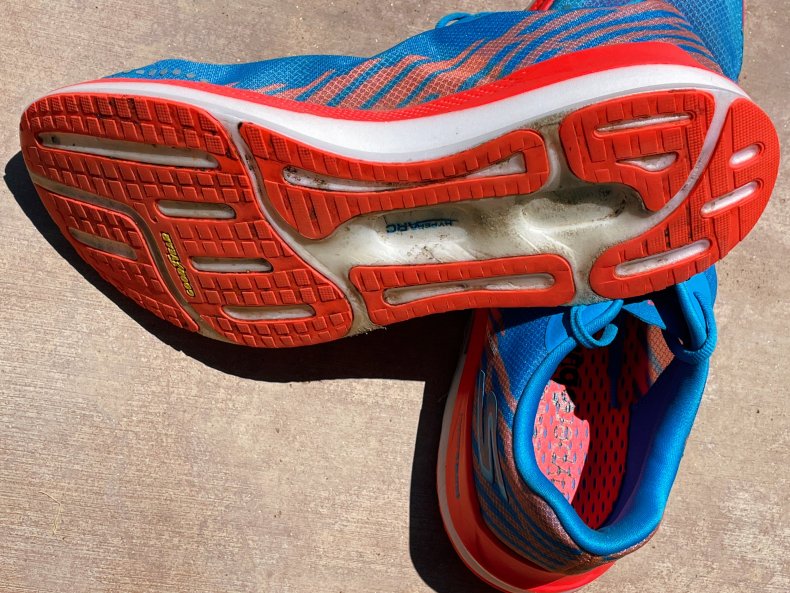 Traction from the Goodyear Performance outsole was as expected. These summer months provide less opportunity to give the GOrun Razor Excess a thorough, rainy test, but with their thinner material, these are also better suited to spring and summer seasons anyway. With over 50 miles on them, I didn't see any unexpected wear or signs of quick deterioration on the outsole.
From the first run, out of the box, these shoes felt locked in and comfortable. The thing I am trying to identify with shoes in this category is whether they mostly disappear or not. Daily use, mostly fast running shoes should become familiar and unobtrusive, in my opinion. The GOrun Razor Excess succeeded here. Did they increase my speed? Not really. That was on me. The shoes were responsive enough and have the traction to do so with a runner pushing them.
Should You Buy Skechers GOrun Razor Excess?
When you don't consider the price, these GOrun Razor Excess shoes are fantastic for daily use running. There's no reason not to give them serious consideration. When the $140 retail price is baked in, however, they become a little harder to justify. There are a couple of other brands with similar shoes that achieve roughly the same results but at a lower cost. If you're familiar with and a fan of Skechers' running line, then these might be worth the few extra bucks to slip into what you're already comfortable with.
Buy at Skechers.
Newsweek may earn a commission from links on this page, but we only recommend products we back. We participate in various affiliate marketing programs, which means we may get paid commissions on editorially chosen products purchased through our links to retailer sites.