Skier Falls to Death Attempting National Park's 'Apocalypse' Slope
A skier fell to his death on Sunday while attempting a national park's notoriously dangerous slope.
Radcliff Spencer, 27, of Jackson, Wyoming, fell while attempting to ski the "Apocalypse Couloir," located in the Death Canyon area of Grand Teton National Park, the National Parks Service confirmed. A couloir is a type of slope or gully known to be extremely narrow and steep. The Apocalypse Couloir, in particular, is considered "highly technical and dangerous" by skiers and snowboarders.
Spencer's fall was witnessed from afar by a climber in a nearby part of the park. Once alerted, Grand Teton National Park rangers and Teton County Search and Rescue responders jointly hurried to help him. Upon their arrival, Spencer was found unresponsive. Resuscitation efforts were unsuccessful, however, and Spencer eventually succumbed to his injuries. Spencer had gone to the park with four other people, who also needed to be rescued following his death.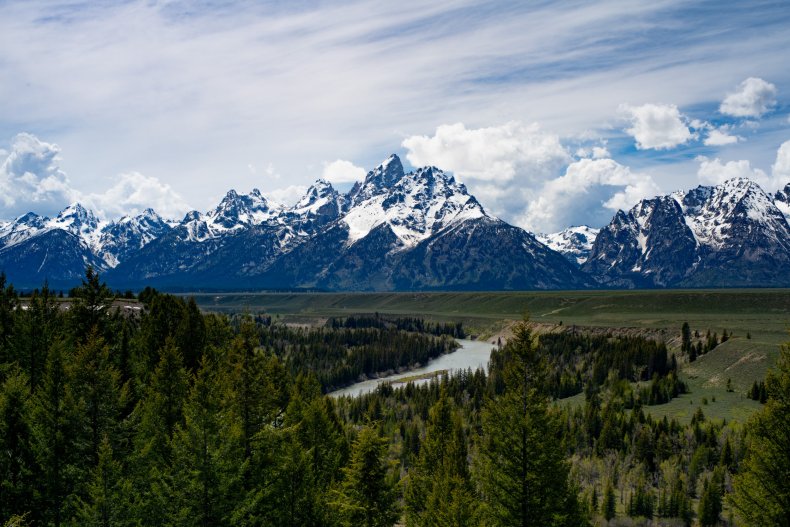 "The remains of the deceased were flown from the backcountry and transferred to the Teton County Coroner," the National Parks Service said in its official statement on Spencer's death. "The four remaining members of Spencer's party were transported out of the canyon via helicopter."
The precise cause of Spencer's fall is not known at this time. Officials at Grand Teton told a local news outlet, the Jackson Hole News and Guide, that an avalanche is not believed to have been the cause of the accident. The avalanche danger in the park was determined to be low on Sunday, though they have in the past been caused by the likes of skiers, hikers and snowmobile riders.
"While the snowpack remains generally stable, hazards still exist and may carry high consequence in technical terrain," the statement continued.
Newsweek reached out to the National Parks Service for comment.
On January 22, a snowboarder triggered a small avalanche in Grand Teton's Silver Couloir. A skier was caught up and swept away by the snow, but only ended up sustaining a hurt ankle.
"This incident serves as a good reminder of how quickly a small avalanche can become hazardous in steep terrain," park officials said at the time. "This was an unfortunate event that could have had a worse outcome.
As of January 25, eight people had been killed by avalanches during the season, according to the Colorado Avalanche Information Center. Avalanche season, the period of time when such events are more common, runs from December through April.