Skier Who Triggered Avalanche Clung To Tree To Survive
A skier inadvertently triggered a "large" avalanche last month in the Gore Range of Colorado but managed to avoid getting swept down the mountain by holding on to a tree.
A Facebook post published by the Colorado Avalanche Information Center stated that this was the first large backcountry avalanche triggered by a person the organization recorded since January 12.
"With a LOW (Level 1 of 5) danger, human-triggered avalanches are 'unlikely' and 'isolated,'" the post read. "One dangerous avalanche in more than two weeks fits the unlikely nature, and one avalanche across the state is isolated."
The National Weather Service describes an avalanche as a rapid flow of snow down a hill or mountain. These events can happen on any steep slope as long as conditions allow for them, though some avalanches are more dangerous than others based on the time of the year and the location.
"In 90 percent of avalanche incidents, the snow slides are triggered by the victim or someone in the victim's party," officials with the National Weather Service stated. "Avalanches kill more than 150 people worldwide each year."
For an avalanche to occur, a slope is typically steeper than 30 degrees. Additionally, it may happen following a recent avalanche, or if the snow is unstable. The avalanche can be triggered by a number of factors, including people, new snow and wind.
Those who are going out on a mountain are encouraged to pack three "avalanche safety essentials." A transceiver can help a victim be found if they are covered by snow. Someone with a shovel can dig out a partner and having a probe helps locate someone covered by snow.
Ethan Greene, the director of the Colorado Avalanche Information Center, told Newsweek the organization provides information about avalanche conditions and can provide support for search and rescue teams when needed. He said he has not been in contact with the skier who clung to the tree during the avalanche and did not hear whether they were injured.
He explained that the severity of an avalanche can vary. Some people who experience avalanches may walk away unscathed, though some avalanches have proven to be deadly events. Greene also noted that the 10-year average for people getting killed in an avalanche is six. Last winter was the deadliest winter since the early 1990s, with 12 deaths resulting from an avalanche.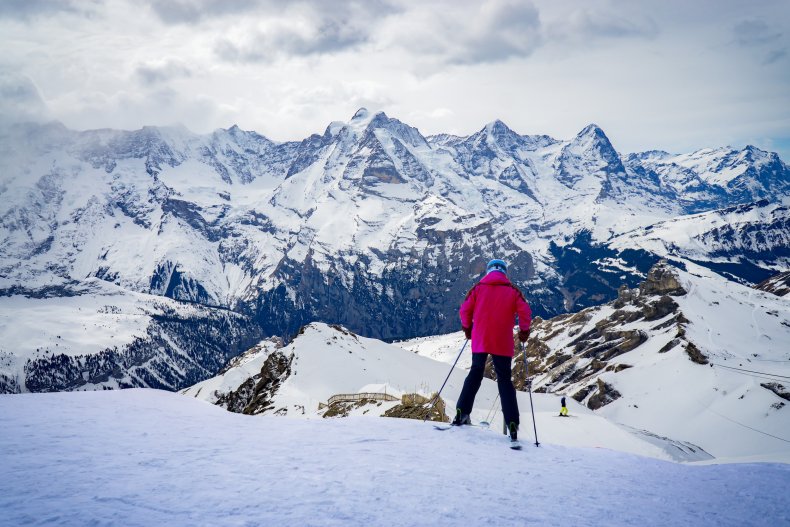 In January, two college students rescued a dog buried under piles of snow during an avalanche in Colorado.
Newsweek previously reported that Bobby White and Josh Trujillo told ABC News they saw an explosion of snow. A nearby group said everyone in their party was safe, but a dog was buried in the snow.
The two students dug through the snow until they spotted the dog's nose. They continued to dig until the dog was able to break free.