People with necrotizing fasciitis, or flesh-eating bacteria as it's more commonly called, often lose extensive amounts of skin and may not have enough remaining tissue for skin grafts. But doctors may have found an alternative solution in the form of a skin healing spray.
In January, Arizona woman Christin Lipinski first experienced pain under her arm and had what she believed were symptoms of the flu, New Scientist reported. Doctors, however, diagnosed her with necrotizing fasciitis caused by the Streptococcus bacteria.
Lipinski had lost about a third of her skin, making it difficult for skin grafts to completely heal her wounds. Instead, Dr. Kevin Foster of the Arizona Burn Center asked the Food and Drug Administration for compassionate use of ReCell, meant to help regenerate skin in burn victims. Occasionally, the FDA will allow certain medical products to be used for conditions that they haven't been approved for.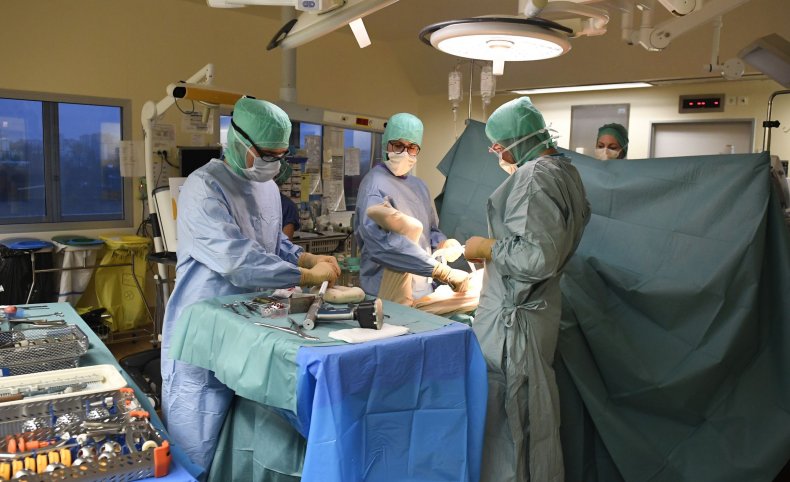 Related: Oregon Child Dies From Flesh-Eating Bacteria After Falling Off His Bike
After receiving approval, Lipinski began treatment in February, marking the first time ReCell was used to treat necrotizing fasciitis in the United States, according to a company press release. A spokesperson for the company could not immediately confirm to Newsweek whether it had been used to treat flesh-eating bacteria in other countries.
Foster used ReCell to make a spray with a patch of the patient's skin. As New Scientist explained, an enzyme in the treatment turns the tissue into skin cells which are sprayed onto the wound. This was used with a meshed autograft, a type of skin graft used to treat large wounds when there is little donor skin, according to the University of Colorado Denver.
A week after treatment, 95 percent of Lipinski's wound had healed.
"The results are far better than would be expected for a meshed autograft alone, Foster told New Scientist. "We think the skin spray made a real difference."
Dr. Michael Perry, CEO at Avita Medical, the company behind ReCell, explained to the publication why ReCell speeds up the process.
"Normally, a wound heals from the edges, which takes time, but this allows it to heal everywhere at once," he said.
Lipinski was expected to be released from the hospital in the coming weeks.