A primetime game against a divisional rival would normally be considered the dream scenario for any rookie to make his NFL debut. Unfortunately for Dallas Cowboys quarterback Ben DiNucci, however, the dream quickly unraveled into a nightmare as he endured a torrid time in the Cowboys' 23-9 road loss against the Philadelphia Eagles on Sunday Night Football.
DiNucci was handed the first start of his NFL career after starter Dak Prescott's season-ending injury in Week 5 and backup quarterback Andy Dalton being ruled out because of a concussion he suffered against the Washington Football Team last week.
His performance, however, prompted FOX Sports host Skip Bayless to wonder whether the seventh-round pick of the 2020 NFL Draft will ever get a second chance.
"It's possible Ben DiNucci just played his first and last NFL game. Hope not for his sake.
"But that's the reality of what we just watched. At least it was on Sunday Night Football for the Dallas Cowboys."
DiNucci completed 21 of his 40 passes for 180 yards, zero touchdowns and a 64.6 passer rating in his first NFL game, was sacked four times and lost two fumbles.
Both of his fumbles were turned into points, continuing a worrying trend that has seen Dallas concede a league-high 97 points off turnovers so far this season.
The Cowboys that had been firing on all cylinders up to Prescott's gruesome injury has now failed to score a touchdown in the last two games—only the fourth time in franchise history they have gone two games without a touchdown—over which they have put up a combined 12 points. Dallas' last touchdown came deep into the fourth quarter during its blowout home loss against the Arizona Cardinals in Week 6 on Monday Night Football.
As it is become routine each time a backup quarterback—or a third-string choice, in DiNucci's case—fails to deliver, Twitter questioned why Colin Kaepernick continues to be left out in the cold.
"You're telling me this QB [DiNucci] is better than Kap?," tweeted New Orleans Pelicans star Josh Hart, who also suggested he would have done a better job under center than the Cowboys rookie.
Hart was not alone in wondering why NFL teams seemingly have no issue with giving mediocre quarterback a chance, while none of 32 franchises has taken a punt on Kaepernick, a Super Bowl starting quarterback seven years ago.
Expectations DiNucci, a seventh round pick in the 2020 NFL Draft, could stop the Cowboys' two-game losing streak were limited, particularly even a seasoned veteran like Dalton had badly struggled behind a banged-up offensive line in his two starts.
Dallas can also blame some terrible luck for losing both Prescott and Dalton and being forced to turn to DiNucci, who continued a well-established and worrying trend for the Cowboys, who is 3-11 when rookie quarterbacks make their first starts.
Dalton should be back next week when the 2-6 Cowboys welcome the undefeated Pittsburgh Steelers in Dallas and DiNucci suggested the return of his more experienced colleague was a positive.
"If Andy's back, that's great for our team, right?," he told USA Today.
"Another guy in the locker room we can count on. He's been trustworthy, reliable this whole season. If he's healthy, whoever it is out there next Sunday, I'm just going to [prepare] the right way"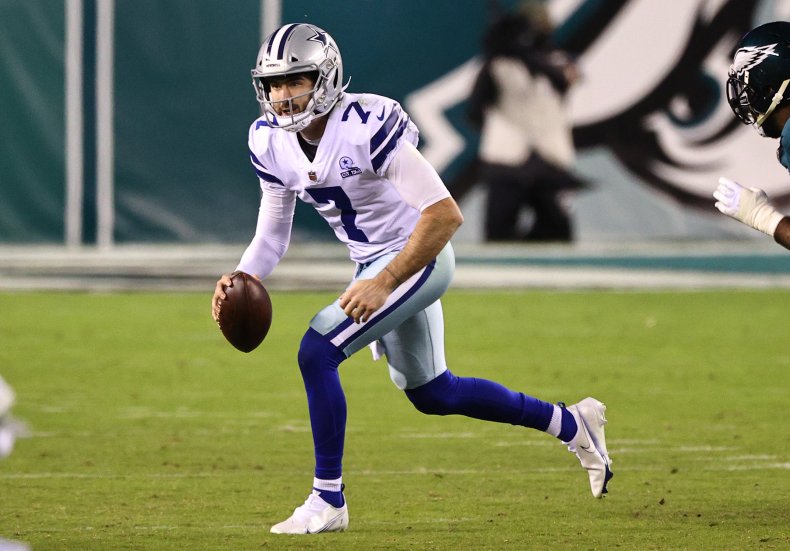 Uncommon Knowledge
Newsweek is committed to challenging conventional wisdom and finding connections in the search for common ground.
Newsweek is committed to challenging conventional wisdom and finding connections in the search for common ground.
About the writer
Dan Cancian is currently a reporter for Newsweek based in London, England. Prior to joining Newsweek in January 2018, he was a news and business reporter at International Business Times UK. Dan has also written for The Guardian and The Observer.