Skip Bayless Under Fire After Saying Dak Prescott's Depression Shows 'Weakness'
TV sports personality Skip Bayless, who's a well-known and opinionated commentator, is getting slammed for remarks he made Thursday about Dallas Cowboys quarterback Dak Prescott's admitting his depression.
Prescott's brother, Jace, took his own life five months ago. Prescott talked about a "depression" that began before Jace's death. The Cowboys quarterback didn't mention failed contract negotiations, but rather the "offseason" and "quarantine" during the COVID-19 pandemic.
"All throughout this quarantine and this offseason, I started experiencing emotions I've never felt before," Prescott said during a CBS Sports interview. "Anxiety for the main one. And then, honestly, a couple of days before my brother passed, I would say I started experiencing depression. And to the point of, I didn't want to work out anymore. I didn't know necessarily what I was going through, to say the least, and hadn't been sleeping at all."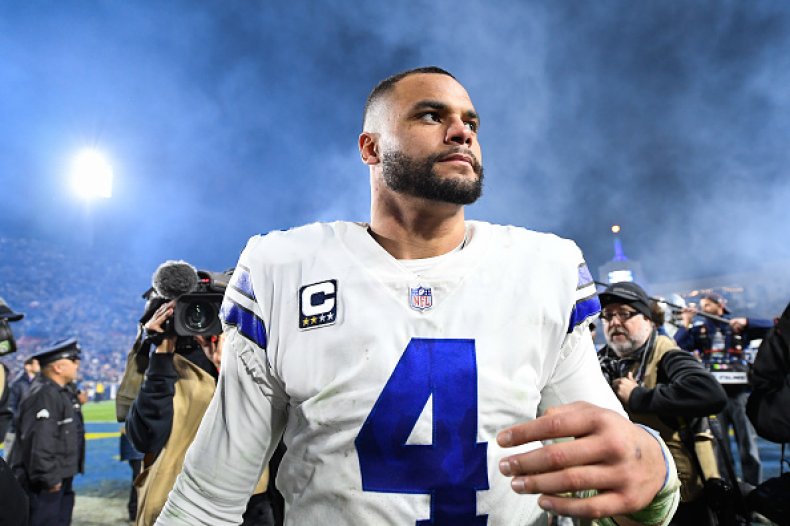 That was published Wednesday night. On Thursday morning's Undisputed show, which Bayless co-hosts with Shannon Sharpe, Bayless said the "quarterback of America's Team" has shown a sign of "weakness." Bayless said he has no compassion for Prescott.
"Because of all that, I don't have sympathy with him going public that 'I got depressed. I suffered depression early in COVID to the point that I couldn't even go work out,'" Bayless said. "Look, he's the quarterback of America's Team. You know and I know, this sport that you play, it is dog eat dog. It is no compassion. No quarter given on the football field. If you reveal publicly any little weakness, it can affect your team's ability to believe in you in the toughest spots and it definitely could encourage others on the other side to come after you."
Well, social media is a dog-eat-dog world that doesn't have much compassion either. It didn't take long for Twitter users to take sides—mostly with Prescott. The tweets mostly backed up Prescott's humane side in opening up about something that's bothering him.
Bayless covered sports in Dallas for 17 years as he was a columnist for The Dallas Morning News and the Dallas Times-Herald. He covered the team in the late Tom Landry years, the Jimmy Johnson era and the Barry Switzer tenure. Bayless has written multiple books on "America's Team."
Prescott was a fourth-round draft pick in 2016, and he became the Cowboys' starting quarterback during his rookie season after Tony Romo was injured in the third preseason game. The Cowboys went 13-3 that season with Prescott.
This offseason, Prescott and the Cowboys could not come to an agreement for a long-term contract, but they did designate the quarterback as its franchisee player.
After Bayless made comments Thursday about Prescott, here are some of the things said and written about Bayless: