Skull of Mutilated 'Vampire' From 1800s Reveals What He Really Looked Like
The face of a Connecticut "vampire" whose body was found mutilated in 1990 has been brought to life using modern technology.
Research suggests the man was named John Barber, and he died in the 1800s at 55 years old from tuberculosis, also known as consumption.
With no cure for tuberculosis in the 19th century, it was one of the biggest killers in America. The appearance of its victims, along with the protracted nature of the disease, and the choice of victims, fueled the belief in the undead.
So real was the fear, it became known as the "The Great New England Vampire Panic," according to Smithsonian.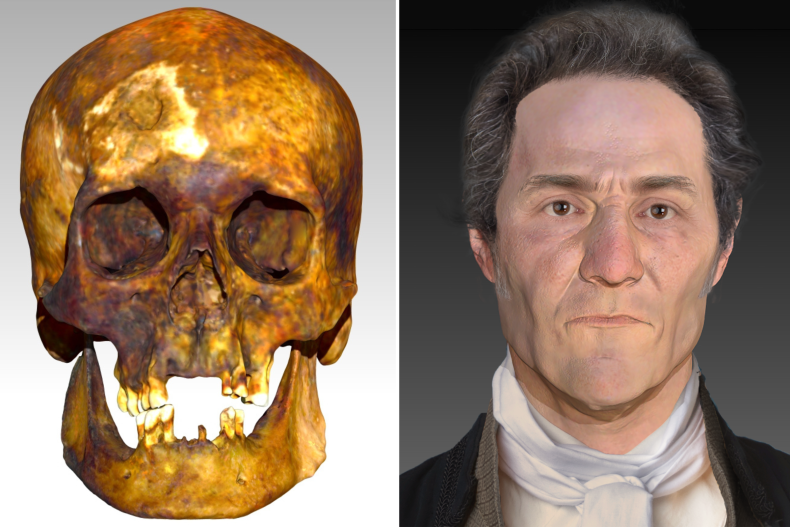 "Typically, a rural family contracted the wasting illness, and even though they often received the standard medical diagnosis the survivors blamed early victims as 'vampires,' responsible for preying upon family members who subsequently fell sick," the magazine said. "Often an exhumation was called for, to stop the vampire's predations."
And that's the fate that probably befell Barber, buried in Griswold. After Barber died, his body was dug up and his bones rearranged in a typical skull and crossbones configuration.
Nicholas Bellantoni, emeritus Connecticut state archaeologist and anthropology professor at the University of Connecticut, helped excavate Barber in 1990, after a child reportedly found a skull, leading authorities to the colonial-era burial ground.
"[Barber's] remains were unusually rearranged in his coffin and searching for an explanation led us to the concept of the New England Vampire Folk Belief," Bellantoni told Newsweek. "Of course, J.B. was not a vampire, but he was believed to be undead in his grave, capable of leaving the housing of his grave, and [feeding] on living family members spreading consumption/tuberculosis.
"This was a public health issue. Consumption was an epidemic in 19th-century New England. They knew nothing about germ theory and didn't understand how the disease was spread," Bellantoni said. "By going back into his grave and rearranging his skeletal remains they hoped to stop the disease from killing [his] family. Hence, this is not what we think of as 'vampirism' but done out of fear and love."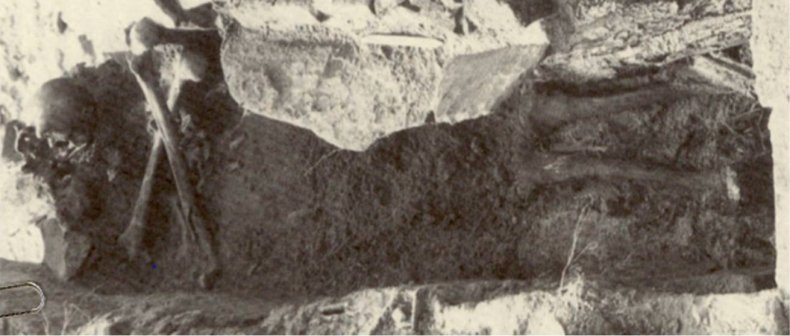 The appearance of tuberculosis sufferers lent weight to vampire theory, with Smithsonian quoting an 18th-century description of a victim, saying: "The emaciated figure strikes one with terror. The forehead covered with drops of sweat; the cheeks painted with a livid crimson, the eyes sunk..."
Furthermore, decomposition caused the skin around the nails and gums to recede, giving the appearance they had grown when exhumed.
Bellantoni said the researchers initially believed another family was buried at the site.
"Historical documents indicated that we were rescuing the Walton family's burying ground but found J.B.'s initials patterned by brass tacks on the lid of his coffin suggesting that another family was using the cemetery after the Walton family left the area for Ohio in the early 1800s," he said.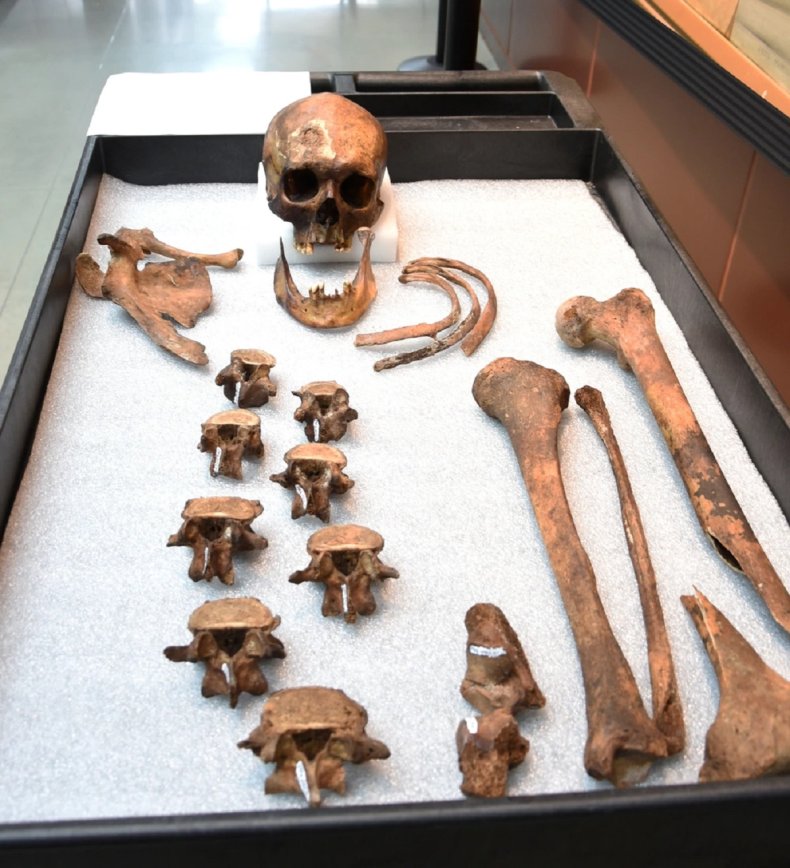 "So, back in 1990, we were searching for the 'B' family. However, none of the local historical documents were fruitful and the family name remained a mystery," he added.
An article published by the National Library of Medicine in 2019 revealed that the coffin of "the 19th century Connecticut vampire" had brass tacks that spelled "JB55."
"JB55 had evidence of chronic pulmonary infection, perhaps tuberculosis. It is possible that JB55 was deemed a vampire due to his disease, and therefore had to be 'killed' by mutilating his corpse," the article said.
Advancements in technology, particularly in the field of DNA, gave researchers a viable name and identity—John Barber. After Barber was exhumed for the second time, his remains were sent to the National Museum of Health and Medicine in Silver Spring, Maryland.
Parabon NanoLabs and the Armed Forces DNA Identification Laboratory (AFDIL), revealed Barber's face at the International Symposium on Human Identification (ISHI) conference in Washington, D.C., this week.
"Old bone samples are challenging for DNA analysis both because the human DNA can be highly degraded and because a large majority of the sample may consist of non-human DNA from the environment," Parabon said in a press release.
They used three approaches to extract information: shotgun sequencing, targeting the whole human genome, and targeting 850,000 custom single nucleotide polymorphisms (SNPs).
"JB55 was predicted to have Very Fair / Fair skin (92.2% confidence), Brown / Hazel eyes (99.8% confidence), Brown / Black hair (97.7% confidence), and Few / Some freckles (50.0% confidence)," Parabon said. "Using the phenotypic trait predictions and a digital 3D image of the skull, Thom Shaw, an IAI-certified forensic artist at Parabon, reconstructed JB's likely appearance."
Parabon looked at a second grave, as well.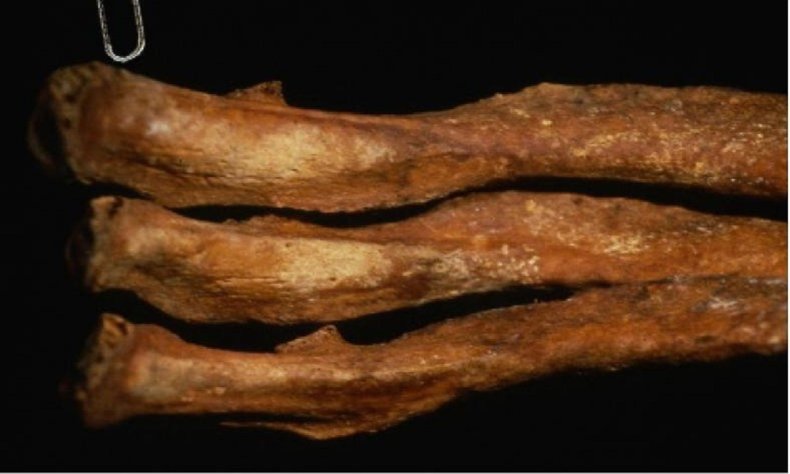 "A search of historical records led to an obituary for another individual buried in the same cemetery that mentioned a man named John Barber, but no other records were found for him," the press release said.
Parabon's Fx Forensic Analysis Platform determined the second grave, NB13, thought to be a man named Nathan buried in 1826, was a first cousin of John Barber.
Both NB and JB's skeletons showed that "high-quality genome-wide data needed for investigative genetic genealogy can be generated from highly degraded bones."
Decades after the New England vampire scare, tuberculosis is the 13th leading cause of death worldwide and the second deadliest infectious disease after COVID-19, killing 1.6 million people last year, according to the World Health Organization (WHO).
The WHO explained on its website that one aspect of tuberculosis led communities in the 19th century to fear their loved ones were infecting others from beyond the grave:
"When a person develops active TB disease, the symptoms (such as cough, fever, night sweats, or weight loss) may be mild for many months. This can lead to delays in seeking care, and results in transmission of the bacteria to others."