Most of the time a product's price is one part of many considerations, not the sole reason for buying it. Skullcandy's Dime wireless earbuds are trying to change that purchasing equation. They come in at a double-take-worthy price of $24.99, and likely they'll sell plenty based on the price point alone.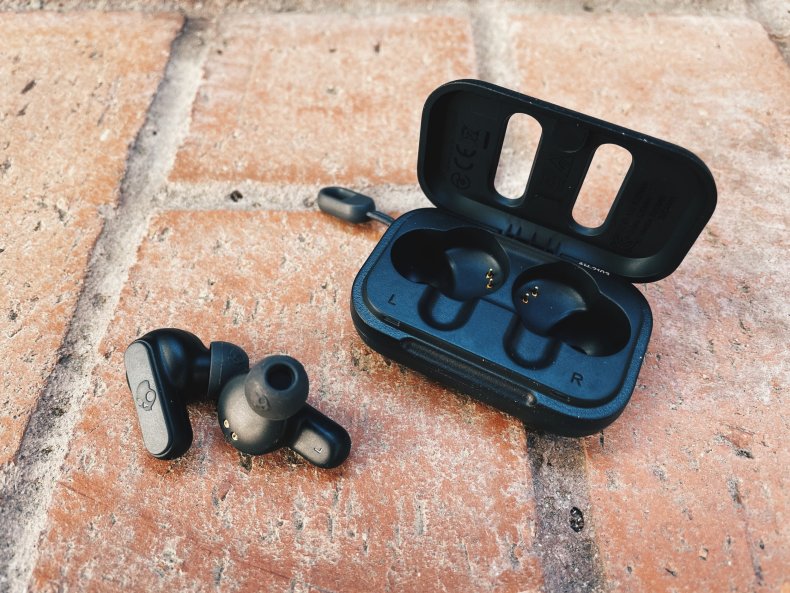 Apple's AirPods weren't the first true wireless earbuds, but they were early in the field back in 2016. They set a baseline price of $159 as the target for competitors to beat. Four-and-a-half years later, Skullcandy is making a statement here. Seriously, it's a shocking price for wireless earbuds. To compare, Apple sells wired EarPods for $19.
So, the $25 question: Can you afford not to buy these?
Design and Fit
Not only are the Dime earbuds budget friendly, but they're also small. The case is minimal, too. All in, these are an intriguing product because they scrape away a lot of excess. Usually, new products add in the latest and greatest specs to grab attention. These sort of do the opposite. I like this inclusion in Skullcandy's lineup, however. And if these earbuds aren't for you, the company has a range of higher-end models that may work better.
The design of the earbuds and case are both in line with the Skullcandy's other audio products and is graced with its skull logo. The look skews youthful and more aggressive than sleek and classy. For example, the skull appears on the back of the case, earbud stems and the rubber earbud tips. I tested the all-black earbuds—the most neutral among variations that mix bolder colors together.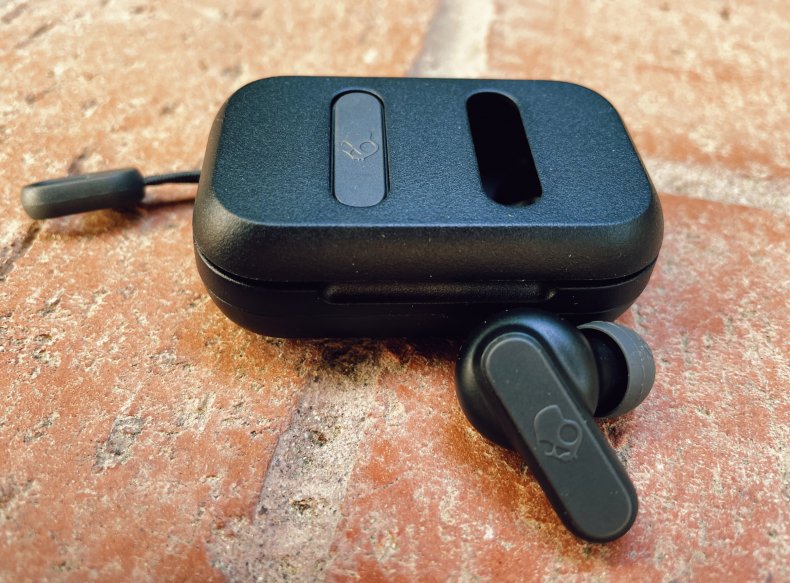 Normally, a charging case is not worth focusing on much, but this one is interesting for a few reasons. First, the whole product is noticeably lightweight. It doesn't feel like there's a battery in the case, but there is. A Micro USB port on the back will charge it. Secondly, it has two cutouts in the top where the earbuds are exposed and, when the case is closed, act as part of the lid.
At first, this design choice looks neat. Once the earbuds are removed, however, they leave big gaps where dust and other junk may get inside. Over the long term, this is an area of liability for durability. I'm also not crazy about the design choice to make red the only color of the case's indicator light: when the case is plugged in, and whether the battery is low or full. In the interest of price, however, I understand the decision.
In terms of fit, I had trouble keeping these in my ears reliably. Specifically, my left ear, but this aspect will be personal. I tend to have trouble keeping earbuds with silicon tips from slipping out. Skullcandy Indy ANC earbuds utilize wingtips to secure them better. I didn't have any trouble keeping those from falling out—even though that design adds slightly more ear fatigue.
If these earbuds do slip out, good luck finding them. They are miniature compared to other earbuds that have a stem design. Samsung's Galaxy Buds (and similar) are smaller but lack that piece to grab when putting them in or taking them out of ears. Skullcandy will sell these parts individually in the future should you lose or break one.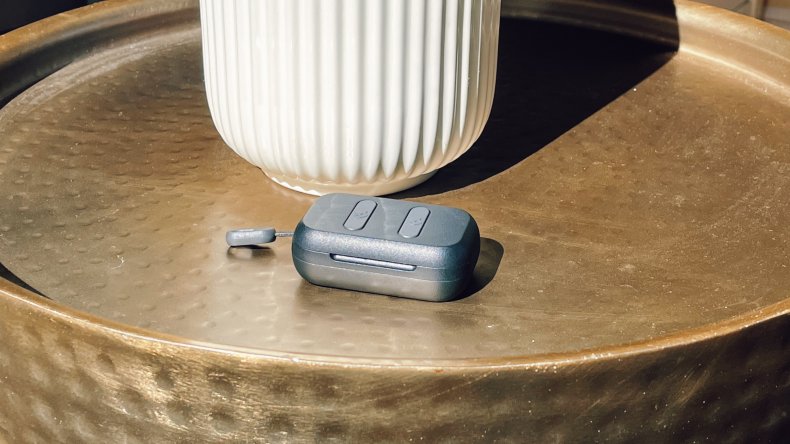 Because of the low cost, I thought these might be perfect for younger kids. My 8 year old and 10 year old both tried them, but neither one could get them to fit in their ears. I suspect they might work better for kids just a bit older, around 12 years and up.
Performance
It may be obvious from the price, but the sound here is not great. If you can get a really good seal between your ears and the rubber earbud tips, then the sound should be OK, but otherwise, it's hollow and tinny. I tried the different-size ear tips multiple times and couldn't really get a solid seal. You can pinch your ear and hold them tight to get a sense of the sound that may be possible with a full seal.
This is in contrast to Skullcandy's Indy ANC earbuds, with which I did get that full seal. Those sounded deep and rich on the first listen. I was a bit surprised that the Dime didn't achieve something similar.
All the music genres that I listened to with the Dime sounded weak. There were no surprises here. From pop to rock to classical, all were heavy on the higher frequencies and lacked depth. Since music was disappointing, I switched to focusing on other audio content, like audiobooks and podcasts.
When listening to spoken audio, there's still a hollow sound, but it's much more forgiving. Podcasts and audiobooks sounded fine because the human voice tends to live in the frequencies that come through strongest with these earbuds.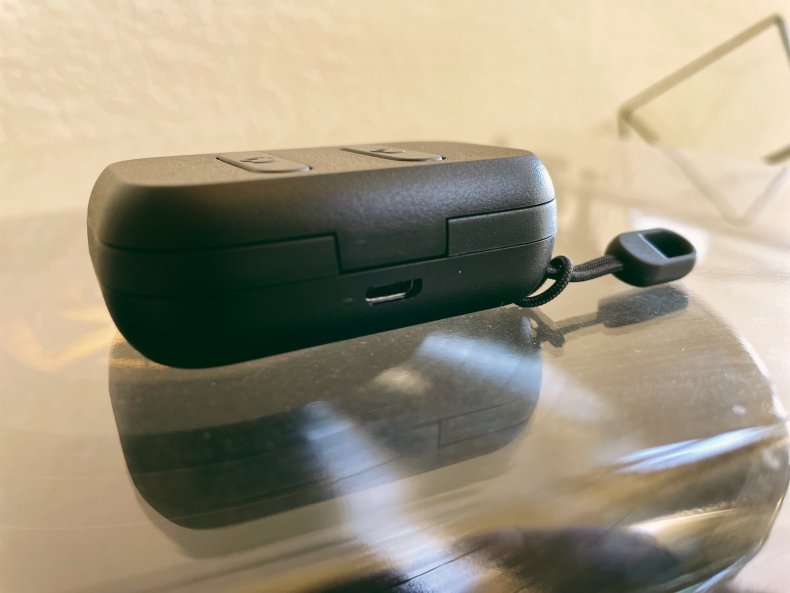 Dime does include quite a few features despite its low price. These are IPX4 water-resistant, so they can withstand sweat and rain. Each earbud has a microphone for calls and can be used individually if you don't need both. The skull on each earbud stem is actually a control button. When using one at a time, I couldn't get the volume up and the skip track to work. Those controls did function when both earbuds were in, though. I'm not crazy about the overly complicated controls on the earbuds and think they're hard to press accurately.
Should You Buy the Skullcandy Dime Wireless Earbuds?
Even though the Skullcandy Dime earbuds don't sound great, they may actually still be worth considering. Their price, paired with their functionality, may be a good enough value to fill a niche need for you.
Basically, if there's a circumstance when a pair of low-cost earbuds will save you some anxiety around losing or breaking them, then these could be perfect. You've probably done something similar when buying sunglasses. You may have a cheap pair for times you suspect they could be lost or ruined. Whatever the case, as long as you're not expecting an impressive sound, you shouldn't be disappointed.
Buy at Amazon and Skullcandy.
Newsweek may earn a commission from links on this page, but we only recommend products we back. We participate in various affiliate marketing programs, which means we may get paid commissions on editorially chosen products purchased through our links to retailer sites.