Skullcandy Grind Fuel and Push Active Review: Voice Is the Name of the Game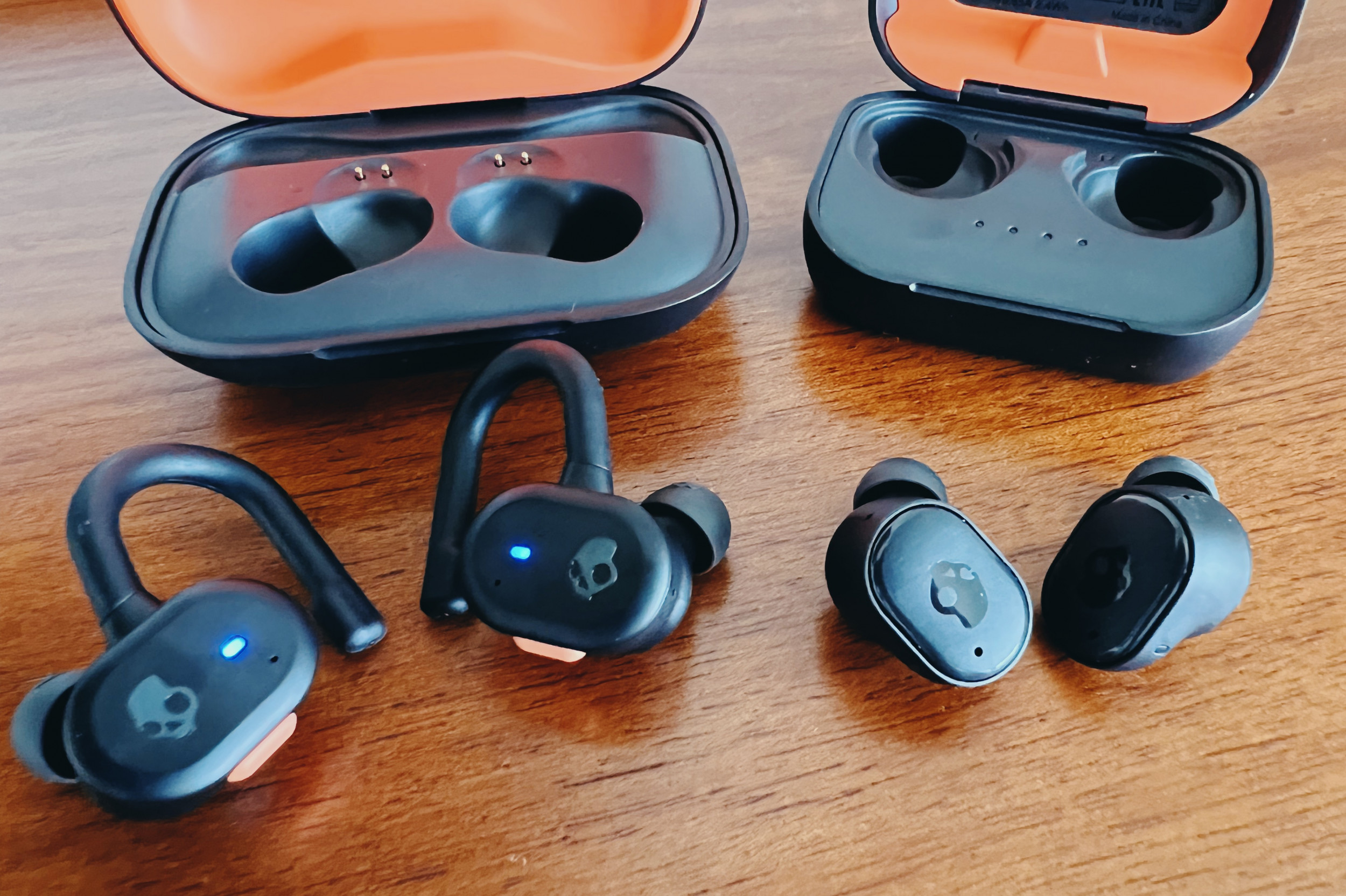 "Hey Skullcandy" is not a trigger phrase I want to be saying out loud, in public. It's what the company is asking wearers of these wireless earbuds to do if someone wants hands-free media controls.
The voice commands come thanks to Skullcandy's new Skull-iQ technology. Using hands-free commands to do things like skip songs or even answer calls is something the company thinks consumers want. The two models of earbuds that Skull-iQ is debuting are otherwise pretty basic and forgettable. Still, with a low price and long battery life, there may be something here for people riding or running out on the trails.
TL;DR
Pros:
Affordable price points
Long battery life
Hands-free voice commands
Cons:
"Hey Skullcandy" trigger phrase
Need a phone around for voice commands
Default sound quality is lacking
Buy at Skullcandy.
Push Active Earbuds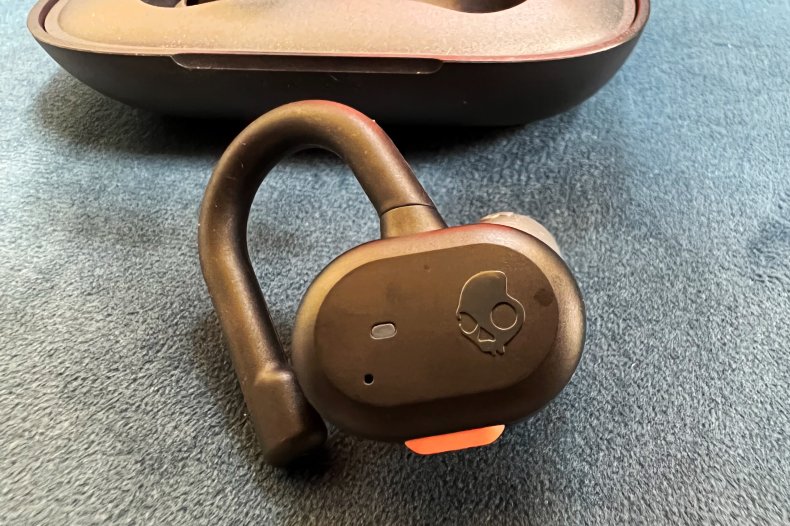 Between the two models, I found the Push Active to be more interesting. These are more fitness focused and have ear hooks and physical button controls. Using these Bluetooth earbuds for lots of hot, sweaty runs revealed a lot about their performance—mostly good, but not all.
The hooks are pliable rubber and not hard plastic as they may appear. Despite their looks, the part that hooks over the back of the ear, actually, for me, barely touched either of my ears. Even with the hooks barely resting on my ears, the Push Active earbuds fit well. The hooks are helpful without being annoying.
I found myself initially tapping the outside of the earbuds for media controls, forgetting that there was a dedicated button on each side to handle that. When I'm running, I much prefer to have a button for better accuracy when skipping tracks or pausing and/or playing audio.
Over the first week of use, and several 5K distance runs, I really enjoyed how the Push Active work. The audio quality is a little hollower and more trebly than other earbuds' around the $100 price point, but they performed well.
The second week with the earbuds, though, introduced some concerns. During a long, 6-mile run, the audio became staticky and then cut out altogether in the left earbud. Placing it back in the charging case didn't fix the problem. It appears to have simply died for good. I got a replacement pair and haven't experienced the same problem yet, so it may have been bad luck on my part. The earbuds are rated for IP55 sweat, dust and water resistance.
Grind Fuel Earbuds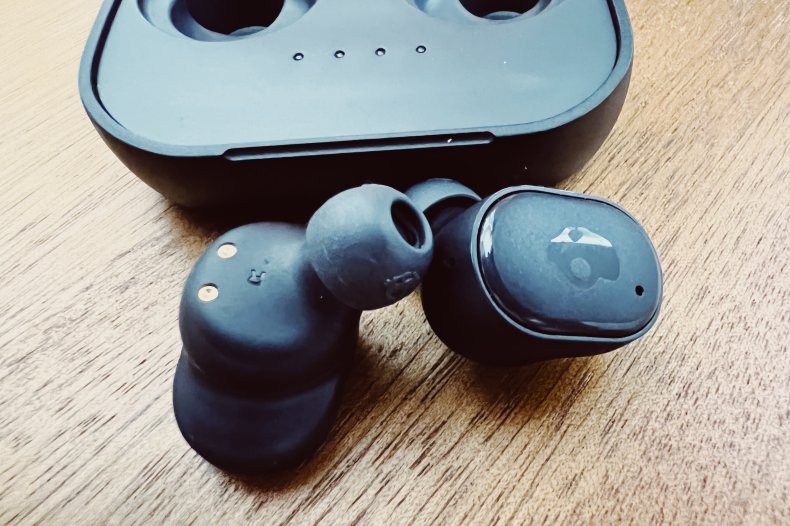 The slightly higher-end Grind Fuel earbuds forgo the ear hooks but keep the physical buttons. The buttons are on the flat exterior side and are essentially invisible. They work well for controlling the earbuds, but you do press the device into your ear. This might be uncomfortable for some people.
Grind Fuel also had a lackluster sound quality, matching the Push Active's. Both earbuds lacked bass frequencies; there was none of the low-end rumbling found on bass-heavy music. You can adjust the EQ to your personal ears and hearing, within the settings, but that didn't change the sound dramatically for me.
Both earbuds share a lot of features, like Tile device tracking and custom EQ modes. But unlike the Push Active, the Grind Fuel does feature a wireless charging case.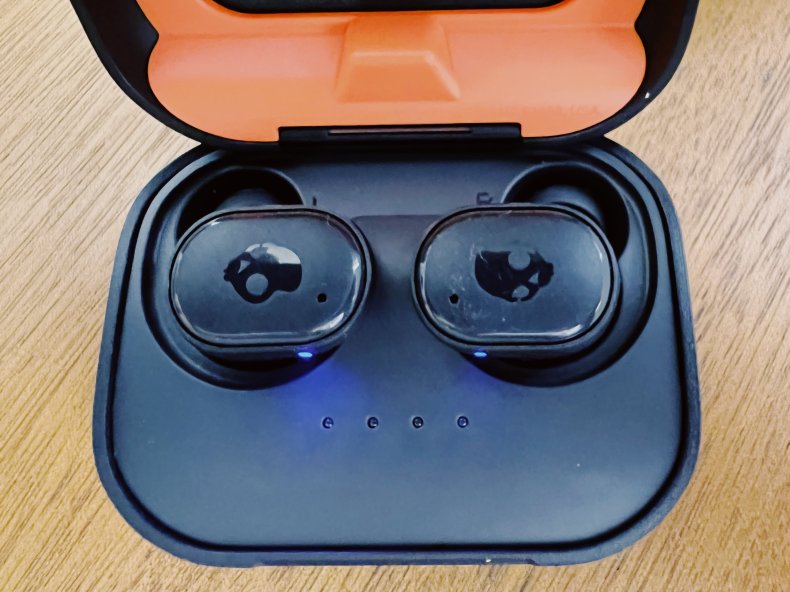 Hey Skullcandy!
A large part of these earbuds are in the voice commands in what the company calls its Skull-iQ voice platform. Instead of "Hey Siri," both of these earbuds recognize the "Hey Skullcandy" key phrase. It's an obvious choice to activate controls, but it also sounds silly to say out loud, especially around other people. Will saying it become normalized after a while? Sure, it could, but I always felt self-conscious about it.
Skullcandy's investing in voice controls is admirable. Hands-free control over your music when you're biking, running or even walking is great. You can even activate Spotify with a voice command. The problem is that the voice features are still very early. For example, the commands need to be exact or they don't work. Saying, "Hey Skullcandy, stop" will not pause the music. You'll need to say, "Hey Skullcandy, pause." Remembering "Hey Skullcandy, self aware on" might also be a challenge.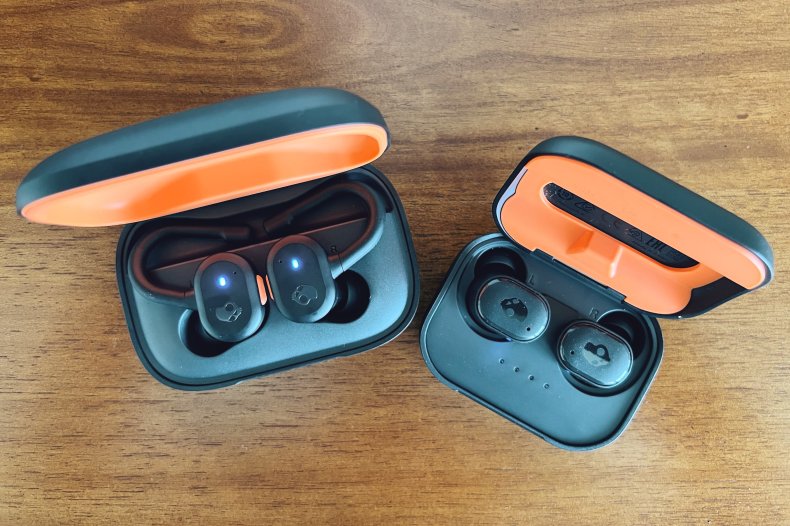 The other concern about using voice commands is that you need to have your phone around. While the voice commands can work if your phone is offline, out of cell range, the earbuds still need the phone to be nearby. I found this to be less than ideal, for me, considering how I often use wireless earbuds. I pair earbuds directly to an Apple Watch and leave my phone at home when I go running—so I lose out on the voice features when I need them the most.
While I wouldn't buy earbuds for the Skull-iQ voice platform, yet, it is something to keep an eye on.
Should You Buy Push Active or Grind Fuel?
These Skullcandy earbuds are fine, but not much more. The fit is fine, the sound quality is fine, and the features are fine. I didn't feel inconvenienced while using these earbuds, but they were never the first ones I reached for. Each product includes the most common features of wireless earbuds that people using them for fitness would care about, including long battery life.
On the voice side, Skull-iQ is intriguing, but at this point, it's more of an intellectual argument than a practical feature boost. It works great within its narrow requirements, but I personally think there are still too many requirements at this stage to make it really compelling. Most of all, I hope there are other trigger phrases beyond, "Hey Skullcandy."
Buy at Skullcandy.
Newsweek may earn a commission from links on this page, but we only recommend products we back. We participate in various affiliate marketing programs, which means we may get paid commissions on editorially chosen products purchased through our links to retailer sites.