Police In Maine 'Tactically Remove' McFlurry Cup From Skunk's Head
Two police officers in Maine helped a distressed skunk by "tactically removing" a McFlurry cup stuck that was stuck on its head.
The Bridgton Police Department posted a video to its Facebook showing officers Sophie Swiatek and Josh Muise seeing to the wild animal.
On Sunday morning, the department received a call from the Morning Glory Diner on Portland Road. The restaurant's yard had an unwelcome visitor: A skunk with its head wedged into a McDonalds McFlurry cup was running around in terrified confusion.
In the clip, shot safely from inside a building, Officer Muise throws a jacket over the panicking skunk to impede its movement and absorb any spray it might release. Then, Officer Swiatek gingerly approaches the animal, determines where its head is under the jacket and pinches the McFlurry cup off along with the jacket, letting the animal run off.
The department commended the team in a comment on the video, while also admonishing locals about proper trash etiquette.
"Yes, they train us for this at the police academy and yes, our McDonald's ice cream machine works. Please don't litter."
There's something about McDonald's ice cream that makes it irresistible to skunks in Maine: In September 2018, York Police motorcycle officer David McKinnon came across another polecat with a McFlurry cup stuck to its head. He also took a video of the rescue for Facebook.
McKinnon's technique wasn't quite as advanced: He verbally calmed the skunk while positioning his body out of spray range until he could grip the cup and pop it loose.
The phenomenon has crossed borders, too: In 2017, a civilian rescued a skunk from a McFlurry "trap" outside a McDonald's in Kemptville, Ontario.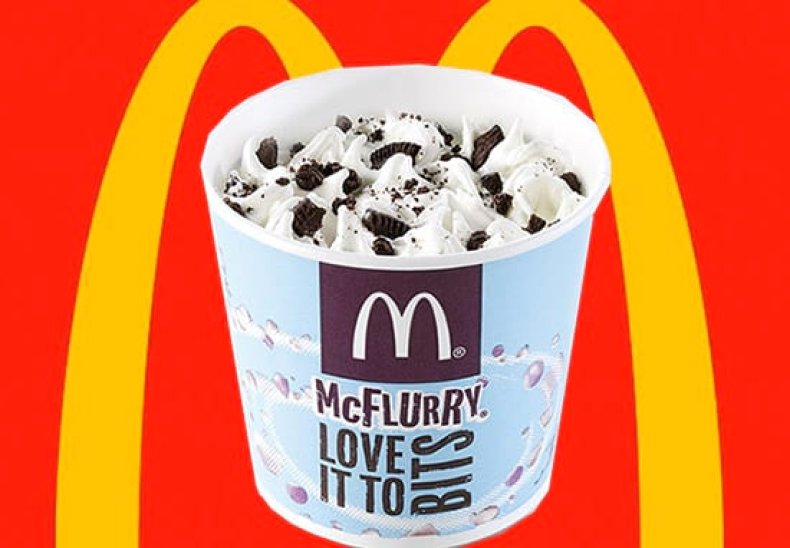 It's not a flaw of the package design—unlike raccoons, skunks aren't anatomically built to be able to reach up to their faces and dislodge anything they're stuck inside. If it's wedged deep enough, there are few ways for the critter to dislodge itself.
Skunks are notorious scavengers, and nutrient-rich human food is very attractive. The best way to keep them safe is to secure trash so they can't access it. Smaller animals getting cups stuck on their head can be dangerous: With their vision impaired, they are easy prey for predators and also more likely to run into traffic.
In 2015, a group petitioned Yoplait to change the shape of its yogurt containers, which are notoriously difficult for animals to extricate their heads from. The petition garnered more than 130,000 signatures, but General Mills has yet to modify the package.