Who is Skunk from 'The Masked Singer'? All The Clues So Far and Who Fans Think It Is
The Masked Singer is back for season 6, with another few months of wild costumes and even wilder guesses. On the Fox show, the Skunk has already emerged as a strong competitor after her first performance of "Diamonds" by Sam Smith.
Skunk clearly has a soulful, distinctive voice, and as soon as she opened her mouth, many fans knew exactly who she might be.
As ever with The Masked Singer, however, people had some outlandish guesses as to who the Skunk really is.
All the Clues About the Skunk's Identity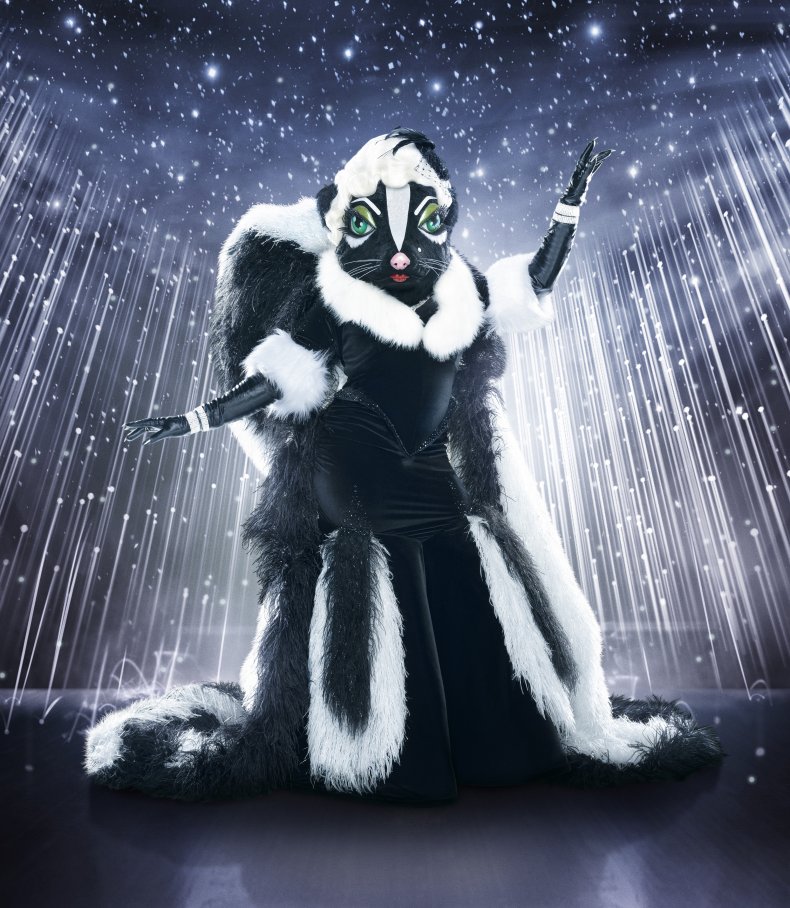 First clue package
A glamorous train-based package
She says: "I chose to be the Skunk because I relate to the duality, the yin and yang of it all. And while life's not always black and white, there are always certainly two sides to every story. I'm here to tell mine. Over the years, I've seen it all, honey. There might be misconceptions that I'm quick to get into a fight. But, honey, that couldn't be further from the truth. I've learned you don't always have to react when provoked. I took a break for a minute to focus on family. But I'm ready to get back out there...and make it do what it do, boo."
Props seen: A gold train, a pink and gold bag, a first-class ticket to Seoul, a vase with the letter D on it.
Other clues
First performance: "Diamonds" by Sam Smith
Why she wanted to do Masked Singer: "I felt like it was time for me to make a big leap and do something that I hadn't done in a long time."
Sneak preview clue: A picture of Elvis Presley
Who Fans Think the Skunk Is
The most likely identity that fans have given the Skunk is Faith Evans, the R&B diva and one-time wife of The Notorious B.I.G.
From the vocals, it is clear that we are dealing with someone with a soul background. This is further enforced by the train and the ticket to Seoul: What we are on in that first clip package is a Seoul train.
This suggests that we are dealing with someone with a connection to Soul Train. Of course, that could be any number of Black divas, but Evans is one of only six acts to win the Lady of Soul lifetime achievement award from the Soul Train awards.
Then there is the vase clue. As the judges point out, "d-vase" is a pun on "divas." Of course, that could apply to any number of artists. However, Evans starred in reality show R&B Divas: Atlanta, and released the compilation R&B Divas with her co-stars.
"Make it do what it do" is also a lyric from "Nasty Girl," a posthumous hit single from Evans' one-time husband The Notorious B.I.G. The Elvis clue, meanwhile, could be a reference to the fact that both have singles titled "Heartbreak Hotel." Evans has also recorded gospel standard "Somebody Bigger Than You and I," as did The King. Speaking of The King, Evans also released the album The King and I in 2017 – though that was a duet album with B.I.G.
Another fan theory is that the Skunk could be Tina Turner, as predicted by Good Housekeeping. That seems to be mostly based on the fact that both released versions of the song "Proud Mary." However, not only does the voice of The Masked Singer contestant sound nothing like Turner, but the singer famously retired in 2009 and hasn't performed since. Earlier this year, she said in an interview with The Times, "I am done, I am tired, I just want to live in retirement."
The Masked Singer season 6 airs Wednesdays at 8 p.m. on Fox.