Abortion is a deeply personal issue. If a woman makes the decision to terminate a pregnancy, the last thing she or her partner should have to contend with are protestors who disagree with her choice screaming at her as she enters the clinic.
Sadly, it happens all the time, which is just one reason why clinics usually have escorts. It's the escort's job to help people enter the building safely. One escort took that job even further, clapping back at the protestors with a spicy rant that's quickly gone viral.
The video, popularly known as the "Sky Daddy" rant, was filmed in Charlotte, North Carolina, by a TikTokker named Reiley (whose handle is @loveurmother). Reiley is a volunteer with the non-profit Charlotte for Choice, an organization that works to keep abortion safe and legal, as well as providing escorts and "Clinic Defenders" for on-site support to patients.
"But that's loving her, by calling her a coward?" the escort scolds the protester.
The protester responds by trying to say, "No, he's a coward."
The escort cuts them off and explains that her anti-choice rhetoric isn't welcome. "You can shut the f**k up, because they're making the best decision that they can in their situation, and you're trying to make them feel bad about it. So go off, Jennifer. Is that the validation you want from sky daddy? Calling people a coward?"
"Sky daddy" was the phrase that people latched onto the most, with many commenters writing it out, and people on Twitter sharing memes with the phrase. Another person called it "poetry in motion." Some atheists said that it's a relatively common term used to mock religious extremists for their beliefs.
In an Instagram DM, Reiley told Newsweek that she didn't anticipate the video getting as much notice. "[I] think it's funny that so many people love the term sky daddy!! [B]ut it was unexpected that the video would get this much attention," she wrote.
In an email to Newsweek, Wendy, the escort in the video, said "sky daddy" is a go-to phrase to reference God to the protesters. "I don't plan out my interactions with any of the protesters, but whenever I refer [to] god in front of them I always call him sky Daddy! So most of the defenders say sky Daddy. We use it a lot," she wrote.
The TikTok was posted on Monday, garnering over 7 million views. It was also shared on Twitter, where it has received over 500,000 views.
A number of Reiley's videos, as well as Charlotte for Choice's TikToks, use humor to make fun of the protesters or to debunk their arguments. One video features Reiley asking a protester for a "Sparknotes version" of the Biblical Book of Proverbs, when she tells them to read it for proof of her pro-life argument. Another clip shows a sarcastic prayer to mock the protesters.
Reiley explained the role that volunteers have in helping patients get treatment without being disturbed by protesters. "[S]o our goal as volunteers is to try and distract and overpower protestors so that patients don't have to hear them yelling as they are going in for their appointment. [W]hen we engage in conversation with them or make jokes, the protestors divert their attention from the patient to us," she wrote.
Wendy wrote that patients' wellbeing comes first, but when the volunteers have extra time, they try to speak reason to the protesters. "Our humor is not a strategy set in place by Charlotte for Choice. Our first priority is always the patients and their safety. So when we have down time we do like to [have] fun. We've tried to interact with the protesters to show them the flaws and hypocrisy in their words but they have a cult like mentality," she wrote.
Wendy spoke more to the "cult like mentality" and explained how frequently clinics have to deal with the religious protesters. "[T]hese videos help bring awareness to not just the flaws in what they're saying but the fact that they're actually there every day Monday through Saturday yelling at people getting the healthcare that they are entitled to and protected to do. People see that these protesters are wasting their time when they could being doing other things to help people," she wrote.
She also said that by sharing humorous videos on social media, it helps break the taboo that discussing abortion can sometimes come with. "[U]sing humor has made the topic of abortion more approachable on social media [I] think, and with videos like this going viral, people are forced to step back and ask themselves how they feel about it," she wrote.
"I just hope that with everything going viral like it has Jennifer can see that love goes further than yelling 'coward' at someone who is already vulnerable. So yes those that are vulnerable don't deserve to be treated that way. So when I see that happening I will step in and say my peace. I also hope it brings awareness to Charlotte for Choice and how much we care for the patients that need to go to the clinic," Wendy added in her email.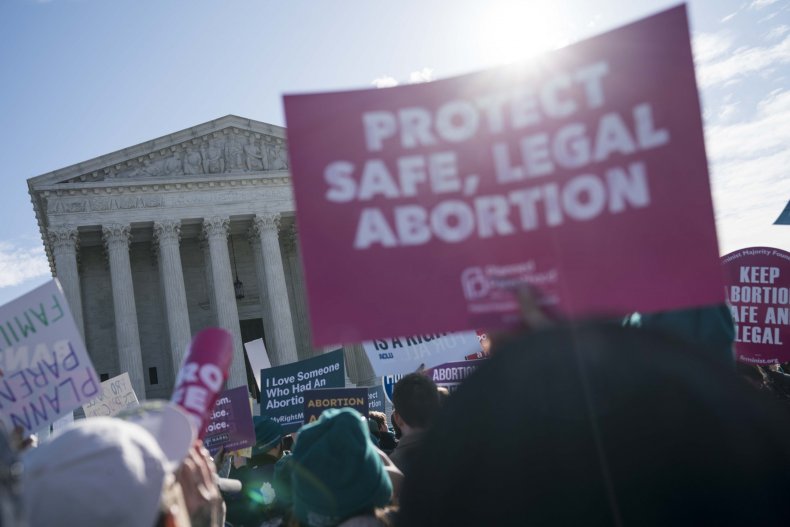 Update 12/2/20 10:03 a.m. EST: This story has been updated to include comment from the woman in the video.