Skywalkers Sneak to the Top of the World's Tallest Buildings—and Bring Back Proof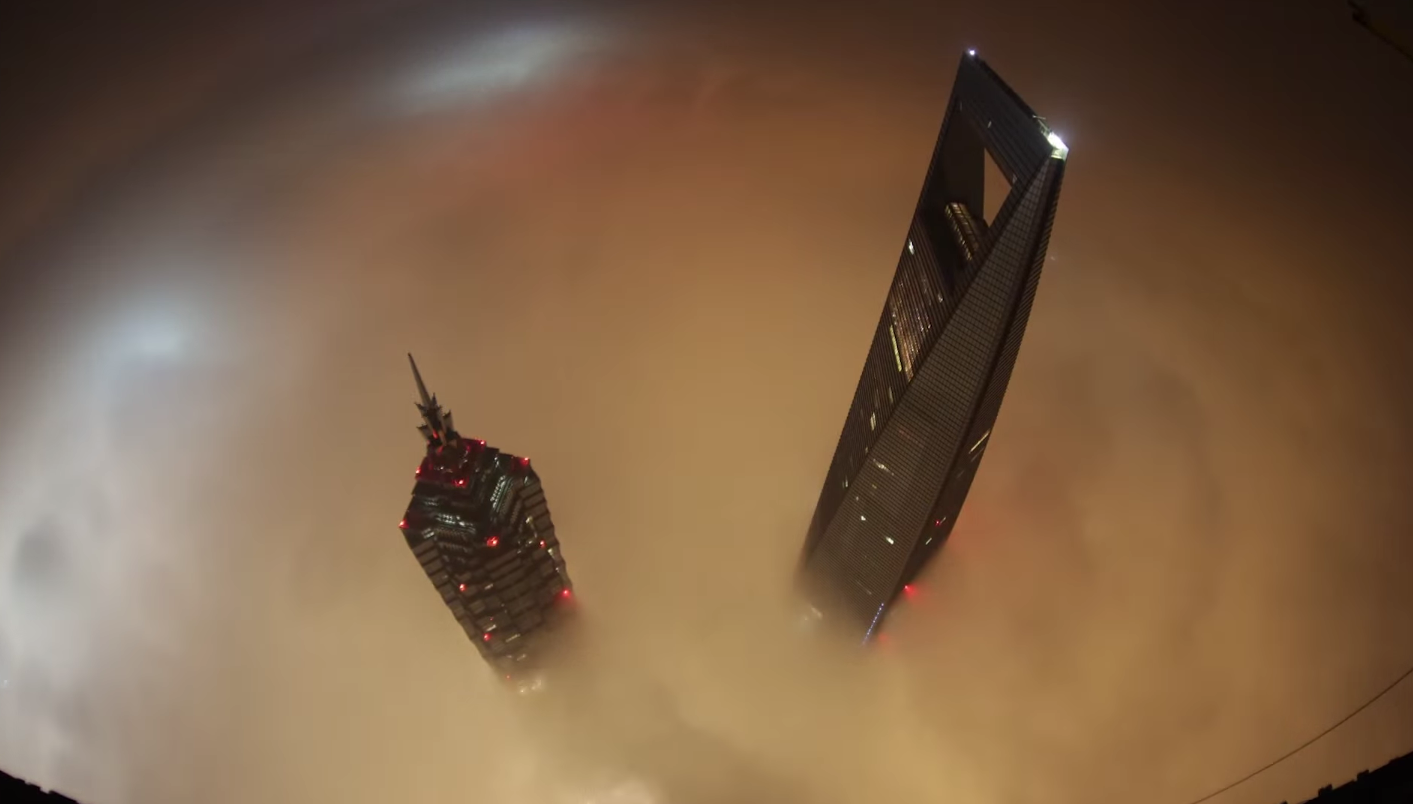 The biting wind blowing off the China Sea stung the cheek of Vadim Mahora as he dangled more than half a kilometre above the ground from the top of East Asia's tallest skyscraper, the Shanghai Tower. "Seeing the smaller towers pierce the clouds below made me feel more alive than ever before," says Mahora.
The 24-year-old Russian from Novosibirsk became the first person to reach the 632-meter top of one of the world's tallest towers last February. His ascent was strictly unauthorised. He outwitted security guards to make the two-hour climb, then took out his smartphone and posted his video online from above the clouds. "Our mission was a success and we had the footage to prove to the world what we had achieved," he says.
Mahora and his climbing partner Vitaly Raskalov are "skywalkers", part of a Russian subculture that has grown exponentially during the past four years, thanks to the internet. The group is thought to number more than 200. Without safety equipment, they scale the summits of skyscrapers to perform high-adrenaline balancing acts. Using the stairs, they climb the last 50 metres or so on the outside of the structure. Wearing ordinary clothing and trainers, they take nothing more than a smartphone or a head-mounted video camera. They often work in pairs, taking turns to pose in extraordinary positions at dizzying heights. These photo and video reports are immediately uploaded to share with their peers and circulated via social networking sites. It's an extreme sport but it's also a kind of performance art.
"Once we ran out of stairs, we scaled the external structure, which was still under construction," adds Mahora. "Vitaly and I swapped jokes and pretended to push each other off the edge. I was able to take pictures from a viewpoint only a tiny handful of people would experience in person. My feeling was one of utter fulfilment."
The pair are inspired by high-wire artists such as Frenchman Philippe Petit, who walked a tightrope between the New York Twin Towers in 1974, as well as the art of parkour, the sport of free-running derived from military obstacle courses and developed in France. They see themselves as urban free-climbers who use clever ploys to outwit the authorities in their race to the top. One tactic is to pose as entrepreneurs and book a business meeting with staff on the upper levels of the targeted building. Once the meeting ends, they take the lift to the top, peel off their smart suits to reveal ordinary clothes underneath and head for the nearest window.
Skywalking has become popular in Russia but scaling skyscrapers has been a challenge since such towers transformed the New York skyline in the early 20th century. In North America, where skywalkers are often referred to as "rooftoppers", one of the most famous enthusiasts is the Canadian photographer Tom Ryaboi who gained fame by posting vertigo-inducing images of his legs dangling above the busy intersections of his home city, Toronto.
"It all started when I looked up and thought things would look much cooler looking down," says Ryaboi. "We are reclaiming the city and choosing to explore it on our terms. Photography is a way for us to take something away from the experience, to say 'I was here'. But it's the internet that has brought us together as a global community. Whenever I travel, I look up the local rooftoppers in that city and shoot them an email. We meet up and swap stories before we head up a building. Without the media and the internet it would be a lot harder to find each other."
Not surprisingly the online posts emphasise the risks they face in performing their stunts. One daredevil living in Moscow, Max Polazov, is now a professional photographer who made his name by capturing stomach-churning selfies of himself performing handstands hundreds of metres above the Moscow streets.
"What we do looks dangerous and if I were to make a mistake I would be killed," says Polazov. "But I have been athletic my entire life, so I know my capabilities. I have been arrested by police many times and officials are often aggressive because they do not understand what we are doing. In Moscow the authorities are so strict, it is often impossible to even organise an official shoot. Rebelling is certainly a motivation for many skywalkers when they start out. Young people want to take on authority and win."
One man who understands the pitfalls of skywalking is the American businessman Dan Goodwin. He scaled Chicago's Sears Tower in 1981 in a Spiderman outfit. Since then, however, he has realised how easy it is to breach security and has founded Skyscraper Defence, which advises clients on tower security. He is a poacher turned gamekeeper. "What these people are doing is technically trespassing if they aren't breaking in. The buildings' owners, municipal authorities and police take a very hardline view of their activities. The attitude is nearly always to prosecute to the extent of the law. However, they are actually doing us a great service. If we took the time to listen to them and learn just how easily small untrained groups can infiltrate our greatest buildings, we could prevent more sinister elements from doing so."
Asked why they perform these deadly-looking stunts, many skywalkers cite the simple thrill of taking themselves to a place where they are submerged in the moment. Moreover, it's a risk taken in full view of their peers. Professor Richard Hammersley, a British psychologist at the University of Hull, has researched risk-taking among young people. "A young mind often has no experience of death, so young people can have much less of a problem taking risks compared to older people. The type of risks these young skywalkers take is no different fundamentally from the dangers youths have put themselves into in the past. What's changed now is that with the advance of the internet, young people can now share their risk-taking and quickly construct a global culture around what they do."
It is easy to understand the kick young men get from earning fame from taking such risks. But it's not just young men. In August 2012, Marina Bezrukova, a 20-year-old maths student, became the world's best-known female skywalker after strapping on a head-mounted video camera and balancing 125-metres from a Moscow ledge. Her footage caught dramatic views of the city below, as well as her ample curves.
"Of course I was flattered by the interest in me and I think many men were impressed I could take such risks," she remembers. "After posting the video I got over two-million YouTube hits and I was invited for interviews. I still write to young people on my Facebook fan page. Skywalking might seem macho, but we all earn respect by showing our capability to manage risk. I hope I've inspired others, especially young girls, to take control and do what they want in life."