Slain Seattle Protester Spent Final Weeks 'Tirelessly Standing up for Others'
A protester who was killed when a driver plowed into a crowd protesting police brutality on a closed Seattle freeway has been remembered as someone who spent their final weeks "tirelessly standing up for others."
Summer Taylor, 24, was struck by the vehicle on Interstate 5 in the early hours of Saturday morning.
Taylor died on Saturday evening at Harborview Medical Center. Diaz Love, another protester who was hit, remained in a serious condition in the intensive care unit on Sunday, a hospital spokesperson confirmed to Newsweek.
Urban Animal, the veterinary care clinic in Seattle where Taylor worked, wrote on Instagram that they were "a positive force of nature" who brought joy to others.
The post, which said Taylor used they and them pronouns, said: "Summer is a positive force of nature at Urban Animal and brings joy and laughter everywhere they go. Anyone that works for Urban Animal will tell you that Summer Taylor's laugh makes any bad day better."
The post added that Taylor had sent the past four to six weeks "tirelessly standing up for others while working full time and supporting everyone around them."
Katelyn Hoberecht, who worked with Taylor at the clinics, told The Seattle Times that Taylor had been a frequent presence at protests against police brutality in recent weeks.
"Summer has been there since Day One standing up for Black lives. Staying out all day and night, while still working full time taking care of animals," Hoberecht said. "Summer talked to me about the protests, and how incredible it was to be a part of something so huge. A part of history."
In a post on Facebook on Sunday night, Love wrote: "I cannot believe Summer was murdered. If they thought this murder would make us back down, they are very wrong. Very wrong."
On Instagram, the clinic shared a GoFundMe campaign that had been set up over the weekend to pay for Taylor's medical expenses. It has already raised more than $60,000.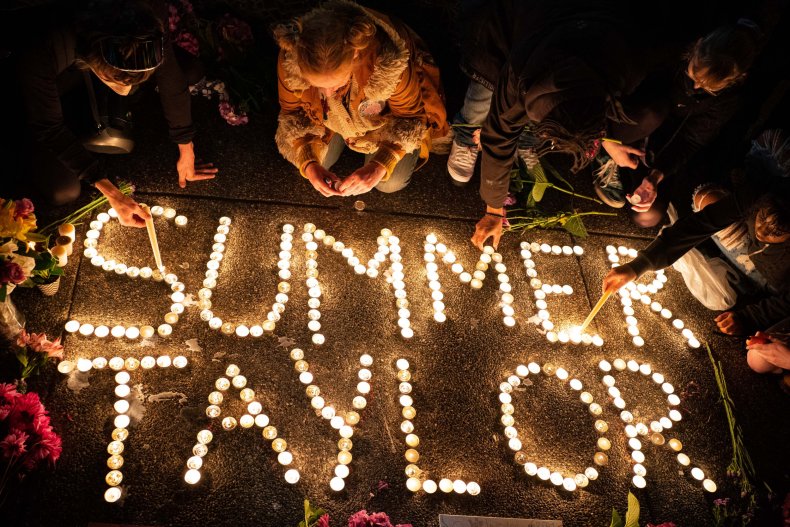 "Summer is an incredibly strong and independent spirit," a post on the page said. "They are a bright and caring person who's presence elicits joy and laughter in others. Summer works at a veterinary clinic and takes pride in their community & supporting others." Becky Gilliam, who set up the page, has been contacted for comment.
After news of Taylor's passing spread, Urban Animal announced on Instagram it would close the doors of its practices in Seattle on Sunday to "honor the loss of one of our own."
"The suddenness and circumstances of this tragic loss has taken a great toll on all of us," the post said. Urban Animal has been contacted for additional comment.
Dawit Kelete, the driver of the vehicle that struck Taylor and Love, is in custody awaiting a court hearing on whether or not he can be released on bail.
Kelete, 27, was booked into the King County Correctional Facility on Saturday on two counts of vehicular assault. Police said he drove a white Jaguar around vehicles that were blocking I-5 and sped into the crowd about 1:40 a.m.
Trooper Chase Van Cleave told the Associated Press that Kelete fled the scene after hitting protesters, but one of the other protesters got into a car and chased him for around a mile.
Van Cleave said the protester was able to stop him by pulling his car in front of Kelete's vehicle.
Authorities are not sure if it was a targeted attack, but impairment was not considered a factor, Washington State Patrol Capt. Ron Mead said at a news conference over the weekend. The state patrol has been contacted for additional comment.
Saturday's incident came after weeks of protests against police brutality and racism in Seattle and other places across the U.S., set off by the killing of George Floyd, a Black man, in Minneapolis police custody on May 25.
Last week, authorities cleared the "Capitol Hill Organized Protest" (CHOP), a several block stretch in Seattle's Capitol Hill neighborhood, on Seattle Mayor Jeenny Durkan's orders after fatal shootings took place in the area. Protesters occupied the area for much of June after police abandoned the precinct following clashes with demonstrators.