Slam Dunk Contest Ripped by Twitter After Aaron Gordon Loses Despite Perfection, and Dunk Over Tacko Fall
Aaron Gordon had a perfect night performing at the Slam Dunk Contest during the Saturday night events at the NBA's All-Star Weekend. That is, until Gordon's last dunk was him flying over a player who is 7-foot, 5-inches, in which the judges' overall score deemed him less than perfect.
Gordon had two dunks with perfect scores of 50 in the opening round, and then he had two more perfect scores in the finals, but so did fellow finalist Derrick Jones Jr., which sent the two into a sudden-death dunk-off.
Gordon, who plays for the Orlando Magic, got his fifth 50 of the night, and Jones (Miami Heat) matched it with a 50. Jones then led off the second round of the dunk-off with a dunk that was less than perfect—the five judges combined to give him a 48. Three of them gave him a perfect 10 while two of them delivered nines.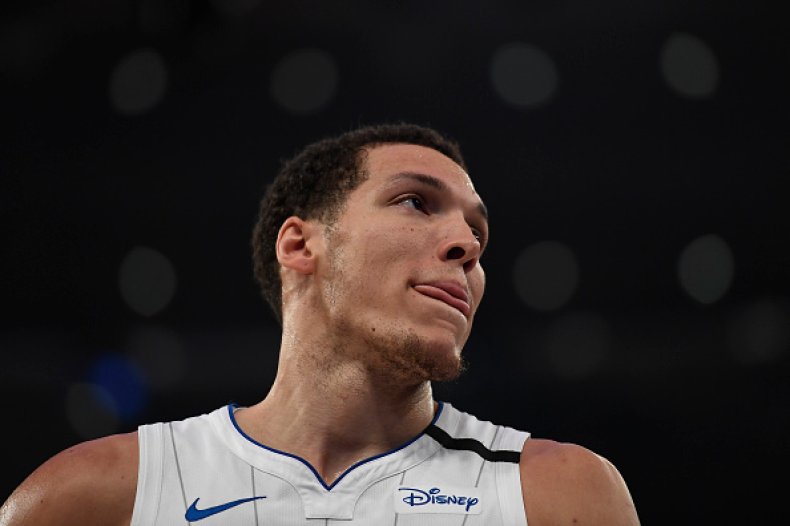 Gordon then needed just one dunk to beat Jones. Gordon pulled Tacko Fall to help him with it. Fall is a 7-5 player and fan favorite who stood near the basket and held the ball behind his neck while facing toward the rim. Gordon quickly approached, took flight, grabbed the ball while soaring over Fall's height and slammed the ball through the hoop.
He waited for his score. Then it appeared: 9-10-10-9-9. He scored a 47, which meant Jackson walked away with the 2020 Slam Dunk championship.
"It's a wrap. I feel like I should have two trophies. So it's over for that," Gordon said after the contest. Gordon finished as runner-up in the 2016 contest, too.
Not only were the TNT announcers livid on live TV, Twitter sounded off on it as well, thinking Gordon got robbed of a second dunk title on his resume.
There was former Miami Heat legend Dwayne Wade, who was one of the five judges, and one of the three who gave Gordon a nine, that sent the Heat's Derrick Jones to victory.
"Dwight Howard got a 49 for putting on a Halloween costume and making a pretty basic oop dunk... Aaron Gordon dunked over the Empire State Building and got a 47... You should be ashamed of yourself, DWade."
In the post-dunk press conference, Gordon said he should be rewarded for not only four perfect dunks in regulation, but for more perfection.
"Magic's Aaron Gordon after controversial Slam Dunk Contest loss to Heat's Derrick Jones Jr.: "We're here to do four dunks. It should be the best out of four dunks. I did four straight 50s — five straight 50s. It's over. It's a wrap. Let's go home.""