'Slave Owner' Spray-Painted on Alexander Macomb Monument in Detroit's Historic District
People in Detroit appeared to call for the removal of another statue with racist ties on Saturday, when one depicting Army General Alexander Macomb was found with the words "Slave Owner Land Thief" spray-painted across its base.
Police responded to reports of the spray-painted statue around 9:40 p.m. on Saturday, while protesters participated in a rally held by activist group Detroit Will Breathe, according to Detroit Free Press. The demonstration commemorated 100 days of protests against police brutality and racism in Detroit, one of several U.S. cities where rallies sparked by George Floyd's death continue more than two months later.
Detroit Police Sergeant Nicole Kirkwood told the newspaper the city's public works department will remove the paint while local law enforcement investigates. In addition to the spray-painted message, unidentified individuals also reportedly placed a bag over the statue's head on Saturday night.
The Macomb statue stands in Detroit's Washington Boulevard Historic District, where it was first dedicated more than 100 years ago. Macomb's legacy is closely tied to slavery, and he is remembered for his involvement in the genocide of indigenous people during the early 19th century. Some historians say Macomb himself did not own slaves, although his father and uncle owned many. Kyle Alexander de Beausset, a living descendent of Macomb, argued for the statue's removal in a column written for the Detroit Free Press in June.
"What that statue does is relegate the slavery and genocide associated with the Macombs to historical footnotes," he wrote. "Slavery and genocide aren't footnotes⁠—they're a fundamental part of how we all got to where we're at today."
Detroit Mayor Mike Duggan ordered the removal of a Christopher Columbus bust, previously located near the City Hall building, around the same time. The city placed it in storage, as the summer's demonstrations prompted a nationwide push for officials to retire statues and symbols linked to slavery, racism and colonization. Columbus statues were removed in a number of other U.S. cities. In some places, like Philadelphia, actions by protesters seeking the statues' removals bred contention with those who aimed to defend them.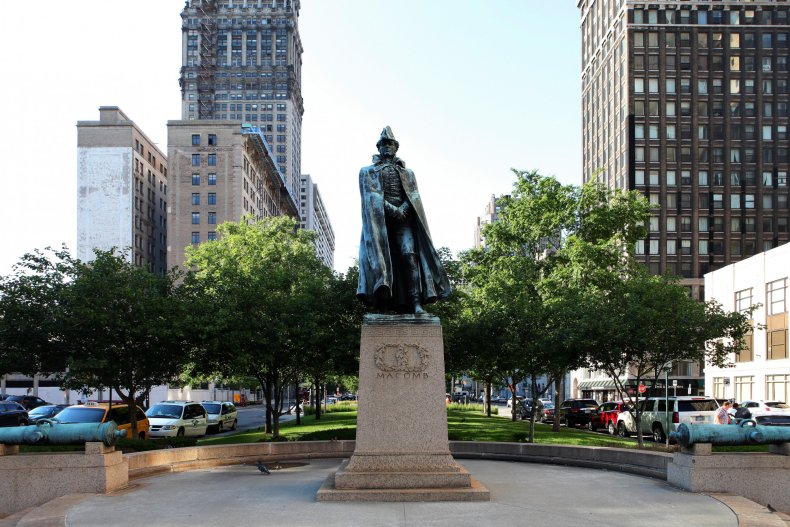 "When I looked at some of the violence around the country, and in particular you've got people with arms gathering around a Columbus statue in Philadelphia arguing with people, I thought we don't need this," said Duggan during a press conference, referencing his decision to remove Detroit's Columbus bust. "We should have a conversation as a community as to what is an appropriate place for such a statue."
Newsweek reached out to Duggan's office for more information about the future of Detroit's Macomb statue but did not receive a reply in time for publication.
This story was updated September 8 to note that some historians say Macomb himself did not own slaves. His father and uncle were prominent slave owners.