Slavery Reparations Fight Cannot Die in Congress, Says Filmmaker Stanley Nelson: 'The Legacy of Enslavement Is Still With Us'
The filmmaker behind an upcoming documentary on the transatlantic slave trade has called on U.S. lawmakers to not let the push for slavery reparations to die in Congress.
In an interview with Newsweek, Stanley Nelson, whose documentary Creating The New World: The Transatlantic Slave Trade is set to air on PBS in 2021, said a congressional hearing on Wednesday discussing the possibility for reparations for the descendants of slaves was a necessary step toward justice.
"I don't necessarily think reparations will come out of what's happening now, but this does start the discussion and that discussion may take years to come to fruition," he said.
"What's great about what's happening now is that this starts the conversation," Nelson said of the hearing, which took place on Juneteenth, the day marking the announcement of the abolition of slavery in the state of Texas.
Wednesday's hearing on H.R. 40, the "Commission to Study and Develop Reparation Proposals for African-Americans Act," was the first to explore the question of whether descendants of slaves in the U.S. should receive compensation for the legacy they were forced to inherit from the Transatlantic Slave Trade.
The hearing, which saw lawmakers consider a bill put forward by Texas Democrat Sheila Jackson-Lee to set up a commission to explore the possibility of reparations for slavery, erupted into fiery debate, with some witnesses arguing reparations could deepen division, while others said it was essential to addressing the long-lasting impacts of slavery.
"The legacy of enslavement is still with us," Nelson said. "It's something that, for African Americans is talked about a lot and it will continue to be talked about."
"I also think that every thinking person knows that when they look around the world that exists and, in the United States, when you look around you know that that legacy is still with us," he said. "That's why you see it come up 10 years and you see it come up again now."
Despite more than 150 years passing since the ratification of the Thirteenth Amendment, which formally ended institutionalized slavery in the U.S., Nelson said that the U.S. had yet to really take a close look at the slave trade "and what it meant."
"There is a legacy of racism and impoverishment that was part of the enslavement system," Nelson said.
"Imagine just, throughout most of slavery, black folks were not allowed to read and write. It was illegal to read and write," he said, for example. "And then now, you say, 'okay, you're free to go, so go out and compete in the market.' No, we're still living with that."
While the possibility of reparations for slavery is being discussed within the House, any bill seeking to push that discussion further would likely die in the Senate, where majority leader Mitch McConnell has made it clear that no reparations bill will pass under his leadership.
McConnell told reporters on Tuesday that he believes black Americans today should not receive benefits for "something that happened 150 years ago."
However, during Wednesday's hearing, author Ta-Nehisi Coates, who wrote the widely acclaimed 2014 article "The Case for Reparations" condemned the senator's comments. He asserted that the impacts of slavery have "extended well into the lifetime of Majority Leader McConnell."
"We grant that Mr. McConnell was not alive for Appomattox. But he was alive for the electrocution of George Stinney. He was alive for the blinding of Isaac Woodard. He was alive to witness kleptocracy in his native Alabama and a regime premised on electoral theft," he said. "Majority Leader McConnell cited civil rights legislation yesterday—as well he should, because he was alive to witness the harassment, jailing, and betrayal of those responsible for that legislation by a government sworn to protect them."
If reparations were ever to be made in the U.S., it is unclear what form they might take. However, Jackson-Lee's bill seeks to explore that question.
In the lead-up to the 2020 election, it is one that has come to the fore, with a number of high-profile Democratic candidates expressing some level of support for the possibility of reparations, including Senators Kamala Harris, Cory Booker, Elizabeth Warren, former Texas representative Beto O'Rourke and former Housing and Urban Development Secretary Julián Castro.
Nelson said it is up to lawmakers, as well as advocates for reparations, to make sure the issue "doesn't just drop," now that it has risen to the fore once again.
"I would love to see somehow, that we are able to start on a much more even playing field. That we look at this and recognize that we are still living with the repercussions and remnants of 200 and something years of enslavement," he said.
"That is a long time. It's generations and generations of a system where not only would you be enslaved, but your kids, your grandkids and great-grandkids would have been enslaved. And we're still dealing with that today," he said.
Nelson's upcoming four-part documentary on the Transatlantic Slave Trade is part is the final installment in a three-part series from Firelight Films' for Independent Lens called America Revisited.
The documentary aims to address the legacy of forced migration, enslavement and subjugation, as well as the wealth that was created, and denied to African Americans, as a result of the slave trade.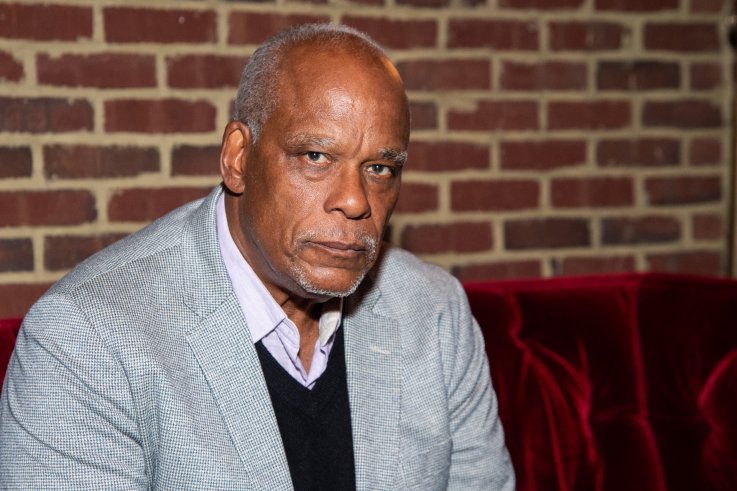 Slavery Reparations Fight Cannot Die in Congress, Says Filmmaker Stanley Nelson: 'The Legacy of Enslavement Is Still With Us' | News