Sledding Ban Coming to a City Near You?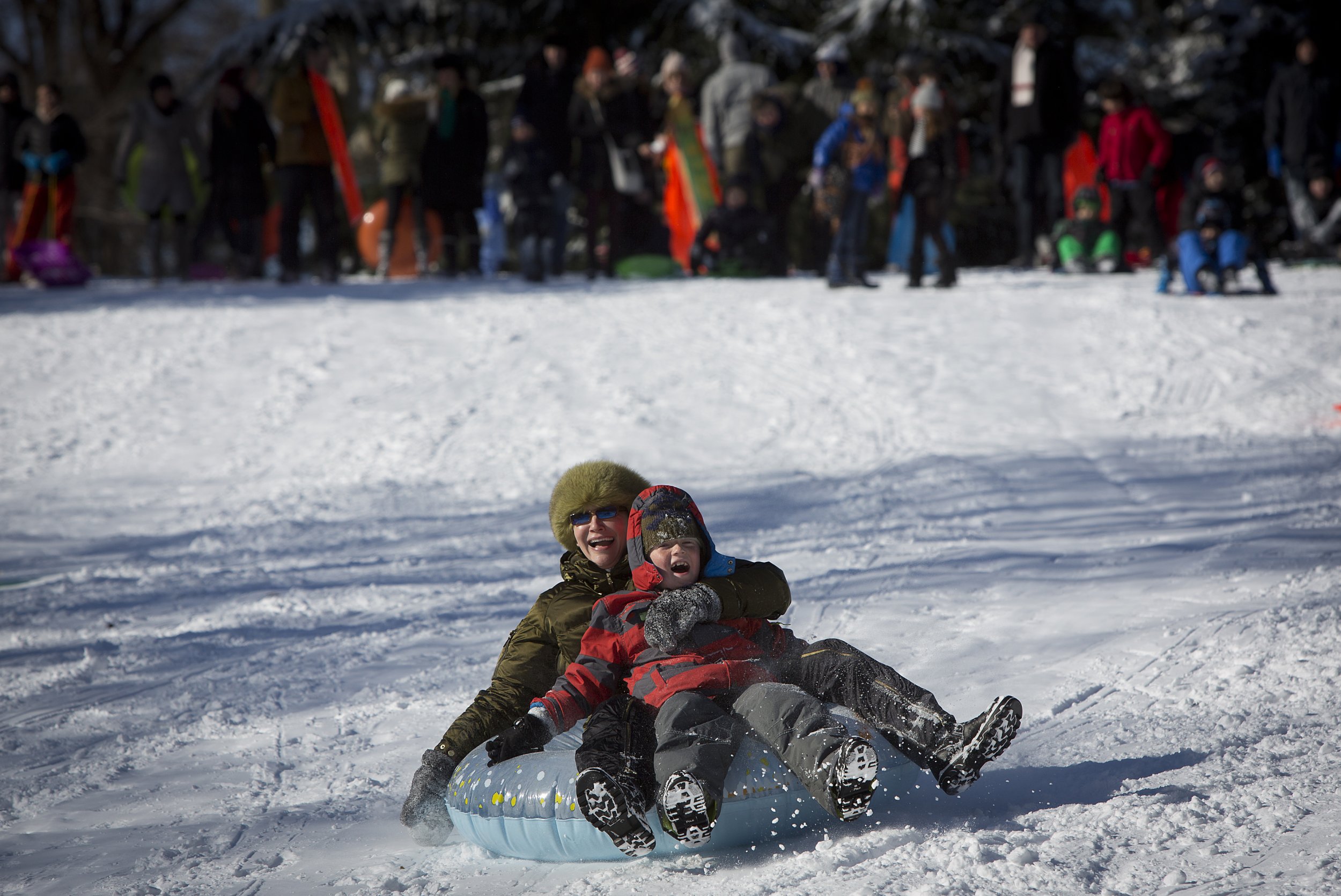 Sledding is dangerous. Each winter, snow-suited children of all ages careen down icy hills on slabs of unsteerable plastic designed specifically to reduce friction—or, in other words, to go as fast as gravitationally possible. Some of them hit trees or fences, or simply land with a brutal thud after taking momentary flight in a city park.
Cities across the country have had enough. Among them is Dubuque, Iowa, whose City Council is moving this year to ban sledding in 48 of its 50 municipal parks, The Associated Press reports. The council cited two recent major lawsuits that cost other municipalities big money: a $2 million judgment against Omaha, Nebraska, after a 5-year-old girl who hit a tree while sledding became paralyzed, and a $2.75 million payment in Sioux City, Iowa, when a man sledded into a sign and suffered a spinal cord injury.
According to a study by the Center for Injury Research and Policy at Nationwide Children's Hospital, sledding-related injuries send over 20,000 children to the hospital each year, of whom 9 percent suffer traumatic brain injury.
"Everybody likes sledding, OK? Everyone wants to promote outdoor activities, and we want people to be active. But everyone knows sledding is a risky activity," says Marie Ware, the leisure services manager for the city of Dubuque. "We want to manage that risk."
Ware said the city would be open to reviewing specific hills to possibly allow sledding if residents submit requests. But managing the city's liability in all of its parks would be too complicated to do on a park-by-park basis. "The variability of sledding—the type of snow, the weather, if it is a heavier person, a lighter person—all those things make it hard to predict how it'll go."
But Ware doesn't expect anyone will be arrested for illegally sledding. In almost all cases, when it comes to recreational rules, "we just ask people to stop doing it, and typically, that's what people do," she says. "If a person becomes a repeat offender, if they are uncooperative, they could get a municipal infraction, like a fine."
If Dubuque follows through with the ban, it will join a growing list of North American cities that have eliminated certain sledding hills, or posted signs exempting them from liability for injured sledders, over the past few years, such as Des Moines, Iowa; Montville, New Jersey; Lincoln, Nebraska; and Columbia City, Indiana.