A woman has warned fellow Texans to beware of predatory slimy, black worms that can carry parasites after she found them wriggling around on her porch.
Marranda Ganucheau, 39, told Newsweek she first spotted the flatworms around two weeks ago at about 10 p.m. while she was watering the plants on her porch in the Texan city of Pearland.
Ganucheau—who lives at home with her husband, three of their six children, and their dog Boscoe—said: "I showed my husband and we both kind of blew it off and we stepped on it.
"However the next evening I noticed several crawling on our brick patio deck. So that's when I looked a little closer and ultimately got an icky feeling."
At first she thought the creatures were leeches, but searching online suggested she had encountered a New Guinea Flatworm.
"That's when I started to panic," she told Newsweek. Ganucheau asked herself: "what are these things? Can they hurt my kids or my dogs? What do they want in my yard?"
The number of flatworms in her yard can add up to 20 in one hour, she said. Neighbors as well as people from Houston and Copperfield have also seen the animals, she told Newsweek.
Ganucheau told CBS affiliate KHOU11 the worms are "slender, black, slimy."
Intrigued by the "strange looking" animals, Ganucheau contacted the Texas Invasive Species Institute (TISI) who told her they were New Guinea Flatworms.
Ganucheau told KHOU11: "I have kids and we're outside and we're swimming and we're barefooted, so I was like, 'Oh my goodness! Can we get this parasite from these worms?"
"When they are crawling their nose points up like a snout—it's like an ant-eater snout," Ganucheau told the Houston Chronicle. "But then when you go to touch them they go flat [and] they almost look like snot. There is no telling how many I have in my yard... They are so freaky."
Ganucheau told Click 2 Houston she thinks the worms arrived in her garden in plants that she bought from gardening stores to help her raise butterflies.
As its name suggests, the worm originates from New Guinea, according to the TISI. Inhabiting sub-tropical areas, in the U.S. it is found in Texas, Florida, and Puerto Rico.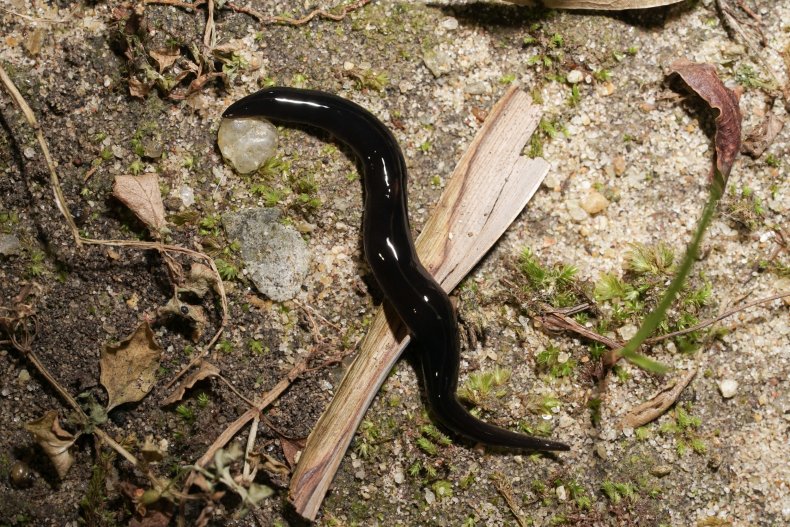 The dark brown invertebrates characterized by the tan-colored stripe down their backs are predatory, and feed on snails by draining them. They have also been known to eat earthworms and isopods. The worms can grow between 1.6 to 2.6 inches, but can kill Giant African snails which measure up to 7 inches.
As well as following snail trails to gobble up the gastropods, these nocturnal worms have the potential to harm humans because they can host the Rat Lungworm parasite. The flatworms catch the parasite also known as angiostrongylus cantonensis by eating snails.
Rat Lungworm disease can affect the brain and spinal cord, and cause a rare form of meningitis. While some people won't experience symptoms, others can suffer from headaches, stiffness in the neck, pain in the skin and outer parts of the body, fever, nausea, and vomiting. A person's face may become temporarily paralyzed, and their eyes sensitive to light.
These symptoms generally come on between one to three weeks after the individual is infected, and usually last from two to eight weeks but have been known to continue for longer. There is no treatment for the disease, as the parasite will die in the body, but steroids can be given to tackle inflammation.
The TISI stresses picking up the flatworms with bare hands is not advised. Instead, use gloves, a stick or disposable foreceps. Citrus oil and white vinegar sprays can be used to kill off the flatworms, and they may also be vulnerable to salt and slug repellent.
Ganucheau said the TISI told her to kill the worms as she encounters them. "I have so many of them. I just don't know what to do about them anymore," she told KHOU 11.
"Be aware that these can carry a parasite that is extremely harmful to people and pets. So watch your pets and your kids that put things in their mouth," she warned.
Ganucheau urged those who find flatworms to contact the TISI so they can document their locations.
This article has been updated with comment from Marranda Ganucheau.
About the writer
Kashmira Gander is Deputy Science Editor at Newsweek. Her interests include health, gender, LGBTQIA+ issues, human rights, subcultures, music, and lifestyle. Her work has also been published in the The Independent, The Independent on Sunday, The i Newspaper, the London Evening Standard and International Business Times UK.