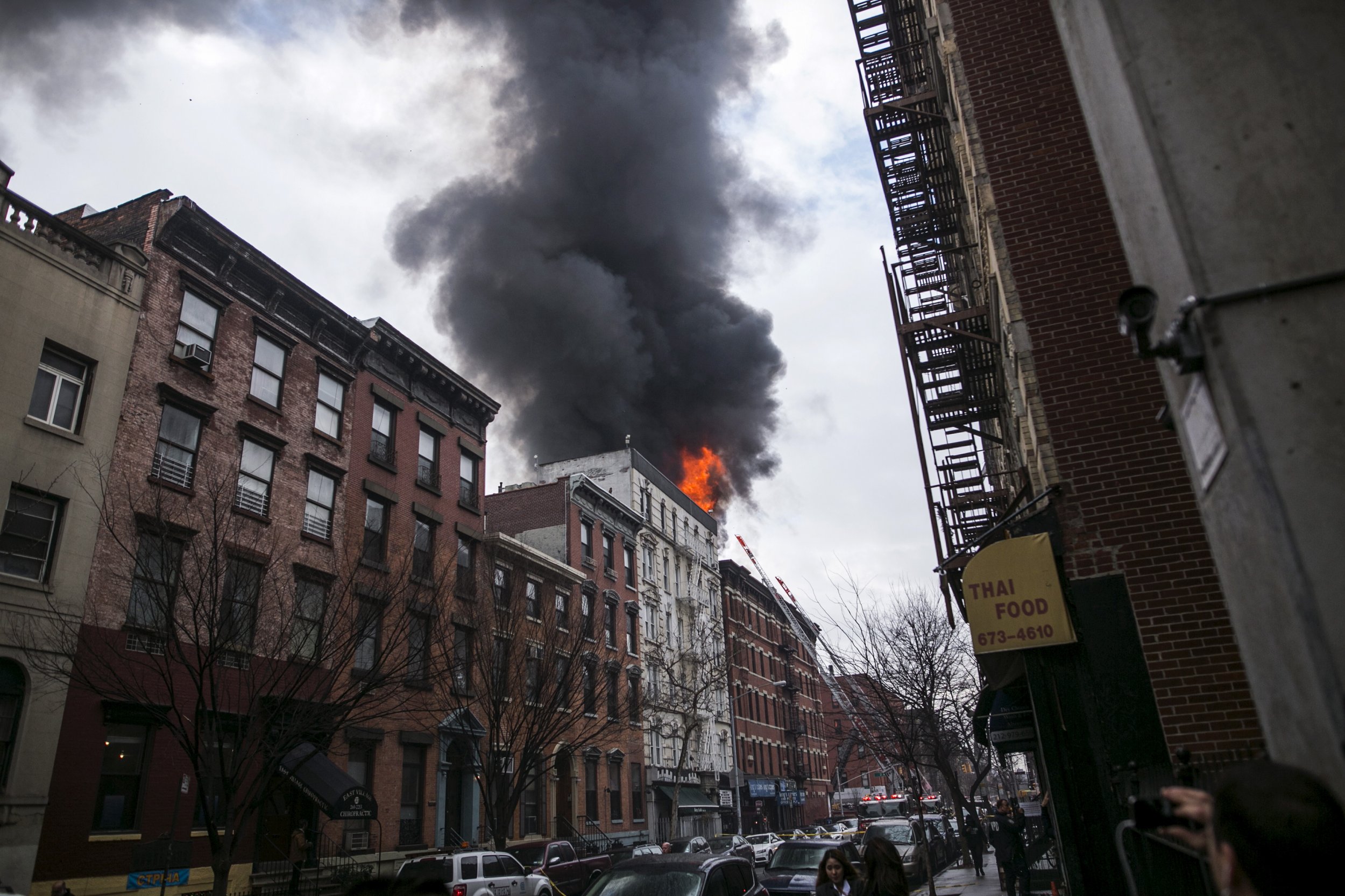 An explosion in Manhattan's East Village on Thursday injured an estimated 25 people and destroyed a row of landmarked buildings that have held meaning for generations of New Yorkers. At one time the mayor's residence was there, and another building housed an iconic vintage-clothing store made popular in the 1985 film Desperately Seeking Susan.
"It's a real tragedy. It was scary," says Simeon Bankoff, executive director of the Historic Districts Council. "It's shocking when this happens in an area that's so close-knit. People really live on the streets here, in a good way. There's a real community."
City officials say the March 26 explosion happened at 121 Second Avenue and also damaged the neighboring buildings at 119, 123 and 125. The buildings all were awarded landmark status in October 2012 as part of a designation of an East Village/Lower East Side Historic District. The buildings in that district date mostly to the mid- to late 1800s, a time when wealthier New Yorkers started moving uptown and selling off their properties, which were often turned into tenement housing.
European immigrants began moving into the area in large numbers in the second half of the 19th century. An early influx consisted mostly of Germans, and the area became known as Kleindeutschland, or Little Germany. Jewish immigrants from Eastern Europe moved there too and established a vibrant theater district.
"The East Village and the Lower East Side are remarkable in that they've seen successive waves of immigrants and new populations coming in and really shaping and affecting the physical environment, bringing with them their social clubs, their gathering places," Bankoff says.
By the middle of the 20th century, the Village became an epicenter for artists and bohemians.
The historic district, one of 114 in the city, runs north-south from around East 7th Street to East Second Street and east-west from First and Second avenues to the Bowery.
The property where the explosion occurred, 121 Second Avenue, was a five-story brick building that was built around 1886, according to the Landmarks Preservation Commission. The architect is unknown, but its original owner, G. Kearney, may have been related to Edward Kearney, a well-known auctioneer in that part of New York City at the time. A storefront had been on the ground floor of the building since 1913 or earlier.
A house owned by Thomas Leary existed on that spot in 1834; it may have later been modified into the tenement.
The earlier structure's more famous resident apparently was Mayor Fernando Wood; an 1855 article in The New York Times described a "serenade" by 500 musicians taking place in front of that address, called the "mayor's residence."
Another article in the Times, from 1930, says a speakeasy called the Russian Art Restaurant was at that address, though an advertisement in the Columbia University student newspaper from a year earlier puts the address at 181, as does a 1930 guide called "Dining in New York," which described the scene there as "truly, genuinely Russian, from kitchen to clientele; that the assorted entertainment is weepy, and Russian and sad; that the decorations are also Russian, and gross, and a teeny-weeny bit bizarre."
The guide continued, "There is a genuineness about the place that gets under your skin; a melancholia that makes you wish you had a stein of good, pre-war beer to weep into."
Whether the Russian restaurant was at 121 or 181, that stretch of Second Avenue was known as the Yiddish Theater District, or the Yiddish Rialto, and was popular among Jewish immigrants. Songwriters George and Ira Gershwin grew up at 91 Second Avenue, and actors including Edward G. Robinson got their start in the area.
"This building is certainly located right in the heart of the East Village," Andrew Berman, executive director of the Greenwich Village Society for Historic Preservation, says about 121 Second Avenue. He says he heard the explosion from his office a few blocks away. "We certainly lost a little piece of our history."
Another building, 123 Second Avenue, collapsed following the explosion, city officials say. It was a brick, five-story building that dated to 1834, when, like its neighbor, it was owned by Thomas Leary. Architect George Pelham, who designed buildings around the city, is believed to have added an extension between the turn of the century and 1913.
The seven-story building next door, at 125 Second Avenue, dates to 1901. It was home to a rare-records store called Wowsville from 2000 to 2004, owned by a couple from Spain. One-half of the couple, Alberto Camarasa, later reopened the store in Berlin, along with a bar and a New York-style pizza restaurant. "Lots of things were happening," Camarasa says of the East Village spot. "It was the perfect locatoin." In 1924, it was home to George Holstein's hat store, the site of a holdup during which $3,000 to $4,000 in jewelry and cash was taken.
The five-story building at 119 Second Avenue also partially collapsed and will require demolition. It dates to 1886 or earlier and was first owned by L.W. Wells. It is perhaps best known as the site of a beloved vintage clothing and bric-a-brac shop called Love Saves the Day (that is, LSD), which opened around the corner in the mid-1960s and moved to No. 119 in 1983. Its owner, Richard Herson, closed it in January 2009 and moved the shop to New Hope, Pennsylvania. The shop appears in Desperately Seeking Susan, in a scene in which Madonna's character trades in a jacket for glitzy boots.
"To see no building where there was a building was heartbreaking," says Herson, 68. "That was like the heart of the East Village, and I know it's going to affect a lot of people."
He initially paid $1,500 a month in rent for the store; by 2009 that had gone up to $11,000. Herson says when he first moved to the neighborhood, in the 1970s, he was amazed to find the streets filled with people even during the workday. "Don't they have jobs? This is a different world," he remembers thinking. Even at night, the streets were full of people selling things. "It was like a flea market all night long."
The area has remained popular for filmmakers; Joel and Ethan Coen shot Inside Llewyn Davis, released in 2013, around the corner.
Nick Carr, a movie location scout who runs the blog Scouting NY, says filmmakers use the area frequently because for both period and contemporary subjects, it looks like quintessential New York City. "It screams character," Carr says. "You can do period shoots there and you really don't have to change too much other than some storefronts.... It really is like a slice of history." The Godfather Part II, from 1974, was also filmed around there, he points out.
Berman, of the Greenwich Village Society for Historic Preservation, says that getting the historic designation took "a lot of work" because some residents feared the restrictions that come with landmarking. "It's a relatively new appreciation for things that we have, like tenements," he says.
"While our historic fabric is very important, keeping people and our city safe is paramount," says the Historic Districts Council's Bankoff. He adds that the landmark authorities will begin looking into future possibilities for the area only after the city's public safety agencies complete their investigations.
At the time of the explosion, the mixed-use buildings were home to residents, a restaurant called Sushi Park and a french fry joint, Pommes Frites.
The cause of the explosion has not yet been determined, though Mayor Bill de Blasio said Friday that "the strong assumption is a gas explosion." Two people are still unaccounted for, the police said Friday morning.