Slim Majority of Florida Latinos Back Trump Over Biden: New Poll
A slim majority of likely Latino voters in Florida support President Donald Trump over Democratic nominee Joe Biden, new polling shows.
The poll, conducted by NBC News/Marist from October 25 to 27, shows 52 percent of Florida Latinos supporting Trump, while just 46 percent back the former vice president. But overall, Biden appears to have a slight edge over the president in Florida, with a lead of 4 percentage points.
Biden is backed by 51 percent of likely voters in the key swing state, compared with 47 percent who support Trump. Notably, that's an improvement from when the same survey was carried out in September. At that time, the Republican and Democratic candidates were tied, each with the backing of 48 percent of Florida's likely voters.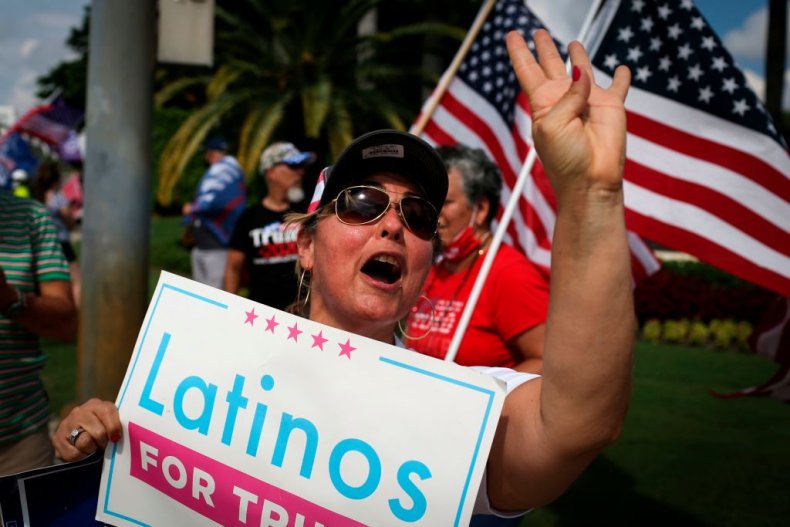 But Biden's lead is within the poll's margin of error, which is plus or minus 4.4 percentage points. Meanwhile, Trump also is ahead of his Democratic challenger with white voters (52 percent to 45 percent), men (54 percent to 44 percent) and whites without college degrees (62 percent to 36 percent).
Biden is ahead with Black voters (84 percent to 14 percent), women (57 percent to 41 percent), independents (55 percent to 41 percent), whites with college degrees (58 percent to 40 percent) and seniors (53 percent to 46 percent).
Nationally, Biden leads Trump by a significant margin among Latino voters, according to polling conducted by the Pew Research Center from September 30 to October. That survey showed 63 percent of Latino voters supporting the Democrat, while just 29 percent backed Trump. Latino women were more likely to support Biden (67 percent), but the Democrat also had the backing of a majority of Latino men (59 percent).
Florida—like the other key battleground states of Michigan, Wisconsin, Pennsylvania and Ohio—went for President Barack Obama in 2008 and 2012 before flipping red for Trump in 2016. Biden is hoping to regain the lost ground in order to come out on top in the Electoral College after the November 3 election.
The race in Florida appears to be a toss-up, despite Trump officially transferring his residency there about a year ago. The current Real Clear Politics average of Florida polls shows Biden ahead by a narrow 0.5 percent among likely voters.
Another recent survey, conducted by Florida Atlantic University, shows Biden ahead by just 2 percentage points, with the backing of 50 percent as opposed to 48 percent supporting Trump. But a Rasmussen Reports poll conducted in the state from October 20 to 21 has Trump up by 4 percentage points—50 percent to 46 percent.