New Sloping Toilet Designed to Minimize Bathroom Breaks Is 2019's Greatest Villain
An inventor is facing criticism for his proposed toilet design that would force people to go to the bathroom faster.
British startup Standard Toilet received a patent for a toilet seat slanted at a 13 degree angle, making it difficult to sit for over five minutes at a time. Creator Mahabir Gill spoke to Wired about the invention, saying that it was inspired by his frustration at finding co-workers asleep on the john.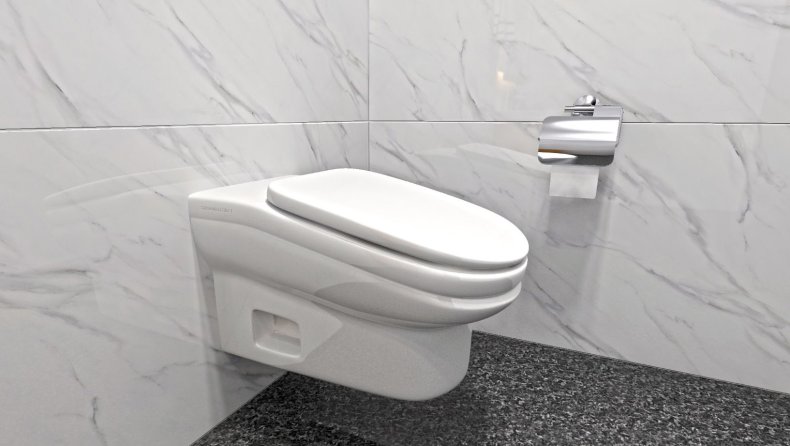 Gill says that the angle should be acceptable to most toilet users, telling Wired "Anything higher than that would cause wider problems. Thirteen degrees is not too inconvenient, but you'd soon want to get off the seat quite quickly."
Although the exercise that squatters get from using the slanted seat isn't anything to sneeze at, Gill says that the main benefit of installing an angled toilet is for employers concerned that their staff is whiling away company time on the potty.
On their website, Standard Toilet reports that extended employee breaks cost businesses £4 billion a year, or about $5.2 billion. They position the slanted toilet as a way to make it too uncomfortable for workers to take longer bathroom sessions.
On their site, the company says "In modern times, the workplace toilet has become private texting and social media usage space," so their concept will reduce the desire to pull the phone out while you do your business.
Some research indicates that prolonged sitting on the toilet could increase your risk of hemorrhoids. A clinical trial was conducted on the topic in 2018 but the results have not been released to the public.
The British Toilet Association approved Standard Toilet's design in November and the unit is on sale now. Standard Toilet is meeting with a number of service station companies to roll out its unit to their facilities.
The reveal of the slanted toilet was met with near-universal condemnation on social media.
Some users are commenting that the slanted seats would be unusable for individuals living with certain medical conditions.
Other users compared the toilet to a torture device.
The slanted toilet has yet to be introduced to the U.S. market. The Americans with Disabilities Act, which mandates certain specifications in plumbing, does not require toilets or seats to be at a specific angle, merely that toilet seats be between 17 and 19 inches from the floor.