The prime minister of Slovenia has said "it's pretty clear" that the U.S. has re-elected Donald Trump as president despite millions of votes still being counted and no winner yet declared.
Janez Janša has been a vocal supporter of the president during his election campaign and previously said Joe Biden would be "one of the weakest presidents in history".
Earlier, Trump incorrectly claimed victory, telling an audience at the White House: "We were getting ready to win this election. Frankly, we did win this election." The count, however, is ongoing, with the Associated Press putting Joe Biden at 224 electoral college votes, with Trump trailing slightly at 213. Whoever clinches 270 or more votes will win.
He also claimed, without evidence, that election fraud had taken place, and said he would ask the U.S. Supreme Court to intervene in the election process. "We want all voting to stop," he said. "We don't want them to find any ballots at four o'clock in the morning and add them to the list. This is a very sad moment."
The first international leader to support Trump's premature victory statement, Janša took to Twitter to say: "It's pretty clear that American people have elected @realDonaldTrump @Mike_Pence for #4moreyears. More delays and facts denying from #MSM, bigger the final triumph for #POTUS. Congratulations @GOP for strong results across the #US."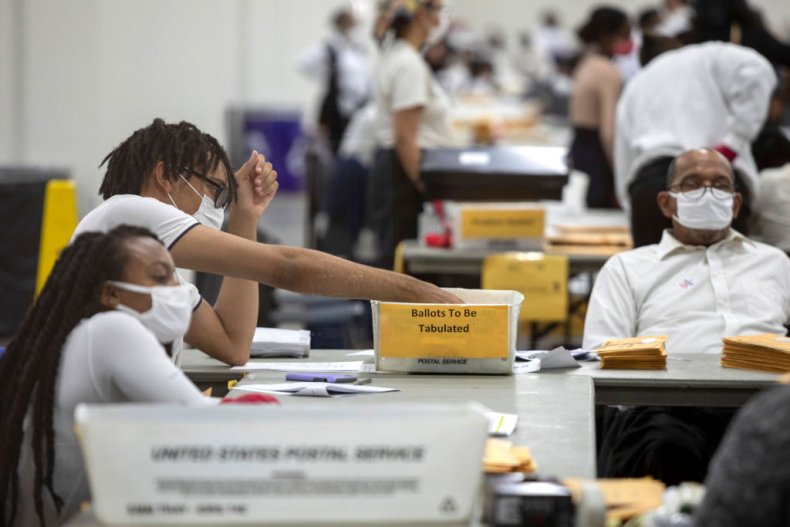 Last month the leader of the Slovenian Democratic Party indicated his support for the president with a tweet telling Trump to "Go, win". Slovenia is the birthplace of the first lady, Melania Trump.
Joe Biden's campaign manager called Trump's premature declaration of victory "outrageous, unprecedented, and incorrect" and said the former vice president's legal team was standing by for any court battles ahead.
In the U.K., Foreign Secretary Dominic Raab refused to condemn the president's unfounded claim of a win and said he would not "comment on the commentary".
Millions of votes are yet to be counted due to a huge increase in Americans using mail-in ballots to cast their votes as a result of the pandemic.
Trump pulled off wins in Florida, Ohio, Iowa, and Texas, but results are yet to be released from the key battleground states of Pennsylvania, North Carolina, Wisconsin, and Michigan.
Biden earlier told his supporters: "It's not my place or Donald Trump's place to declare who's won this election. That's the decision of the American people but I'm optimistic about this outcome."