'Smack' Jones? Alabama Quarterback is Comfortable Talking Back at Coach Nick Saban
Alabama quarterback Mac Jones once led the scout team during practice in preparation for the upcoming game. When Jones kept throwing a deep pass for a completion against the vaunted Tide defense, head coach Nick Saban yelled at the scout team.
Saban told Jones to quit throwing that pass. The response from Jones might not have been expected.
"Well tell your defense to stop it," Jones reportedly quipped back, according to this AL.com report.
Alabama safety Jared Mayden recounted that story as he remembered Jones completing those passes to Tyrell Shavers, another scout team member.
Mayden said he was impressed with Jones' enthusiasm and confidence in sparring words with one of the greatest college football coaches in history.
"Like, for a quarterback to have that type of charisma about himself," Mayden told AL.com. "You know I'll be behind him all the time."
Then there was Jones, a newbie on the Tide and quarterback toiling in futility on the depth chart behind other big names. Jones was just trying to have fun while competing for a storied program with a larger-than-life coach.
"There's plenty of times when me and coach Saban talk some smack together," Jones said on Thursday. "Friendly smack. Whether you're on the scout team or the starter, you want to have fun and compete and just play football. That's what we love to do."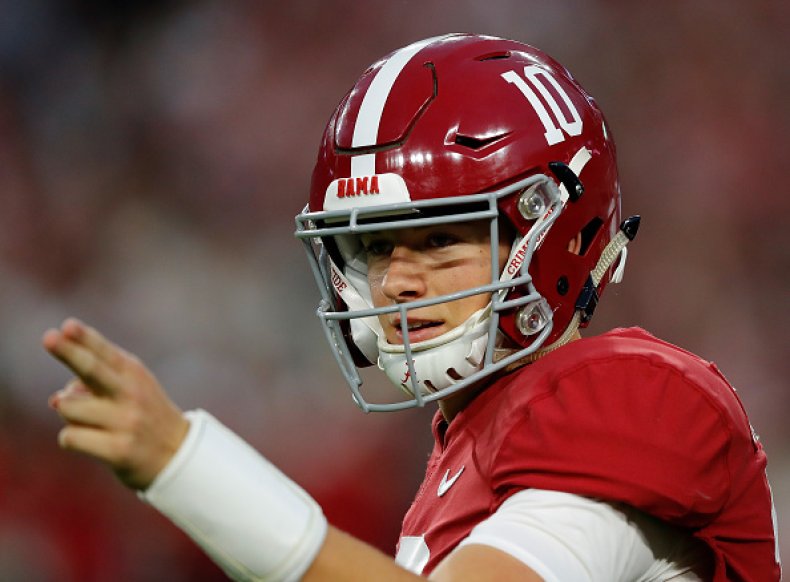 The quarterback depth chart has shuffled around the last couple of years. Jalen Hurts was the starter as a freshman and sophomore during the 2016 and 2017 seasons, respectively. He led the Tide to a national runner-up finish in 2016, and then to the national title game in 2017 before he was benched in the second half of that game for Tua Tagovailoa.
Tagovailoa started the 2018 eason while Hurts was moved to backup. When Hurts transferred to Oklahoma for the 2019 season, Jones became No. 2 on the depth chart. Jones was thrust into action after Tagovailoa was inured in the Tennessee game, and Mac the "smack" talker passed for 235 yards in a win over Arkansas.
Tagovailoa came back for the LSU game and played its entirety in a 46-41. Then against Mississippi State the following week, Tagovailoa suffered a season-ending injury to his hip. Jones started against Western Carolina—a 66-3 win—and started the Iron Bowl against Auburn—a 48-45 loss.
Now Jones has the keys to the Alabama offense as the No. 13 Crimson Tide get ready to play No. 14 Michigan in the Citrus Bowl on New Year's Day. Jones still likes to approach the game as fun, even if it means trading barbs with Saban, who has won five national championships at Alabama but finds his team out of the College Football Playoff the first time in six years.
"I think it helped a lot of the players around me and obviously the defense, just trying to give them the best look we could," Jones said of the day he told Saban to play better defense. "Making it fun and enjoyable for the scout team coaches and players, the whole nine yards."