SmackDown Live Results: How Will Goldberg Respond to Undertaker's Comments?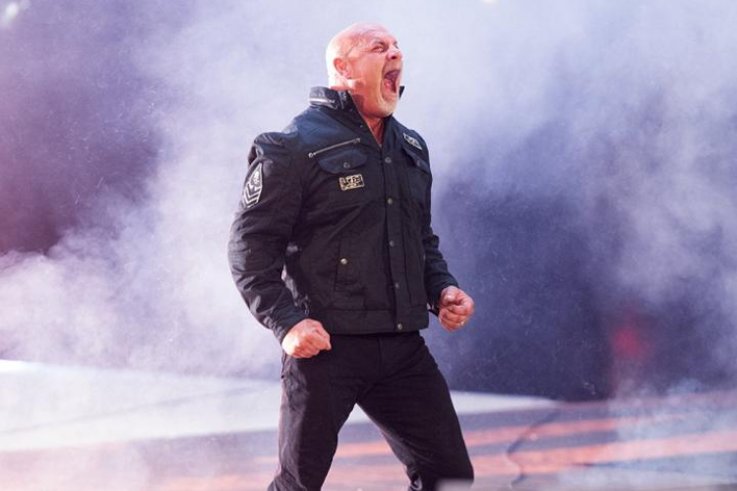 It's the final episode of WWE television before Super Showdown in Saudi Arabia this Saturday, and SmackDown Live will continue to build momentum for story angles and wrestlers as we head towards that show.
Tonight's episode of SmackDown Live is being hyped as the return of Goldberg. The Icon hasn't appeared on WWE television since the RAW after WrestleMania 33 when he lost the Universal Championship to Brock Lesnar, but has a big match with the Undertaker set for Saturday
Now that he's on a collision course with Taker, what will Goldberg have to say? He'll need to respond in some way to what The Phenom said on this week's Monday Night RAW. Is Goldberg going to oblige the Undertaker and bring the unstoppable monster to Super Showdown?
Tonight, SmackDown Women's Champion Bayley will be the guest on A Moment of Bliss. Bayley is looking to build the women's division back up but Charlotte Flair is still looking to get her title back. How will The Queen insert herself back into the title scene?
Ahead of their match at Super Showdown, Roman Reigns will likely want to find Shane McMahon after he, Drew McIntyre and The Revival took him out after their six-man tag match on Monday Night RAW. Shane continues to call himself "the best in the world" without doing much - on his own - to his opponent heading to their one-on-one match, but who will end SmackDown on top?
What about the WWE Champion? Kofi Kingston is set to take on Dolph Ziggler for the title at Super Showdown and, now that Kevin Owens was defeated last week, he can focus solely on Ziggler. This will be the last meeting between the Superstars before their match and considering how physical the two have been these past weeks, fans can expect more of the same tonight.
If Monday Night RAW this week is any indication, a lot is expected to go down on the June 4 episode of SmackDown Live. Here's an up-to-the minute results from tonight's show.
SMACKDOWN LIVE RESULTS
Opening Segment
Kofi Kingston and Xavier Woods come out to start the night. Kofi says that he thought he saw and did it all. He says there's been highs and lows and he prides himself in being able to fight through the lows. He throws it to a video package of his time in Ghana. Kofi begins to explain how much it meant for him to go back to this home country when he's interrupted by Dolph Ziggler.
Ziggler says he respects the sacrifices Kofi made, but it's not about Kingston. It's about him. A video package of Ziggler's career plays. He says that one day everyone will realize that he is the hero of this story and it should have been him.
Kofi says he knows how it feels to be passed over. He brings up the time Dolph beat him to win the Intercontinental and US Championships. Kofi then shows a video of December 2017 when Ziggler vacated the US Championship just because. Kofi says that if it should have been you, it would have been. But when things don't go his way, he quits and walks out and that's the difference between them. No matter how low he got, Kofi never quit on himself, his brothers or the WWE Universe. And he will prove it on Friday.
Dolph doesn't say anything but points to another video package of him taking out Kofi Kingston a couple of weeks ago.
Kofi Kingston and Xavier Woods vs Kevin Owens and Sami Zayn
Kingston pins Sami Zayn after a Trouble in Paradise
After the match, Ziggler comes in and blindsides Kofi and Xavier with Superkicks
Shane McMahon Segment
Backstage, Shane shows a recap of what happened to Roman on Monday Night RAW. He says that anything Roman can do, Shane can do better because he's the best in the world. Shane says he'll be in the ring later and wonders if "The Big Dog" Roman will come out or a little puppy will.
Moment of Bliss with Bayley
Alexa says she is honored to be a wild card from the superior Monday Night RAW. Bliss asks for a new cup of coffee. Alexa says that Bayley's performance at MITB was good but she already did it the year before.
Bayley says she is looking towards the future not the past to build up the division. Alexa interrupts her for her coffee, and an annoyed Bayley smacks it out of her hand.
Carmella comes out and says that a SmackDown superstar should be the first one to challenge Bayley. Charlotte comes out and says that she spoke to Shane and a triple threat match will determine Bayley's opponent at Stomping Grounds tonight. The match will be between Charlotte, Carmella and Alexa Bliss.
24/7 Segment
R-Truth comes up to Carmella backstage and says that he knows that she has a great opportunity tonight but he needs her help because the title is ruining his life. Truth says he's been trying to reach Shane McMahon all day. Shane eventually calls Carmella's phone - Truth was using Carmella's phone - and pleads his case. Shane tells R-Truth he'll have a proper match with standard rules and his opponent is heading to the ring.
R-Truth vs Elias - 24/7 Championship Lumberjack Match
Elias wins pinfall after a flying knee in a very quick match
After the match, the lumberjacks come into the ring. Elias rolls to the outside and R-Truth chases him under the ring. The referee goes under the ring with them and he and R-Truth come out. Truth apparently pinned Elias under the ring and is the 24/7 champion again. He then runs away.
Aleister Black Vignette
Aleister says he issued an open challenge last week but no one took him on it. He understands why though because his track record speaks for itself. And what he inflicts isn't "your daddy's WWE." If anyone does come knocking on his door he'll be waiting there for someone to pick a fight with him.
Shane McMahon Promo
Shane comes out with The Revival. He says that The Revival were great last night and they rolled the recap of what happened to Roman last night. Shane says that he will neuter the Big Dog on Friday.
Roman comes out and he takes out The Revival on the ramp. When Reigns comes down to the ramp, Drew McIntyre shows up with a surprise Claymore. Drew throws him in the ring and sets him up for Shane to him Roman with The Spear again.
Charlotte vs Alexa Bliss vs Carmella
During the match, Mandy Rose and Sonya Deville come out to watch the match.
Alexa Bliss wins via pinfall after a DDT on Carmella.
The finish was setup by Mandy and Sonya grabbing Carmella's legs causing a distraction.
Lars Sullivan Interview
Lars is asked what drives him. Sullivan says would you ask a lion why he hunts. Lars says his primary function is to destroy and to show the world that it's not full of rainbows and sunshines, and that it's full of destruction and freaks of nature. He says that he will destroy the Lucha House Party on Friday.
Andrade vs Apollo Crews
Andrade attacks Apollo before the match and hits him with the Hammerlock DDT. The match never gets started.
Finn Balor comes out and the two have a brawl with Andrade coming out on top after a Hammerlock DDT - thanks to the help of Zelina Vega
Goldberg Promo
Goldberg says he has wondered what it would be like to have a one-on-one match with The Undertaker. He says that he listened to what the Taker said last night and he appreciates the advice. Goldberg says what Undertaker said flipped a switch and he says he's right. Family man Goldberg doesn't have a chance against the Undertaker, so he left him at home. He says that on Friday, Undertaker will get what he's looking for. On Friday, everyone will find out who the better man is and Undertaker is next to rest in peace.
Undertaker's gong hits and he appears behind Goldberg. The two have a staredown before the lights drop and Undertaker goes away.
SmackDown Live Results: How Will Goldberg Respond to Undertaker's Comments? | Sports