It's the second night of WWE's Superstar Shake-Up and the landscape of the blue brand will be changed drastically if the show preview is anything indication.
According to the official SmackDown Live preview, Mr. McMahon is set to reveal the "biggest acquisition in SmackDown Live history." Could the likes of Roman Reigns or Braun Strowman - who we predicted would move - be a new fixture on Tuesday nights?
SmackDown Live lost some heavy hitters to Monday Night RAW. The Miz, The Usos and AJ Styles all swapped brands, and now it's SmackDown's turn to bolster their roster with some RAW superstars and NXT call-ups.
One story carrying over from last week is Paige's declaration that she will bring a tag team for the Women's Tag Team Champions, The IIconics, to challenge. This has led to plenty of speculation: are we about to see the debut of Kairi Sane and Io Shirai - the Sky Pirates - on Tuesday nights? We can also get a pair of RAW women like the Riott Squad to show up. We'll just have to wait and see.
Now that some SmackDown talent have moved to RAW, who will be WWE Champion Kofi Kingston's first feud? Perhaps a superstar from Monday Nights will appear to make a splash and challenge the New Day member. With Big E on the shelf due to injury, the group are not at full strength, but Kofi is up for any fight.
Like Monday, this week's episode of SmackDown Live should have a numerous implications for both shows moving forward. Here's everything that happened on the April 16 episode of SmackDown Live.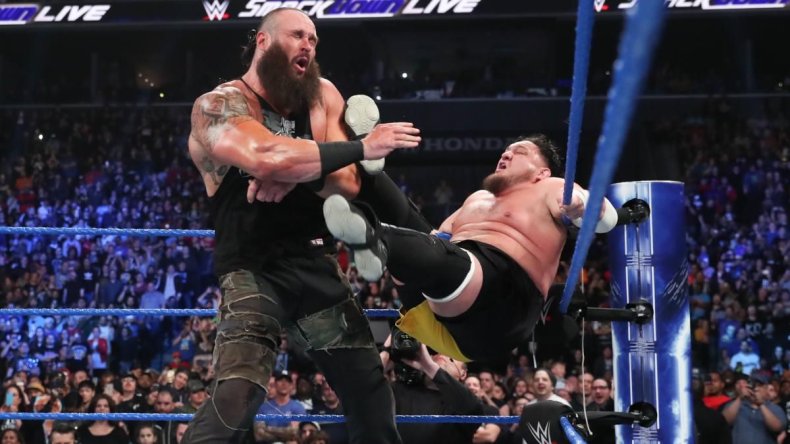 SMACKDOWN LIVE RESULTS
Opening Segment
Kevin Owens comes out to have the Kevin Owens Show
KO says that Mr. McMahon doesn't need to make his "biggest" announcement because the biggest superstar they have is himself. He introduces his guest, Kofi Kingston who is accompanied by Xavier Woods (Big E is out due to injury)
Kevin Owens says congratulations to Kofi for his WrestleMania victory.
Kofi says he thanks his brothers, family and the WWE Universe for being there for him.
KO brings up Big E's absence and Xavier Woods says he was hurt in their match last week. Woods then says that he's upset that RAW took 60 percent of the Up, Up, Down, Down crew and that if he doesn't have Tyler Breeze he doesn't know what to do.
KO says that Kofi and Xavier have a tag team match against Rusev and Nakamura but they need a third person in their corner and wants to join.
After some back and forth, Kofi asks the WWE Universe if they want to see KO become an honorary member of the New Day and they want to see it.
Backstage, Rusev and Nakamura are looking on when Cesaro suggests to partner with them tonight.
Finn Balor vs Ali
Finn Balor is the first RAW superstar to move to SmackDown
Balor wins via pinfall after a Coup de Grace
After the match Balor helps Ali up and shakes his hand
Backstage
Kofi and Xavier find Kevin Owens backstage with a plate of pancakes. They tell KO he needs to eat the pancakes and beat Big E's time of 5 minutes and 37 seconds. KO says he's never eaten a pancake before but he does it.
Carmella (with R-Truth) vs Charlotte Flair
Charlotte wins via submission after a Figure Eight
The story of the match was Charlotte working on Carmella's knee to set her up for the finish.
After the match, Lars Sullivan come out and tussels with R-Truth for a bit before he hits him with the Freak Accident
After, Sullivan looks at Carmella in the corner when Little Naitch pulls her out of the ring. Sullivan hits R-Truth with a running sitdown powerbomb.
Becky Lynch Promo
Becky Lynch says she set out to do what she said she was going to do and capture the titles. She says that she doesn't care who WWE puts in front of her she will defeat them all
Ember Moon comes out and says she's joined SmackDown Live. Bayley comes out and says she joined the roster as well and that she's a singles competitor now.
The IIconics come out to tease Bayley for taking her and Sasha Banks' Tag Titles and that their championships are better than Becky's two titles.
Paige comes out to introduce the tag team she teased last week when Mandy Rose and Sonya Deville come out to thank Paige for getting Absolution back together. Paige says they aren't who she's their for. She then brings out Asuka and introduces Kairi Sane.
Asuka and Kairi run into the ring while the eight women start to fight.
Ember Moon/Bayley/Asuka/Kairi Sane vs The IIconics/Mandy Rose/Sonya Deville
Kairi pins Peyton Royce after an Insane Elbow
Buddy Murphy Video
A video showing Buddy Murphy introducing himself to the SmackDown Live universe. He is confirmed to join the roster.
Kofi Kingston/Xavier Woods/Kevin Owens vs Rusev/Shinsuke Nakamura/Cesaro
Kevin Owens pins Rusev after a Stunner
Mr. McMahon Announcement
Mr. McMahon comes out and introduces Elias as the "biggest" SmackDown Live acquisition.
Elias starts to strum his guitar when Roman Reigns interrupts him. He gets in the ring and hits Elias and the hits him with the Superman Punch. Mr. McMahon starts to yell at Roman when he hits him also with the Superman Punch.
Uncommon Knowledge
Newsweek is committed to challenging conventional wisdom and finding connections in the search for common ground.
Newsweek is committed to challenging conventional wisdom and finding connections in the search for common ground.
About the writer
Phillip Martinez is a game and culture reporter for Newsweek. Prior to joining Newsweek in 2018, he was a reporter and editor for iDigitalTimes and Player.One. A Bronx native, he graduated with his Bachelor's degree in Journalism from St. John's University in 2010. An avid Nintendo fan and wrestling mark, he's always looking to become a Pokémon Master while fantasy booking this year's WrestleMania. You can contact him at p.martinez@newsweek.com