SmackDown Live Results: Big E Returns and Bayley's Reign as Champion Begins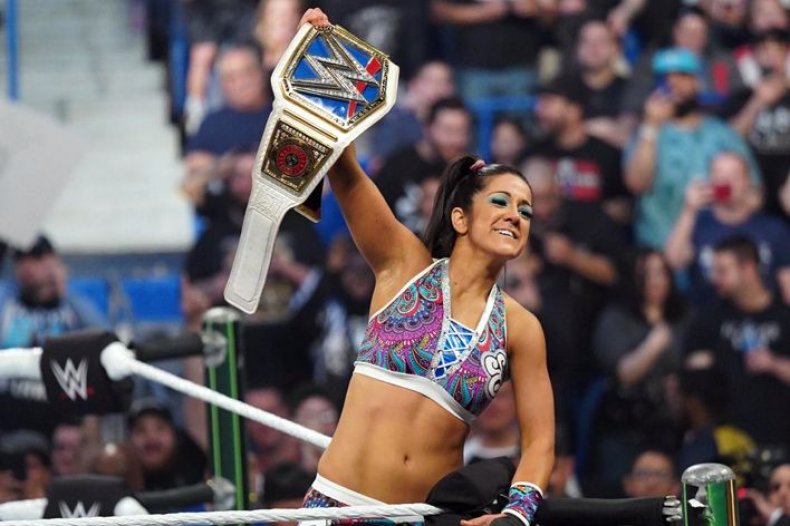 It's the first SmackDown Live following Money in the Bank and a lot has changed since last week.
First, Bayley is now the SmackDown Women's Champion after she won the MITB briefcase and cashed-in on Charlotte Flair the same night. Now that Bayley is champion again, she'll be as big a target as RAW Women's Champion Becky Lynch. Flair will most certainly want a rematch, and with a roster as stacked as the SmackDown Women's division, the Huggable One will have no shortage of challengers.
After taking time off to have surgery, Big E finally returns to SmackDown Live and to the New Day. WWE Champion Kofi Kingston and Xavier Woods are looking to celebrate the big man's return in style. Kofi is the champ so his next opponent could try and crash the festivities so the New Day needs to watch each other's backs.
Roman Reigns dispatched Elias at Money in the Bank, but Shane McMahon has granted the troubadour a rematch for tonight. Shane and Roman are scheduled to throw down at Super Showdown in Saudi Arabia so expect the odds to be stacked against "The Big Dog" tonight.
The brand new 24/7 title introduced by Mick Foley on Monday makes its way to SmackDown Live courtesy of current champion, R-Truth. The chaotic stipulations for the title holder make it difficult forR-Truth to escape SmackDown Live as the champion so someone else may come away with the green belt.
Daniel Bryan and Rowan fell to The Usos on Sunday, but the speed bump hasn't deterred the "planet's champion" from trying to revolutionize the tag team division. Instead, Bryan will reevaluate his stance and that can't mean good things for the rest of the SmackDown tag team roster.
Here's everything that happened on the May 21 episode of SmackDown Live.
SMACKDOWN LIVE RESULTS
Backstage
Elias approaches Shane and says that he lost focus on Sunday and apologizes for losing to Roman Reigns. He says he'll be in Shane's corner at Super Showdown.
Shane says that he'll be in Elias' corner for his match against Roman tonight.
New Day Segment
Kofi and Xavier Woods say it's a special night because tonight marks the return of Big E. A man who appears to be Big E comes out before it's revealed he's not. Kofi and Xavier kick the guy to the back. They call out the "real" Big E who comes out.
Big E says that he misses his boys and the WWE Universe. Xavier said that Big E has been crushing it on Twitter but he needs to leave Becky's mom alone.
Kofi changes the subject by saying that Brock Lesnar won MITB but Xavier Woods reminds him that he defeated Kevin Owens on Sunday.
Kevin Owens comes out with Sami Zayn. Sami says that Big E was gone for 6 weeks and he gets this party while he was gone for 9 months and got nothing. Big E says they should give something for Sami and it'll be the same thing KO got on Sunday, nothing. Kevin Owens walks to the back without saying anything. Sami says that he lost because his best friend was attacked before the match and was distracted. He calls the celebration is disgusting but the New Day's night isn't going to end well because he's going to defeat Kofi later tonight.
Kofi says that Sami shouldn't let their antics fool him because when they need to throw down they will. And Kofi says that he will walk through Sami tonight.
Backstage
Carmella is looking for R-Truth backstage. Apollo Crews and Drake Maverick are looking for him. R-Truth is hiding with a wig and says that he's been ducking people for 24 hours and has only seven more to go.
Carmella asks why he even came to SmackDown tonight, and Truth says that he can't keep the title without her help. Carmella agrees to help and they walk away.
Ali vs Andrade
Ali wins via pinfall after rolling Andrade up
Andrade was in control for most of the match
Backstage
Carmella helps R-Truth with his getup, giving him a Carmella hat, glasses and a better wig.
Mandy Rose (with Sonya Deville) vs Carmella
The match was thrown out when R-Truth runs into the ring while he's being chased by other wrestlers. He takes Carmella on his back and they run away.
Bayley Promo
Bayley is asked about her Sunday. She says it was a brutal night but will do it again. She says that even after all her accolades she was still doubted so she made her own opportunity.
Bayley says that she has moved past the hugs and that everyone in the locker room needs to bring their best.
Backstage
Carmella and R-Truth are running backstage and they accidentally run into the women's locker room. They run out of the locker room and past Sami Zayn who has a smile on his face.
Sami Zayn vs Kofi Kingston
In the middle of the match, commentary says that Big E was attacked backstage and Xavier Woods is accompanying him to a medical facility
Kofi wins via pinfall after a Trouble in Paradise
After the match, Paul Heyman comes out holding the MITB briefcase. Dolph Ziggler jumps Kofi from behind and takes him out. Kofi is eventually stretchered to the ramp before the champion gets up on his own strength and walks to the back.
Backstage
Roman Reigns is walking in the arena parking lot when he hears a guitar strum. He looks up to see Elias on top of a truck singing a song about how Roman is jealous of him.
Lacey Evans/Charlotte Flair vs Bayley/Becky Lynch
Before the match, Becky is interviewed backstage and is asked about her state of mind after losing one of the titles. Becky says that it doesn't feel right without her blue belt but if she had to lose it to someone who didn't beat her, she's glad it's Bayley. Bayley says she likes the sound of Bayley two belts. The two have a playful back and forth before Becky says that once she's done with Lacey, she's coming after Bayley. Bayley says she wouldn't have it any other way.
Bayley pins Charlotte after a reversal of the Figure Eight into a roll up.
Backstage
R-Truth and Carmella continue to run backstage when Jinder Mahal hits Truth and covers him but Truth kicks out and fights him off. The duo get to the parking lot when Truth is double teamed by The B-Team. However, Bo Dallas and Curtis Axel argue over who gets to pin Truth. This allows Truth to fight them off while he and Carmella run away.
Dolph Ziggler Promo
Backstage, Ziggler is asked why he attacked Kofi Kingston after being away for so long. Ziggler says it's an honest question that deserves and honest answer and he's going to give it to the WWE Universe. He walks to the ramp and says that when Ali got hurt and Kofi took his spot, it should have been him. Ziggler says that Kofi became an overnight success but it should have been him.
He challenges Kofi at Super Showdown and he will defeat Kofi Kingston to become the WWE Champion because it should have been him.
Elias (with Shane McMahon) vs Roman Reigns
Shane would get involved throughout the match
Roman wins via pinfall after a Spear
After the bell, Shane comes out and attacks Roman but Reigns hits him with the Superman Punch. Just as Shane and Elias get out of the ring, Drew McIntyre appears and hits Roman with the Claymore to end the show.