'Small Axe' on Amazon: What Happened to the Mangrove Nine?
Mangrove, the first film in Steve McQueen's Small Axe series about Black British life from the 1960s to the 1980s for the BBC and Amazon Prime Video, tells the story of the Mangrove Nine, a group charged with incitement to riot after protesting continued police harassment of the Mangrove Carribean restaurant in London's Notting Hill. Among the noted figures featured in the episode are Altheia Jones-LeCointe (played by Letitia Wright), the leader of the British Black Panthers, Darcus Howe (Malachi Kirby), a leading Black intellectual, and Frank Critchlow (Shaun Parkes), the owner of the Mangrove itself.
Here's everything we know about what happened to the real Mangrove Nine after the events recounted in Small Axe.
What happened to the real Mangrove Nine?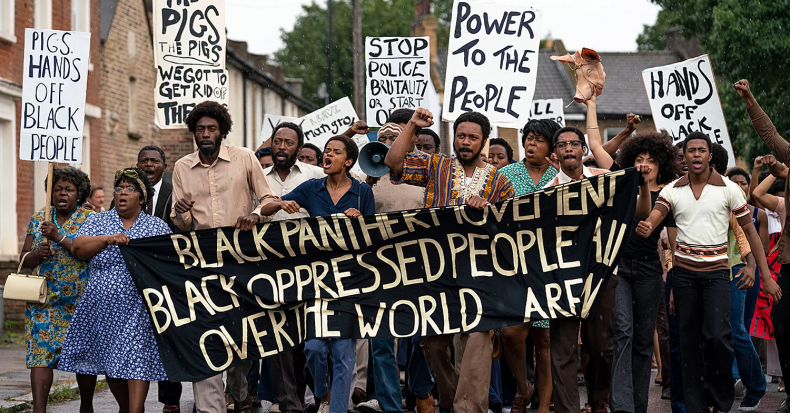 Barbara Beese
One of two Mangrove Nine members who are still alive at time of writing, Barbra Beese was just 24 during the trial, with a young son. That son was Darcus Beese (named for his father, fellow Mangrove defendant Darcus Howe), who grew up to become CEO of Island Records, responsible for signing artists like Amy Winehouse, Florence and the Machine and Dizzee Rascal.
Now 74, Beese was a writer for the Race Today journal, a magazine that was central to Black intellectual thought in the '70s and '80s. Most of her career was spent in education, with the activist working in childrens' services in her native London.
Rupert Boyce
Not much is known about Boyce's life post-trial, as he returned to a private life after he received a suspended sentence for a lesser offence after being cleared of inciting a riot.
Frank Crichlow
Critchlow's encounters with the law were far from over when the Mangrove trial ended. He was cleared of drug charges in 1979, and again in the early 1990s. At the time of this trial in 1992, after which he received £50,000 ($67,000) damages from the police, he closed the Mangrove after 24 years.
Before dying of prostate cancer in 2020, he and his wife had three daughters, one of which is actor Lenora Critchlow, seen in British shows like Sugar Rush and the original Being Human as well as the "White Bear" episode of Black Mirror.
Rhodan Gordon
Rhodan Gordon died in May 2018 (at the age of 79) of a combination of prostate cancer and complications from a blood clot in his heart while visiting his native Grenada. This came after decades of activism that included him setting up a Black Peoples' Information Centre in London's Portobello Road and founding a charity named Unity that provided a homeless hostel and a training workshop to teach young people vocational skills.
Darcus Howe
After the Mangrove trial, Howe became the editor of Race Today, a magazine columnist and a noted TV documentary maker in the U.K. He also never stopped protesting, most notably in 1981 when he organized a Black People's Day of Action after a London fire lead to the death of 13 Black teenagers. He also had three wives and had seven children in total.
He died in 2017 of prostate cancer aged 74.
Anthony Innis
Like Boyce, Innis retreated back into private life after the events of the trial.
Altheia Jones-LeCointe
A leader of the British Black Panthers, Jones-LeCointe is still alive. In 2013, she gave an in-depth interview about her time running the organization, but this seems to be the last time she has talked publicly about her work
At some point, she returned back to her native Trinidad, becoming a research scientist at the University of Trinidad and Tobago before becoming a senior lecturer at the University of the West Indies.
Rothwell Kentish
The only member of the Mangrove Nine to be tried separately, Rothwell was sentenced to 36 months for assault and possession of an offensive weapon.
After the trial, he became engaged in local politics, which led to him founding the Notting Hill Childrens' Carnival. He and wife Barbara also ran a training scheme teaching practical mechanical skills, and he later became a car mechanic.
He died aged 87 in June 2019.
Godfrey Millett
Millet disappeared from public life after the trial.
Small Axe: Mangrove is streaming now on Amazon Prime Video in the U.S. and on BBC iPlayer in the U.K.