Small-Business Borrowers Can Apply For Loans Starting April 3, Treasury Department Says.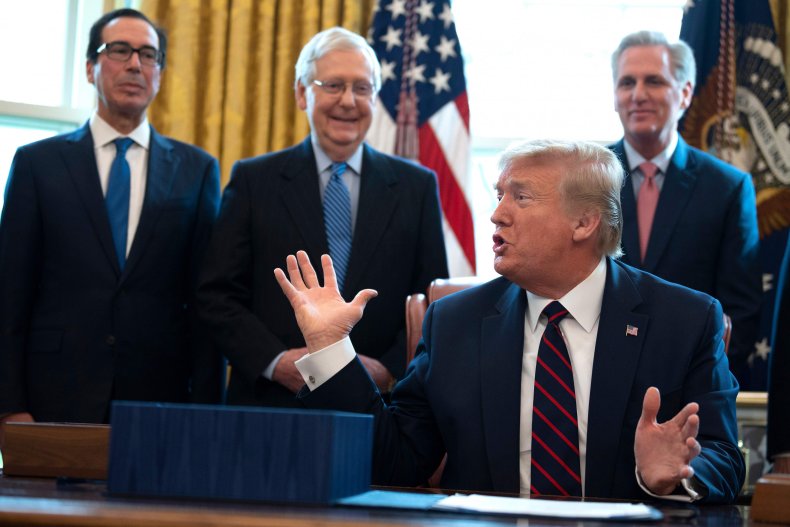 The United States Department of the Treasury announced Tuesday that small business owners can begin to apply for loans for their businesses struggling through the COVID-19 pandemic on April 3.
The Paycheck Protection Program was passed as part of the CARES Act, the sweeping $2 trillion relief package signed into law by President Donald Trump on March 27, and authorizes "up to $349 billion in forgivable loans to small businesses to pay their employees," according to a document released on the Treasury Department website.
"Starting April 3, 2020, small businesses and sole proprietorships can apply for and receive loans to cover their payroll and other certain expenses through existing SBA lenders," the document states.
"Loans can be for up to two months of your average monthly payroll costs from the last year plus an additional 25% of that amount. That amount is subject to a $10 million cap. If you are a seasonal or new business, you will use different applicable time periods for your calculation. Payroll costs will be capped at $100,000 annualized for each employee." Payroll costs include salary, medical benefits, and sick leave.
The loans will be forgiven as long as "the loan proceeds are used to cover payroll costs, and most mortgage interest, rent, and utility costs over the 8 week period after the loan is made and employee and compensation levels are maintained." Any small business that reduces its employee count, decreases salaries by 25 percent for any employees making less than $100,000, or fails to "restore [their] full-time employment and salary levels for any changes made between February 15 and April 26," will owe money to the government on their loans, which have a fixed interest rate of .5 percent.
In order to apply, small businesses must fill out a loan application and submit it with the required documentation to a Small Business Administration lender for processing. Small businesses can apply through any existing Small Business Administration lender (a list can be found on www.sba.gov) as well as "any federally insured depository institution, federally insured credit union and Farm Credit System institution that is participating."
Any small business can apply for these loans, including "nonprofits, veterans organizations, Tribal business concerns, sole proprietorships, self-employed individuals, and independent contractors." The only requisite is that they have 500 employees or less, with some exceptions, per the Small Business Administration.
A small business may only take out one loan under this program, which is open until June 30, and loans that are not forgiven will need to be paid back within two years.