Small Business Loans Will Likely Be Tailored to Help Those That Still Haven't Reopened, GOP Senator Says
West Virginia Senator Shelley Moore Capito suggested Friday that upcoming small business loans will likely be tailored to those that haven't reopened due to the novel coronavirus pandemic.
"Well, I think we've got to look at a couple of things. I think we still have issues with our small businesses, we still have many that cannot reopen or cannot open fully," Moore Capito said while appearing on CNBC's Squawk Box.
"So I think we'll probably look at the PPP [Paycheck Protection Program] and maybe try to tailor it more to the remaining businesses that have yet to be able to reopen or be able to bring as many people back as they need to, to have a full economy," the Republican senator added.
The senator's comments come after she was asked by Squawk Box co-host Andrew Sorkin what Americans should expect from the second round of stimulus payments.
On Monday, White House Chief of Staff Mark Meadows told reporters that President Donald Trump has been "very clear that he's supportive of another stimulus check."
"We want to make sure that we're addressing things in a real, systemic way, whether that is making sure that the take-home check for every American is greater with a payroll tax deduction, whether it's making sure that we provide incentives for American manufacturing to be brought back from abroad," Meadows told reporters Monday.
While appearing on Squawk Box Moore Capito also spoke about the issue of "individual assistance," and how the second stimulus check will be tailored to help people after advanced unemployment benefits run out on July 31. Those benefits, passed as part of the CARES Act back in March, allotted an extra $600 a week on top of what their state already allots for those eligible for unemployment assistance.
"The other thing is individual assistance. We know that the advanced unemployment runs out at the end of the month. That is a source of concern for many of us, but on two fronts," Moore Capito said. "One; it's a source of concern of those who are still unemployed but also trying to get people back to work. So, we're gonna try to weave something there where we can get people back to work but also help those that still can't go back."
The West Virginia senator was also asked about the PPP program, specifically small businesses that can't reopen due to the novel coronavirus, such as restaurants that can't offer outdoor dining options.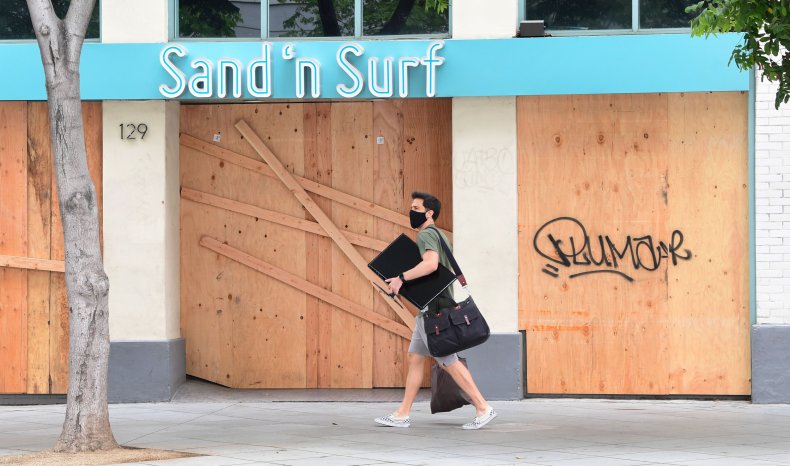 "I think by and large, the smaller businesses are the ones that are still, as you're mentioning restaurants, smaller maybe gyms, and things of that nature where you're not going back full board, you can't have a full house of customers and I think that's an issue. So, I think we've got to figure out some way to keep those folks connected to their employees like we originally envisioned with the PPP, but we also want to make sure they're still going to be able to open their doors," Moore Capito said.
Newsweek reached out to Moore Capito for further comment but did not receive a response in time for publication.