Small Business Owner Facing 100k Lawsuit From Landlord Pleads for Concrete Reopening Plan: 'The System is Broken'
After nine months of state-mandated shutdowns left them financially strapped, a young family of six is concerned about their ability to keep the children's amusement centers they own afloat.
Daniel Antoniou, who together with his wife owns three children's amusement centers on Long Island in New York state, said that while he realizes he is one of many small business owners struggling during the coronavirus pandemic, requiring his facilities to remain entirely closed doesn't make sense to him.
"We all need to stay safe. I understand that," Antoniou said during an interview last week with Newsweek. "But we also need to make a living. It's not just me. There's hundreds of thousands of people in this position."
A friend of the family launched a GoFundMe fundraiser last week in an effort to help tackle some of their bills, the strain of which was recently exacerbated by a potential $100,000 lawsuit from the landlord of one of the facilities.
By Tuesday morning, the GoFundMe had raised more than $20,800. And while Antoniou said he is humbled by the donations and appreciates the community support, he yearns to reopen the facilities so that he can begin paying off the hundreds of thousands in debt they have accumulated this year.
Antoniou and his wife, Lindsey, own and operate Safari Adventure in Riverhead and two Xplore Family Fun Center locations, one in Port Jefferson Station and one in Commack. All three are in Suffolk County, which is currently in Phase 4 of New York Gov. Andrew Cuomo's reopening plan.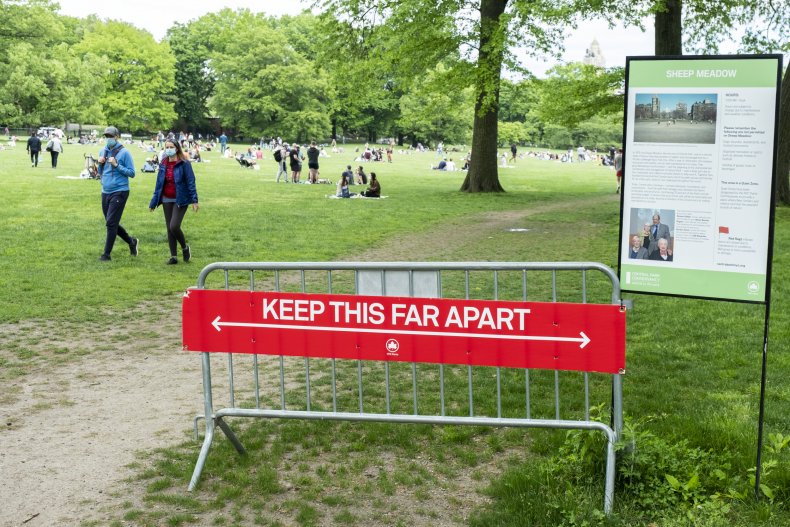 The Antoniou family began their business in 2016 with the purchase of Safari Adventure. The start-up company Daniel was working for at that time was in the process of laying off workers. Lindsey was spending more than two hours per day commuting to her job as a tenured speech pathologist. They had two of their four young children at the time, and when they learned that the previous Safari Adventure owners were willing to sell, they said they thought it was "meant to be."
Their little ones played a big part in the decision.
"It was really our kids that, I think, inspired us to go that route of this industry," Antoniou said.
All three facilities feature activities geared toward children ages 12 and younger, including bounce houses, rope courses, arcade games and laser tag. Safari Adventure, which is intended for kids ages 1 to 10, also has a hands-on STEM area (Science, Technology, Engineering and Math) and a calming room for children with special needs to use if they become overstimulated, Antoniou said.
A couple of years after their Safari Adventure purchase, the Antoniou family bought their first Xplore facility. In the summer of 2019 they acquired their third property, the Xplore center in Commack, and had finished renovating it shortly before the COVID-19 pandemic hit and statewide shutdowns began in March.
"When we got into the business, we didn't know how much we'd actually end up loving it," Antoniou said. "It's a true passion at this point. It's the best thing that ever happened to us—until this pandemic."
According to New York State's reopening guidelines, Phase 4 allows some businesses and recreational facilities to operate at limited capacity. But it does not allow centers like Safari Adventure or Xplore to open, with Suffolk County guidelines specifically excluding "children's play centers, funplexes, theme parks, and family and children's attractions."
Diagnoses of COVID-19 in children under 18 account for less than 11 percent of the total cases reported in the U.S., according to the Centers for Disease Control and Prevention (CDC). Many children who contract the virus are asymptomatic, but the CDC warns they can still infect other people. Concerns about asymptomatic spread among young children who are less likely to practice social distancing or wear masks while playing spurred many of the restrictions impacting youth activities.
Even so, Antoniou said that alone doesn't explain why his centers are closed while other places in which children can gather, like ice creameries, bowling alleys and movie theaters, are open with limitations in place.
"I don't know why they want us closed so badly, but they want us closed," Antoniou said. "We've been forgotten about. Nobody's fighting for us."
New York was one of the earliest states hit hard by COVID-19 in the spring. Antoniou told Newsweek his family decided to close their facilities shortly before Gov. Cuomo announced New York's statewide shutdown in mid-March.
At the time, Antoniou thought the shutdown would only last two months. As the months extended, Antoniou said there were a couple of times when he believed he would be able to reopen the facilities, but he said those hopes were dashed both times as regulations shifted due to rising infection rates.
The first time Antoniou looked forward to reopening was in early July. He and his wife invested thousands of dollars in equipment, staff training and sanitation in order to reopen at 25% capacity. They prepared personal protective equipment (PPE), MERV-13 HVAC filtration systems, antimicrobial fogging and plexiglass dividers.
All staff and customers were to be required to complete temperature checks before entering the facilities, and individuals 3 and older would be required to wear masks at all times, according to Safari Adventure's website.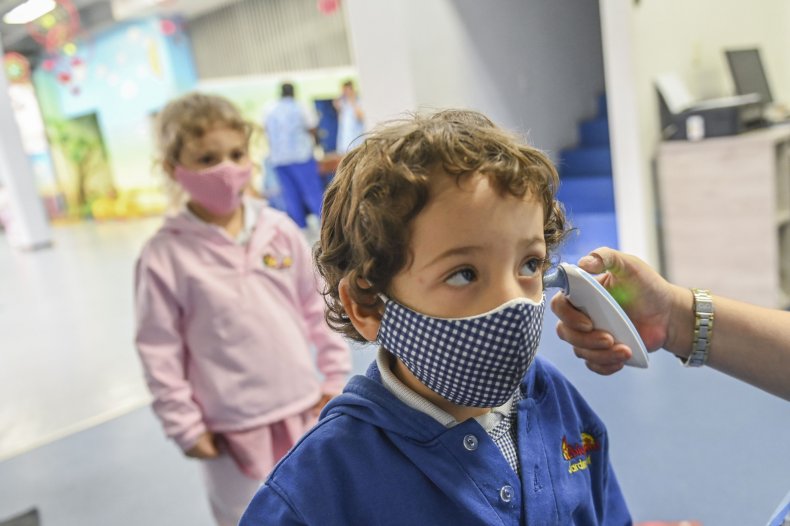 A few days before they expected to reopen, Antoniou said he learned his industry would be required to stay closed.
The news was devastating.
"I actually got caught up with rent," Antoniou said. "I used my PPP money that's not forgivable, I sent it to the landlord. I got caught up through July, and then I found out that, oh, we can't open."
The next window of opportunity came in October, when Suffolk County officials gave his reopening plan a green light. But no sooner had they reopened for business than states throughout the country began reporting new spikes of COVID-19 infections. Soon thereafter, the Antonious received cease-and-desist letters for all three facilities. If they failed to comply, they were facing fines of $15,000 per day.
They had no choice—they shut down.
In the two months since, Antoniou said he has invited state health officials to inspect his facilities in the hope they will decide his reopening plans meet their criteria.
At this point, Antoniou said he is more frustrated with state officials like Gov. Cuomo than with the federal government's delays in passing a new COVID-19 relief bill.
"He claims we're not essential," Antoniou said of Cuomo. "He's also saying that we're not safe, which is really smearing our industry and making people think that we are the germ-spreaders, when we're really not. He's punishing the industry as a whole."
Part of his frustration involves the guidelines that provide exemptions for some industries but leave his unable to reopen. But it's not because he wants those other businesses closed.
"I want businesses to be successful. I'm not going to go report these people," he said, referring to business owners whom he believes are operating in violation of the reopening guidelines. "The point is, they're not being enforced. But we are."
Antoniou said his son was recently allowed to attend a birthday party in a small game truck. He said it's one of many small businesses allowed to operate with limitations in place, allowing for at least some income.
"Kids are having birthday parties in ice cream shops or pizzerias, but I can't have a birthday party here, in a 20,000-square-foot facility with MERV-13 filters," Antoniou said. "Does every pizzeria have MERV-13 filters? Do they disinfect the entire day?"
He said the problem is bigger than just his business.
"It's just—there's something wrong," he said. "I don't understand what it is, but the system is broken. And no one is helping."
Antoniou told Newsweek he expected to give his landlord an answer regarding the potential $100,000 lawsuit this week. How much longer his family can stay afloat will depend upon how that landlord decides to handle the situation, he said.
"If this landlord decides to want to push me out, he, I guess, is in the right to do so," Antoniou said.
But he is very grateful for the support he has received.
"It shows me that community is still strong and does give me hope—if not for my personal reasons, than just as a community as a whole," Antoniou said. "When people get together, a lot can be done. And there's still good people out there that want to help.
"We couldn't be more thankful. How do we repay these people? Just hoping to get back to business so we can try," he said.
By Tuesday, December 22, the U.S. reported more than 18 million COVID-19 infections and more than 319,000 virus-related deaths since the start of the pandemic, according to a Johns Hopkins University data tracker. New York state health officials reported more than 857,000 COVID-19 cases this year, more than 83,000 of which were in Suffolk County, according to state data.
Though COVID-19 cases, hospitalizations and deaths are on the rise across the country, the recent approval of Moderna's COVID-19 vaccine means there are now two vaccines heading into the arms of health care professionals and long-term care facility residents throughout the nation. The rest of the U.S. population is expected to be offered vaccinations in stages to be determined by a CDC advisory committee next year.
These approvals offer hope for many Americans, but for small business owners like the Antonious, the financial reality imposed by the pandemic dims that hope. When asked what he would say if he could speak directly to Suffolk County officials or Gov. Cuomo, Antoniou offered a short but clear message.
"Open up."
Newsweek reached out to Gov. Cuomo's office and Suffolk County Executive Steven Bellone for comment, but did not receive responses in time for publication.