Small Businesses Most In Need Didn't Get Paycheck Protection Program Loans, NY Fed Study Says
Small businesses in areas hit hardest by the coronavirus epidemic haven't been able to secure loans through the Paycheck Protection Program (PPP), according to a new study released Wednesday by the Federal Reserve Bank of New York.
The study has actually shown a "negative relationship" between a state's COVID-19 cases per capita and its share of small businesses getting PPP funding. Most PPP loans have gone to central and midwestern states that have reported the fewest number of coronavirus cases.
"In New York, the epicenter of the coronavirus in the United States, less than 20 percent of small businesses have been approved to receive PPP loans," the study says. "In contrast, more than 55 percent of small businesses in Nebraska are expecting PPP funding."
A state's total number of unemployment claims also had no effect on whether it received more PPP funds. However, the study did find a positive correlation between PPP loans and states with higher concentrations of business funds invested in community banks.
While community banks have used PPP loans as a way to attract new customers, banks and lenders tend to process loan applications more quickly for borrowers that already have existing relationships with them. Thus, the more money a state's businesses have invested in community banks, the quicker banks were to process applications for the first-come first-serve PPP loans.
"It seems therefore that medium-sized and small banks, including community banks, are important in channeling PPP funding," the study's authors wrote.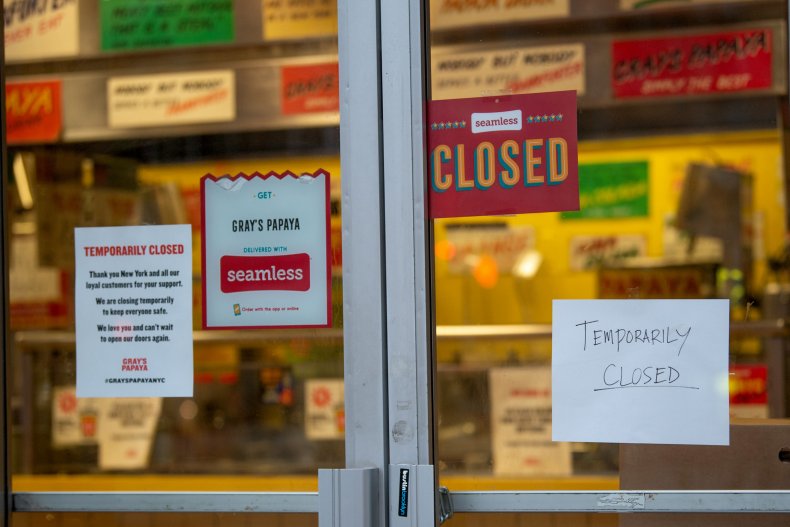 Congress established the PPP on March 27 as a $349 billion federal fund extending forgivable loans to businesses struggling to pay payroll, utilities, mortgage, rent and other expenses during the coronavirus shutdown. On April 24, the government added $320 billion to the fund.
While the study considered that states impacted most by coronavirus might've also instated strict social distancing rules which made it harder for small business owners visit local banks and apply for PPP loans, it concluded that most lenders have online application systems that accept e-signatures and e-consents, making that explanation unlikely to account for the disparity.
Additionally, the study found that business sectors most affected by the epidemic's financial downturn—namely retail, accommodation and food services—have been receiving more PPP funding than industries that lost less revenue, such as educational services, information, finance and insurance.
However, construction, professional, scientific, and technical services have all "received a relatively large share of PPP loans"—even more than food services—despite the fact they haven't been nearly as negatively affected.
The study's authors speculate that the ability of professional, scientific, and technical services to operate online, the low wages of food service jobs and availability of the Small Business Association's Disaster Assistance Loans may account for food service businesses receiving fewer loans than professional, scientific and technical businesses.