Small Businesses Struggle to Recover in States That Were Among First to Reopen
Small businesses in states that were among the first to reopen their economies amid the coronavirus pandemic still haven't fully rebounded, according to new data from the U.S. Census Bureau.
In Georgia, a majority of small businesses are still reporting a decrease in revenue despite being the first state in the U.S. to welcome back customers in several industries. Sixty percent of small businesses reported a decrease in operating revenues from May 10 to May 16—three weeks after Governor Brian Kemp lifted the statewide shutdown.
Atlanta Federal Reserve President Raphael Bostic told CNBC this week that the reopening of the economy has been "very much a mixed bag." The bank official added that there have been consequences of people still having "large concerns about whether it's safe to go out."
Similar trends were reported in South Carolina and Texas, which were among the first Southern states to follow Georgia's lead in easing lockdown restrictions and reopening many non-essential businesses earlier than the rest of the country.
More than half of small businesses in South Carolina (53 percent) reported a drop in revenue during that same one-week period. The Palmetto State opened some businesses, including booksellers and clothing stores, as early as April 20.
In Texas, 61 percent of small businesses surveyed reported a decrease in operating revenue from May 10 to May 16 despite opening restaurants, movie theaters, malls, libraries, museums and other businesses on May 1.
Small businesses in all three states reported that the virus was still having a negative effect on their operations. Plus, more than 70 percent of businesses in each state had applied for government assistance through the Paycheck Protection Program to help pay rent and keep employees on the payroll since March 23.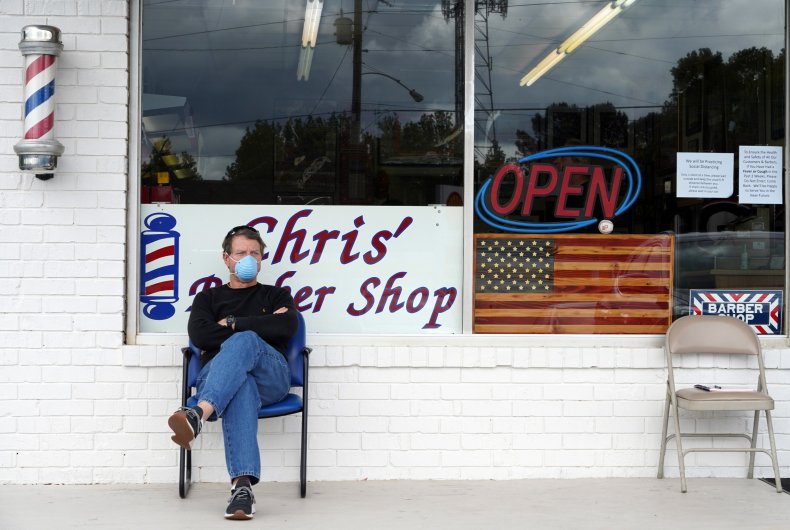 The data collected by the Census Bureau appears to push back on President Donald Trump's argument that easing COVID-19 lockdowns would help the economy rebound. Over the past few weeks, the president has supported protesters pushing for states to end shutdown orders and tweeted about the need to "LIBERATE" areas still under stay-at-home orders.
"Texas is opening up and a lot of places are opening up. And we want to do it, and I'm not sure that we even have a choice," Trump told reporters last week. "I think we have to do it. You know, this country can't stay closed and locked down for years."
All 50 states have now started to lift coronavirus lockdowns, but the unemployment rate is still rising. More than 2 million Americans filed for unemployment in the week ending May 16. In fact, unemployment rose in every single state during the month of April. The current unemployment rate of 14.7 percent is the highest since the Great Depression.
Still, the Trump administration is optimistic about future job numbers. White House adviser Kevin Hassett told CNN on Friday morning that June could mark a turning point for unemployment amid the pandemic.
"We'll see a very bad number for May and then I think that in June it will start to head in the right direction," he told CNN. Hassett added that he believes a fourth relief bill from Congress is coming "sooner rather than later."