Small Massachusetts Town Fumes Over Proposed Tobacco Sales Ban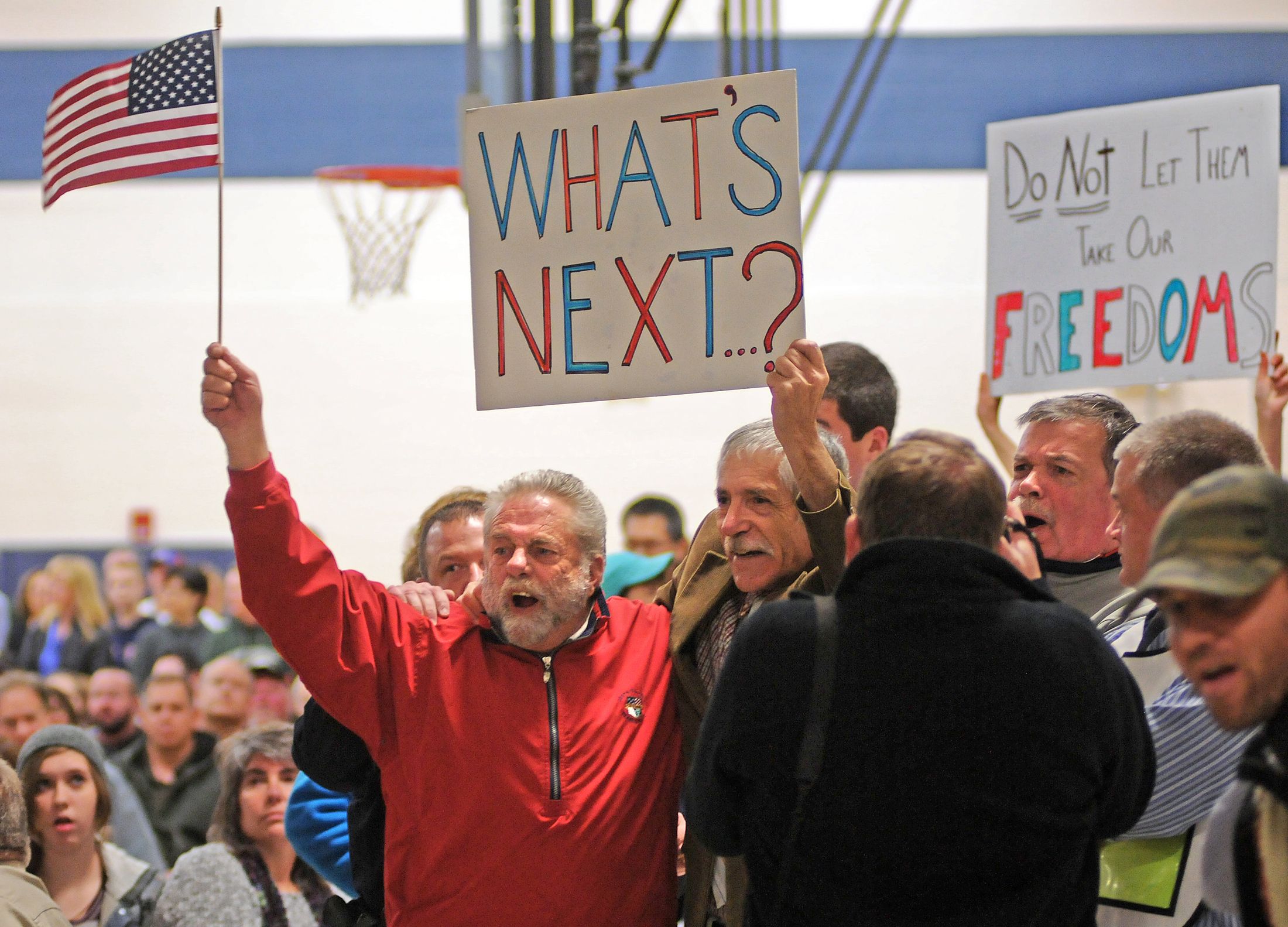 Residents of the small town of Westminster, Massachusetts, are fuming over a proposed ban on the sale of all tobacco products within town limits. A town meeting held Wednesday evening to discuss the proposal ended after barely 20 minutes when attendees refused to stop clapping and shouting.
"It was going to get out of control," Board of Health Chairwoman Andrea Crete told The Boston Globe after the board decided to bring the meeting came to a premature close. "We don't need any riots."
Jonathan Aho, manager of Vincent's Country Store in Westminster, tells Newsweek only four of the close to 70 people who signed up to speak at the hearing had their turns before the evening was cut short. The last of these was resident Kevin West.
"I find smoking to be one of the most disgusting habits anybody could possibly do. On top of that, I find this proposal to be even more of a disgusting thing that anybody could ever give any town in the United States of America," West said at the meeting, which those opposed to the ban dominated.
A draft of the proposed ban, first released by the town's Board of Health on October 27, says it would prohibit the sale of any tobacco or nicotine product whether it is intended to be "smoked, chewed, absorbed, dissolved, inhaled, snorted, sniffed, or ingested by any other means." That includes, but is not limited to: cigarettes, cigars, little cigars, chewing tobacco, blunt wraps, pipe tobacco, snuff, or electronic versions of cigarettes, cigars, pipes, hookah, and any other products that vaporize tobacco, according to the proposal.
The ban would also prohibit the free distribution of those products and render all sales permits expired on the yet-to-be-determined effective date. Violations would range from a $300 fine to the suspension of Board of Health–issued permits for seven to 30 days in addition to a fine. The permits of repeat offenders could be revoked entirely.
The proposed ban would be the first of its kind in the nation, according to the nonprofit American Lung Association. Ilana Knopf, director of the Center for Public Health and Tobacco Policy at the New England Law School says it's the first town in modern times she knows of a ban that has gone so far.
"We're trying to save lives and prevent children from being future users," Crete told the Associated Press. The proposal draft focuses on protecting the town's youngest residents, citing Surgeon General findings that exposure to nicotine during adolescence can "have lasting and adverse effects on brain development," and data from the National Youth Tobacco Survey, which found that youth who used e-cigarettes were "twice as likely to have intentions to smoke conventional cigarettes" than those who didn't.
Board of Health agent Elizabeth Swedburg told Newsweek in an email that a board representative was not available to discuss the proposal.
Joe Serio, owner of Westminster Pharmacy and chair of the town's Economic Development Committee, tells Newsweek that the proposed ban would be detrimental to local businesses.
"A consumer today wants one-stop shopping, and if you don't have what they want they'll stop somewhere else," he says.
Vincent's Country Store manager Jonathan Aho agrees. "We don't like the whole idea because it's just one town. There are 50 or 100 different places five minutes away in each direction," he says.
Banning the sale of tobacco products in Westminster, which has roughly 7,300 residents, will just drive business across town lines, opponents to the bill say. Tobacco sales account for five to 10 percent of the store's revenue, but Aho says those $8 or $10 turn into larger sums when customers throw in a jug of milk, a bag of chips, and other items while they're there.
The owner of Vincent's Country Store, Brian Vincent, has been an outspoken opponent of the ban, working over the last two weeks to collect signatures on a petition. Vincent planned to present the 1,200 names to the board at the close of his speech Wednesday evening, Aho tells Newsweek, but he never got his chance.
"Where do you draw the line, a candy ban because it causes diabetes? Are we going to ban bacon because it causes [high] cholesterol? It seems like a slippery slope," Vincent told The Boston Globe.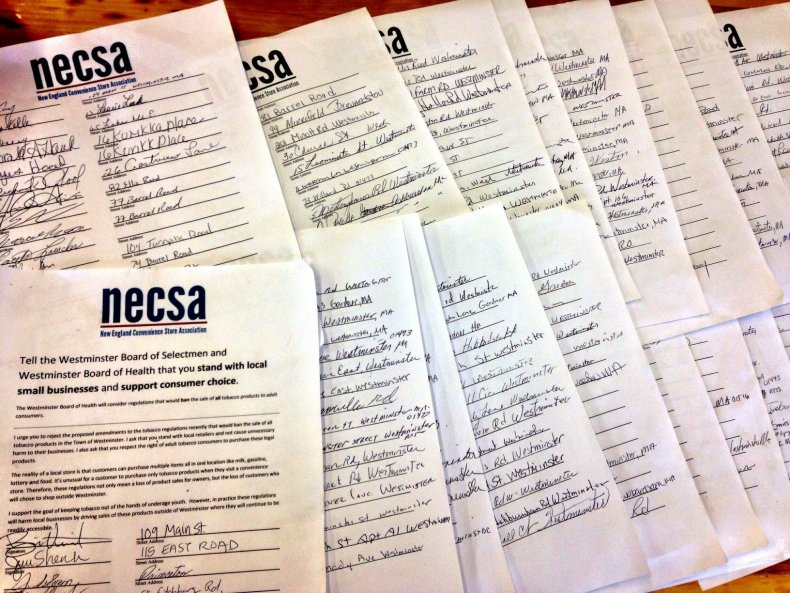 It almost goes without saying that big tobacco companies are not on board. Bronson Frick, an associate director at Americans for Nonsmokers Rights, tells Newsweek the Westminster proposal is surely on the radar of big tobacco, should the idea spread beyond Westminster.
David Sutton, a spokesman for Altria, the parent company of Philip Morris and the largest tobacco company in the U.S., said in an email to Newsweek that the Westminster Board of Health's approach was "misguided and bad policy that will harm local employers" and retailers.
Serio, who says his perch at the corner store gives him a window into the pulse of the town, also says residents don't want somebody telling them that they can't buy a legal product.
At a Monday meeting of the town selectmen, an unofficial precursor to Wednesday's hearing, Brian Siebert, a Vietnam veteran, said, "As a veteran, I fought to make sure people had a choice. When people tend to want to make choices for us, that's tyranny."
But while some residents feel the ban would be a government overreach, constitutional law experts say there is little if any legal ground they could stand on to knock down the ban.
"If the town is proposing to ban the sale of cigarettes everywhere, I don't see any constitutional issues," Lawrence Friedman, a constitutional law professor at New England Law School in Boston, tells Newsweek. "You do not have the individual constitutional right to purchase cigarettes."
Friedman compared this to the choice of some towns to be "dry" and prohibit the sale of alcohol. For example, 37 counties in Arkansas, are "dry," and the state voted during the recent midterms against a constitutional amendment that would end the prohibition throughout its counties. Similarly, governments on the local level or higher can decide to prohibit the sale of tobacco products, as long as it applies uniformly to all businesses.
It's also important to clearly distinguish the ban on sales from a ban on use, Friedman says, which—if a town tried to institute throughout its borders, including in private homes—could be another story.
Richard Albert, an assistant professor at Boston College Law School, says the store owners could try to cite the right to contract, but that in the past, Massachusetts's equivalent of a Supreme Court has ruled in favor of legislation "for health and welfare protection of society, even if it interferes with the right of people to engage in business," and that the court would likely continue to rule in that same vein.
Albert sees the draft proposal as a narrowly tailored ban that focuses on preventing young people from smoking and being exposed to the marketing that goes along with tobacco sales. Even if the ban wouldn't stop adults from driving one town over to buy their cigarettes, he says, kids can't drive, enhancing the impact of the ban.
"It's about the marketing that goes along with the sale," Knopf, tells Newsweek. "I think the ban is an excellent public health policy, in that it would be effective in the long term in terms of reducing initiation" of young smokers.
She compares the outrage in Westminster to the uproar when bans on smoking in aircrafts, bars, restaurants and other public places were first floated, and points out that what once seemed far-fetched is now the status quo.
"If there is some loss in economic gain, that's certainly unfortunate," Knopf says, but in the long-term, "a healthier community will be a more robust community economically or otherwise."
In the meantime, residents of Westminster can submit their written comments to the Board of Health through December 1, after which its three members will vote on the proposal.