Small Town School Mourns Classmates on Doomed Germanwings Flight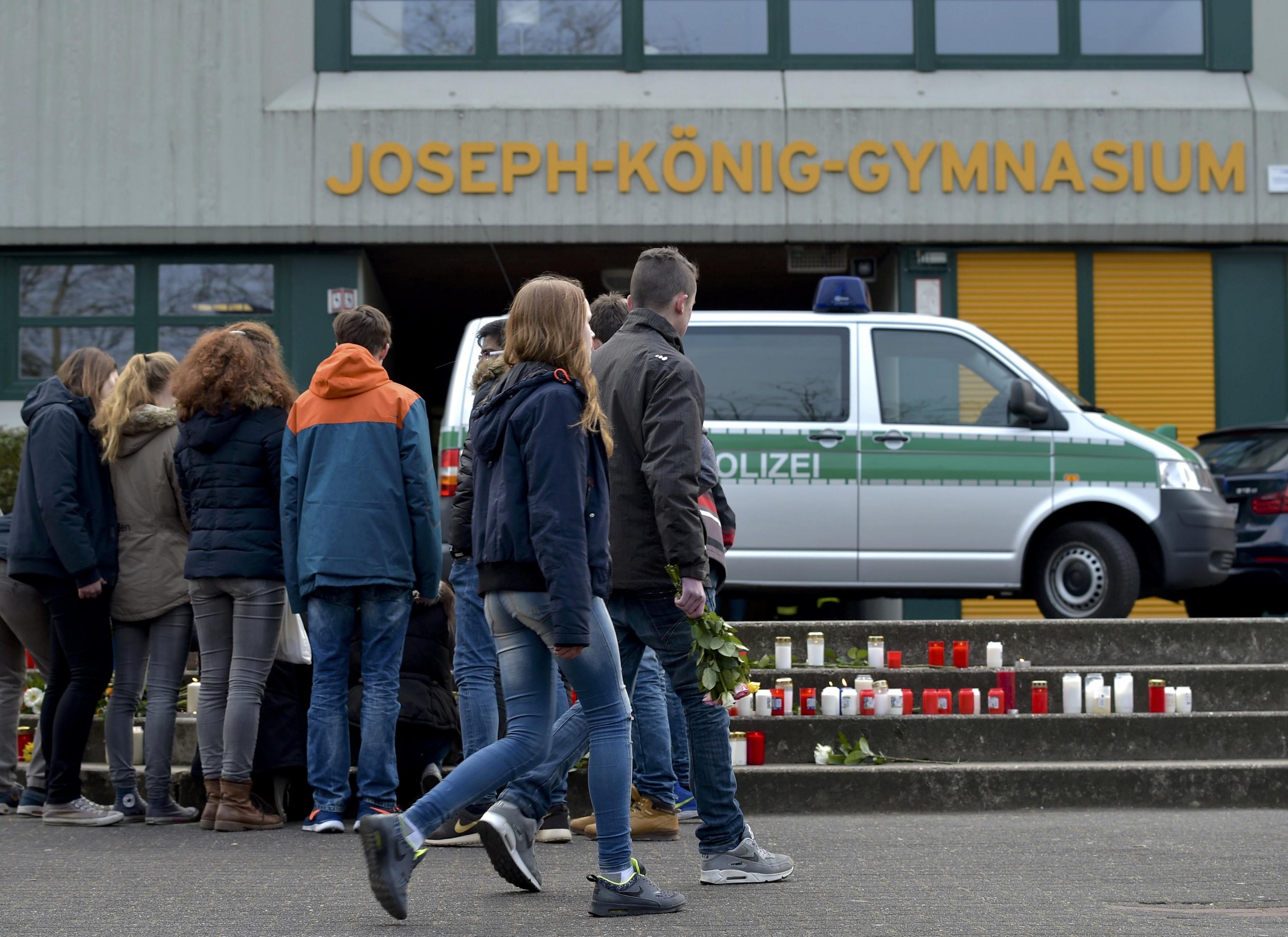 HALTERN AM SEE, Germany (Reuters) - Students and teachers at a small-town German high school broke down in tears once they realized that 16 classmates and two teachers were on board an ill-fated Germanwings airplane that crashed in France on Tuesday on a flight to Duesseldorf.
The 10th grade students from the Joseph-Koenig-Gymnasium high school were on their way home after a week-long Spanish exchange program at the Institut Giola in Llinars del Vallès near Barcelona. It was a reciprocal visit after 12 Spanish students had spent a week at their school in December.
"It was a Spanish language exchange program and they were flying home after having what was probably the most wonderful time of their lives," said Sylvia Loehrmann, the education minister for the state of North Rhine-Westphalia.
"It's so tragic, so sad, so unfathomable," she said. Most of the students were about 15 years old.
The Airbus operated by Lufthansa's Germanwings budget airline crashed in the French Alps, killing all 150 on board. Germanwings confirmed its flight from Barcelona to Duesseldorf went down with 144 passengers and six crew.
Haltern am See mayor Bodo Klimpel said that word spread quickly through the school about reports that a plane from Barcelona had gone missing and the students began researching on their own to try to find out more about the plane's fate.
"And then when the plane didn't land and they were unable to make contact with their friends and classmates by cell phone, that's when they assumed the worst had happened," said the mayor, who was also fighting off tears at a news conference.
"The students were informed that there was a sufficient probability that the plane would not be landing in Duesseldorf," Klimpel said. "Classes were then called off."
CANDLES AND TEARS
The students were sent home but many returned in the afternoon with candles in their hands and tears in their eyes to mourn with each other at the school.
"It's the darkest day in this town's history," said Klimpel, who added some parents nevertheless drove to the airport and some to the school. "We're in a state of shock. It's the worst thing ever imaginable."
He said the school would be opened on Wednesday but there wouldn't be any normal lessons. "It'll be a chance for the students to talk about the horrible thing that happened."
The town lies about 30 km (20 miles) to the north of Dortmund and Gelsenkirchen - homes of two major German soccer clubs and former mining towns. It is 50 km (30 miles) north of Duesseldorf.
Haltern am See's history dates back to 1289 and perhaps its most famous son in soccer player Christoph Metzelder, a former Germany defender who also played for Borussia Dortmund and Real Madrid. Germany defender Benedikt Hoewedes, who plays for Gelsenkirchen's Schalke 04 club, is also from Haltern am See.
The nearby Sixtus church and another local church opened their doors for students, teachers and local residents to mourn and flags in the town of 37,000 that lies just north of the Ruhr River Valley industrial area were lowered to half-mast.
The mayor of the Spanish town Llinars del Valles, Marti Pujol, told Reuters that these kinds of exchanges had been organized for several years with German towns including in the Duesseldorf, Cologne and Hamburg areas. Spanish children had spent a week in December in Haltern am See with German families.
"The whole village is distraught, Pujol said of his town with 9,000 residents. "The families knew each other... The parents had been to see them off at 6 this morning."