A baby thought to be the world's smallest at birth—weighing around the same as a large apple when she was delivered—has finally been discharged from hospital after more than a year of treatment.
Kwek Yu Xuan was born on June 9, 2020, at Singapore's National University Hospital (NUH,) just under 25 weeks into the pregnancy term. Pregnancy usually lasts for around 40 weeks.
At birth, Yu Xuan weighed just 212 grams (7.47 ounces) and measured 24 centimeters (9.4 inches) long, according to the hospital.
Delivered via emergency caesarean section, Yu Xuan is likely to be the lightest baby to survive a premature birth.
According to the Tiniest Babies Registry managed by the University of Iowa, the previous smallest survivor was a baby girl born in the U.S. in May, 2019, who weighed 245 grams at birth.
On Sunday, the NUH announced that the baby had been "discharged home well" in a Facebook post.
"We are happy for the little fighter and her family, and proud of the care provided by our team," the post said. "Our best wishes to Little Yu Xuan as she continues to grow, thrive and beat the odds every day."
The hospital said in a statement on Saturday that Yu Xuan has now grown to around 6.3 kilograms (13.8 pounds) and is progressing well.
The 14-month-old infant has chronic lung disease and pulmonary hypertension—two conditions that are often associated with extreme prematurity—and has to be on a ventilator at home, although the hospital said she is expected to get better with time.
Born in the midst of the global pandemic, the hospital said she had a "limited chance of survival" due to her extremely premature birth.
"Against the odds, with health complications present at birth, she has inspired people around her with her perseverance and growth, which makes her an extraordinary 'COVID-19' baby—a ray of hope amid turmoil," the NUH said in the statement.
Yu Xuan's mother was forced to undergo an emergency caesarean section at 24 weeks and six days of gestation due to preeclampsia—dangerously high blood pressure during pregnancy that in rare cases can be fatal.
After the baby was delivered, she was admitted to the NUH neonatal intensive care unit where she stayed for 13 months, before being discharged on July 9, 2021. The hospital said Yu Xuan was the longest staying baby there.
During her stay, medical staff at the hospital used several different treatments and machines to keep Yu Xuan alive.
Her mother, Wong Mei Ling, paid tribute to the efforts of the NUH medical team in the statement: "We are very grateful to the doctors and nurses of the NUH neonatal intensive care unit team for the attentive and wonderful medical care and treatment of Yu Xuan."
"In addition, we would like to express our thanks to the crowdfunding platform and donors, as well as our relatives, friends, colleagues and the landlord of our residence for their care and encouragement."
The bill for Yu Xuan's hospital stay came to around $200,000, which her parents were able to pay due to a crowdfunding campaign, The Straits Times reported.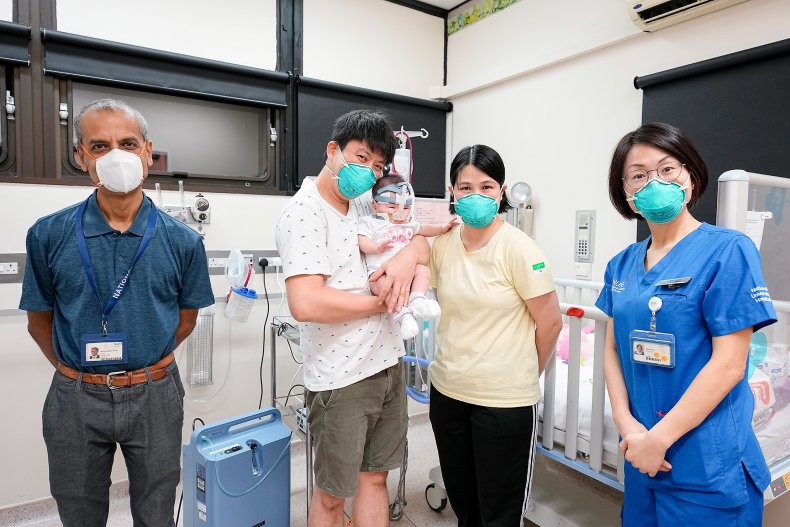 About the writer
Aristos is a Newsweek science reporter with the London, U.K., bureau. He reports on science and health topics, including; animal, mental health, and psychology-related stories. Aristos joined Newsweek in 2018 from IBTimes UK and had previously worked at The World Weekly. He is a graduate of the University of Nottingham and City University, London. Languages: English. You can get in touch with Aristos by emailing a.georgiou@newsweek.com.