Smallville Actress Allison Mack's Plea for No Jail Time in NXIVM Case: 'I Am So Sorry'
Smallville actress Allison Mack's attorneys have asked a federal judge to spare her from serving jail time over her involvement in the NXIVM sex cult.
Mack, 38, pleaded guilty to racketeering charges in 2019 in connection with her involvement in a scheme to turn women into sex slaves for Keith Raniere, the leader of the purported self-help group based in upstate New York.
She faces a maximum of 17 years in prison when she is sentenced later this month.
Prosecutors have recommended lighter sentencing for Mack due to the testimony and evidence she provided against Raniere, who was sentenced to 120 years in prison last year after being convicted of multiple charges, including sex trafficking.
In a sentencing memo obtained by Variety, Mack's attorneys urged the judge to take into consideration that she had completely renounced her belief in Raniere and cooperated with investigators.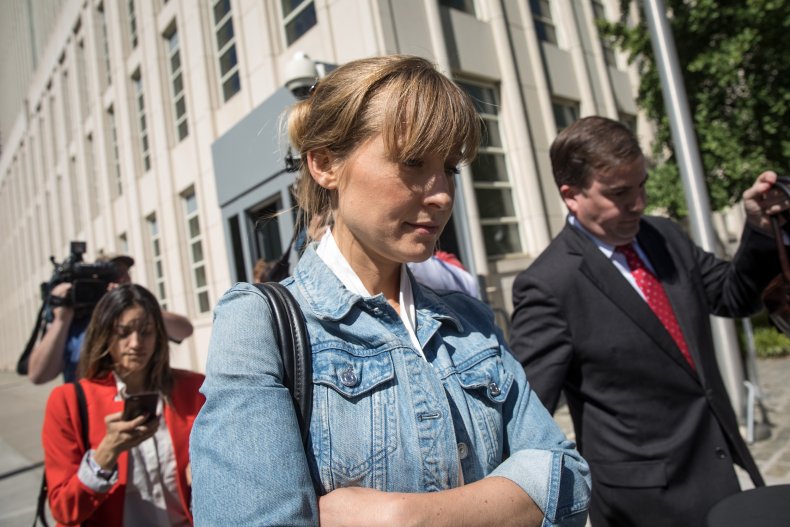 Since she was arrested in April 2018, Mack—who is best known for hr role as a young Superman's friend Chloe Sullivan on the television series Smallville—has worked for a catering company, earned an associate's degree from a community college end enrolled in a bachelor's degree program at UC Berkeley, according to the memo.
She has been on house arrest for over three years and is "earnestly dedicated to her rehabilitation," the memo says.
Mack "therefore respectfully asks the Court to permit her to continue down this path of growth and reform by imposing a sentence without incarceration, and which would permit her to continue her academic studies," it adds.
Mack also apologized for her crimes in a letter—addressed "to those who have been harmed by my actions"—that was including in the court filing.
In the letter, published in full by Variety, Mack apologized to those she exposed to Raniere, who she called a "twisted man."
She also said that being on house arrest "offered me the time and strength I needed to confront the darkest parts of myself and come to terms with the pain my actions have inflicted on so many people I love."
She wrote: "It is now of paramount importance to me to say, from the bottom of my heart, I am so sorry. I threw myself into the teachings of Keith Raniere with everything I had. I believed, whole-heartedly, that his mentorship was leading me to a better, more enlightened version of myself. I devoted my loyalty, my resources, and, ultimately, my life to him. This was the biggest mistake and greatest regret of my life."
She added: "I am sorry to those of you that I brought into Nxivm. I am sorry I ever exposed you to the nefarious and emotionally abusive schemes of a twisted man."
Mack's attorneys have been contacted for comment.