If you're not an architectural theorist (or at least an architect), you may have never heard of Austrian thinker Adolf Loos. In 1910, at the height of the Arts and Crafts movement, he declared that the decorative arts were an immoral drain on human capital that stymied progress. If society was to reach its pinnacle, he said, it would have to cast off all ornamentation in favor of a streamlined, utilitarian aesthetic.
In short, Loos would have loved Songdo, South Korea.
Loos could not have imagined smart cities, but his manifesto shaped our ideas about how they should look and behave. They should be sleek, tech-driven cities on a hill that allow for frictionless living and peak human productivity. Songdo—designed from the top-down by architects and technologists—is a high-tech utopia that offers 20 million square feet of LEED-certified glass and steel towers, generous green space and a pneumatic tube powered waste system that sends garbage straight from homes to landfills.
What it's missing is people. Just one-third of its projected 300,000 population has moved in, and residents complain that the city is cold and lonely.
I am neither an architect nor a theorist, but I am a creative person and a proponent of artificial intelligence. Not only can art and technological progress coexist, but they should move each other forward.
This is where Loos' vision fades. As intimidating as AI can be, many believe that its development can help humanity reach its fullest potential. It's already being put to work in smart city initiatives. Portland, Maine, for example, is testing an adaptable traffic light system that uses sensors and predictive analytics to moderate traffic flow. In New York, sentiment analysis software gives police departments a better sense of public trust. And Barcelona, a global smart city leader, has been using sensors to monitor air quality, irrigation, waste and more for years.
So why then shouldn't the technology being incorporated into smart cities help creative people fulfill their potential? "A smart city should be designed to solve for not just infrastructure needs, but for what kind of city citizens want to live in," James Hanusa, an artist and smart cities adviser, told me. In almost all cases, that includes a thriving cultural and artistic community.
To ensure smart cities have a human heart, urban planners should center artists from the jump by creating a welcoming, collaborative environment that provides access to the technology and infrastructure that they need to express their creativity.
Data Is the Lifeblood of AI, and Now Artists
In San Francisco, a collective known as Gray Area has been mixing art and technology since 2008. The organization hosts a gallery and studio space, an incubator for creative coders and educational programs that teach artists how to use computer science, including AI, to create digital art.
Niki Selken, creative development lead at Gray Area, said smart cities that want to help develop truly transformational art should prioritize the sharing of public data with the art community. If APIs could call on a variety of highly segmented data libraries, artists could use that information to build incredible public artworks. "The more libraries that exist to do that work for artists, the better the quality of work you'll get," she told me.
Data is the lifeblood of AI, and artists are already working with both. In New York and San Francisco, a group of artists created "City of Sparkles," an interactive virtual reality experience that used geolocation and natural language processing to curate and map Twitter messages. The collective, known as Amber Garage, then used them as data points in a dynamic rendering of the cities.
Artists plugged into the smart city systems could do so much more. To start, cities that allow artists to use sensor data could create works of art that blend into already built environments, like light and movement in public fountains that respond to coin tosses and fingers drawn through the water. AI-artists could program murals that appear, change and disappear based on the weather, the volume of pedestrian traffic or a sentiment analysis of the day's news.
What's more, artists with access to city records could model and 3D-print installations that recreate ancient cities, forgotten landscapes or simply demolished buildings in an act of public sculpture. Virtual reality could add immersive experience, transporting groups of people into another time and place. Likewise, machine learning and predictive analysis could forecast and render myriad future landscapes for any environment, giving citizens a glimpse into the future they may (or may not) want to build.
Finally, citizens could opt into personalized or interactive art experiences based on their smartphone or fitness tracker data. That crowdsourced data could be used for a real-time digitally rendered art that reflects the mood, health or general activity of the city.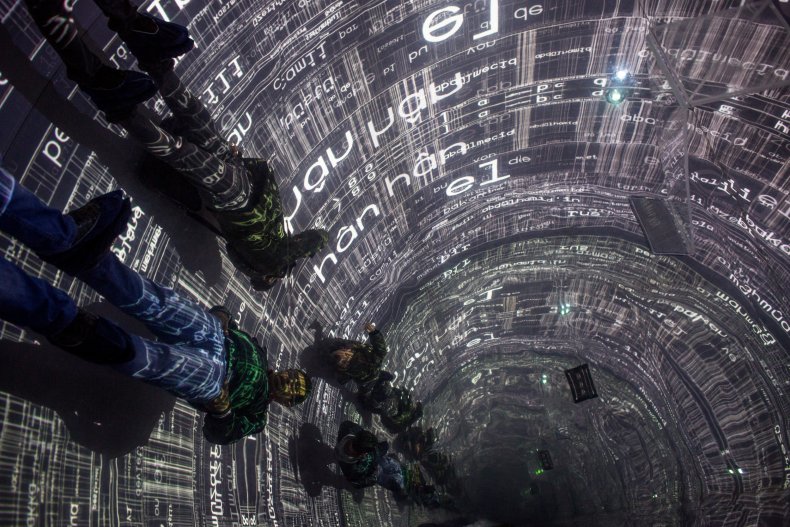 Experimental Zones
These installations can and should be installed throughout smart cities. But Hanusa, a long-time denizen of the Burning Man festival in Nevada, said cities truly dedicated to AI-enabled art could carve out Burning Man-style experimental zones, where citizens agree to a set of principles that encourages co-creation and the infrastructure reflects artists' needs for large spaces and shared tools.
In smart cities, however, those tools would include access to top technologies and a deliberately recruited population of people who can work together to create new art forms. These "smart art" zones would require access to 4 and 5G internet service, powerful servers that can support AI, AR and VR executions, and of course, the right mix of artists, creative technologists, and programmers.
Safety First
That's not to say artists shouldn't feel welcome everywhere.
"Artists tend not to be the toughest, meanest people, so we have to feel safe when we're out on the street," Mike Barlow, author of Smart Cities, Smart Future, told me. "A smart city will provide all the safety and security necessary, so people can be on the street, can interact with each other and have serendipitous conversations. Those are the things that spur creativity."
Smart city technology like 24-hour video surveillance, computer vision systems and gunshot detection software offer a level of security that makes most people feel safer, including artists. "You'll see street theater, you'll see musicians, you'll see jugglers, you'll see entertainers," Barlow said.
When Loos imagined the future, he imagined a world where our effort was collectively employed in a mad dash to the future. Anything that smacked of distraction—including the decorative arts—should be stripped away in our pursuit of progress. Indeed, smart cities have a lot to tackle: traffic congestion, crime, education and other environmentally sustainable operations. In that regard, they're the most progressive project humanity has ever undertaken. Without art, though, even the smartest city will be unlivable. Smart cities' AI underpinning can nurture the artists that live there, giving their data-driven home a human heart.
Ben Plomion is chief growth officer at GumGum, where he leads the company's planning, sales and marketing teams.
The views expressed in this article are the writer's own.