'Smart' Sex Toys Promise Women Better Orgasms—But is There Too Much Tech in the Bedroom?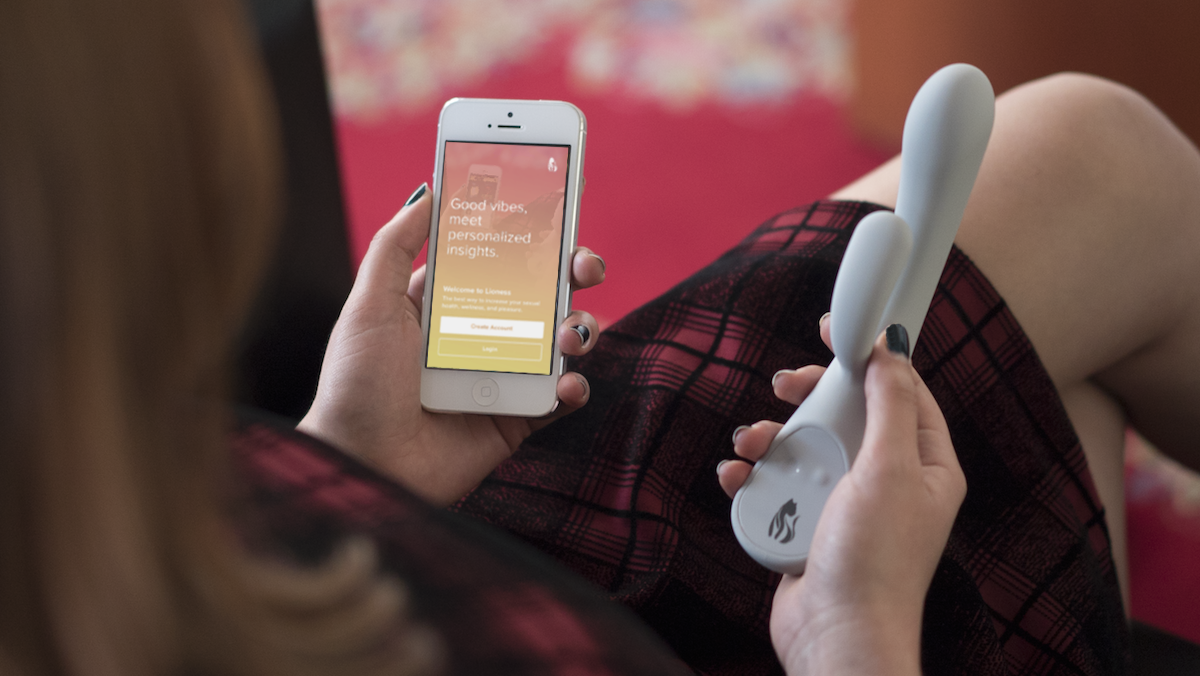 Liz Klinger reaches into her bag and pulls out the vibrator she's spent the last four years creating, a pale bluish gray device with a round head, a small, flexible clit stimulator beneath it, and two easily distinguishable buttons on the ergonomically designed handle. "We call it a vibrator for curious people," she says. "We intentionally designed it to look like a normal vibrator, but what's different is that, after a session, you can sync it up to your app and see what happened."
We are sitting on a couch in a coworking space in downtown Manhattan. All around us are dudes: There's one right behind us, hunched over his laptop at a "Thinkpod" (tech speak for a carrel desk), and a few more huddle at a long wooden table. For obvious reasons, they occasionally glance in our direction.
Klinger, 29, isn't fazed. She's the CEO and co-founder of Lioness, which she calls "the world's smartest vibrator." It's basically a fitness tracker for vaginas. The Lioness, which costs $229 before shipping, comes equipped with four sensors—two that measure pelvic floor patterns, one for temperature, another for motion—and after a session, it feeds that data into an app that helps women explore their sexual responses, learn about their orgasm patterns and spark conversation between partners.
"That's an orgasm!" Klinger says, holding up her iPhone and pointing to the tallest, widest peaks on a graph in the app. "The graph measures pelvic floor movement against time in seconds. You're able to see these different sessions over time, and you can see the sort of pattern you have during an orgasm." The app also animates users' orgasms (pulsating circles), enables women to keep a sex diary (to track alcohol or coffee consumption, or how they're feeling during a session), and even suggests new ways to use the vibrator based on one's arousal patterns compared with other users' data (as a press release put it, "Other people who have this orgasm pattern seem to enjoy tilting the Lioness upward").
The goal, Klinger says, is to help women get in tune with their bodies and their sex lives, and empower them to talk more openly with their partners about what they like.
But what, exactly, are women supposed to do with all that data? Klinger didn't quite know how to answer, which led to another question: When is there too much tech in the bedroom?
Tech Meets Sex
Lioness isn't the first time tech and kink got together. Over the last few years, investors and engineers have come out with a slew of smart products with cutesy names that aim to make sex better. The Lovelife Krush ($149) is like a FitBit for kegel exercises that comes with built-in sensors that measure the pressure, control and endurance of the pelvic floor muscles. The VaGenie, set to launch in early 2018, claims to do much the same thing. Both connect to dedicated apps. The Fiera ($199 to $249) helps arouse women by using light stimulation and gentle suction to boost blood flow and lubrication before sex. The Afterglow vibrator ($129) uses PulseWave light technology to create "enhanced natural arousal." There are also vibrators for paraplegics, the handicapped and women with arthritis.
There isn't much evidence that Silicon Valley's sex toys are any better than a standard $20 vibrator except that they have more speeds and patterns and are waterproof. There's also the issue of privacy. In 2014, the We-Vibe revolutionized phone sex with a vibrator that paired with an app, letting one person use it while the other person could control it from next door or halfway around the world. The only hitch? Standard Innovations, the Canadian company behind We-Vibe, recently settled a $3.75 million class action lawsuit alleging the company was using the app to collect data on how people used the vibrator.
Some might also consider it a crime that 10 to 15 percent of women have never climaxed. Ever. "Many women don't know where their clitoris is," says Michael Krychman, an OBGYN, sexual medicine gynecologist and AASECT-certified clinical sexual counselor who's the executive director of the Southern California Center for Sexual Health and Survivorship. Previously, he spent about a decade running the Sexual Medicine and Rehabilitation Program at Memorial Sloan-Kettering Cancer Center in New York City. "Sometimes in menopause, women tell me that orgasm used to be thunder and lightning and now it's the pitter-patter of rain. Couples experience sexual boredom… For therapeutic intervention, we may use a vibrator to help a woman get acclimated and do some sexual exploration to further enhance her sexual experience."
Whether you're buying a vibrator for therapy or pleasure, you're contributing to a multi-billion dollar business. The American sexual wellness market hit $6.13 billion in 2015, according to Technavio, and is set to reach $9.75 billion by 2020. Sex toys made up nearly half of the market in 2015, at $2.77 billion. These days, there's a toy in every shape, size and color, for every fetish or desire. They've come a long way since their first incarnation in the late 1860s and 1870s, when an American doctor named George Taylor patented a steam-powered massage and vibrating table. Next came a 40-pound battery-operated vibrator, invented by British physician Joseph Mortimer Granville in the 1880s. At the turn of the century, the vibrator became the fifth home appliance to be electrified, following the sewing machine, fan, kettle and toaster. At the time, vibrators were generally seen as a cure-all for a panoply of lady problems, from hysteria and fainting to gynecological complaints and anxiety, and most of them looked more like implements of destruction than anything remotely related to pleasure.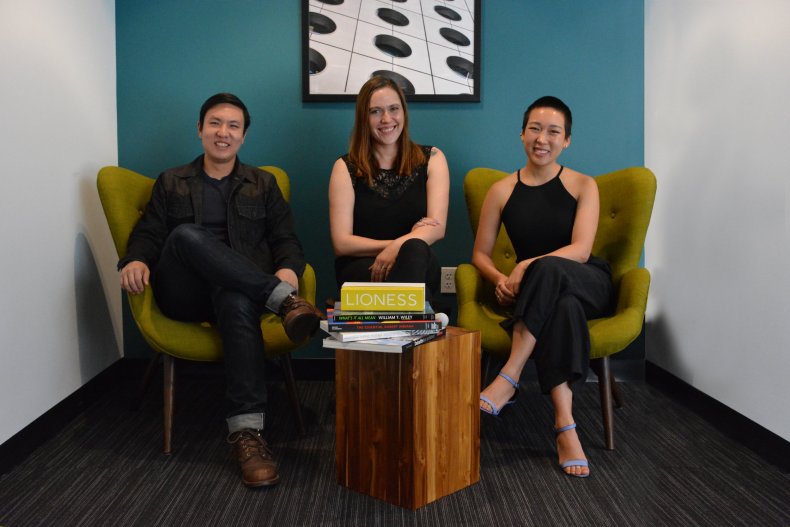 By the 1920s, women's magazines and household publications started touting the vibrator's almost mythical ability to "reliev[e] all suffering. Cur[e] disease." In 1968, Hitachi launched its Magic Wand, a 1.2-pound, 12-inch personal massager that wound up doubling as a beloved sex toy. In the last few decades, vibrators finally came out of the shadows of Americans' sock drawers and into plain view. In 1989, Meg Ryan brought down a New York City diner in When Harry Met Sally with a stupendous (but fake) orgasm. A moment later, an older, gray-haired woman sitting nearby told her waiter, "I'll have what she's having," reminding all of us that feeling good isn't just for the young. In the early 1990s, women swapped their Tupperware parties for sex toy parties. And in 1998, America's favorite foursome—Carrie, Samantha, Charlotte and Miranda—spent an entire episode of Sex and the City extolling the virtues of a new vibrator with a clitoral stimulator shaped like bunny ears. As Charlotte famously said, "It's pink—for girls!"
Today, technology has changed the way women and men have sex and experience pleasure, whether solo or with partners. About half of all women use vibrators, according to a nationally representative study of 3,800 women in the U.S. between 18 and 60, and those who do are more likely to have gynecological exams, perform self-exams and embrace a positive approach to intimacy. But do we really need to chart our orgasms and compare them over time? Do we really need Lioness?
"For women who just don't have much awareness of their own sexual arousal, or trouble reaching an orgasm, maybe a device like this might be a biofeedback thing that would help them," says clinical psychologist and sexual health pioneer Leslie Schover, who founded Will2Love, a digital health company for cancer patients and survivors struggling with sex and fertility problems. "But for a normal woman, I don't know what value it is. Are you sitting there using the vibrator, thinking, 'I wonder what the app is doing right now?' That's just promoting performance anxiety. Women are always busy during sex thinking, 'Am I pleasing my partner? Am I too slow reaching my orgasm?'"
Schover adds, "It's a myth to think you could find, through patterns of muscle tension, a sexual experience you'd want to have every time… What makes a great sexual experience is about what your partner is like, or, if you're by yourself, what your fantasy is like—not whether your muscle contractions last longer."
Krychman agrees. In our phone interview, he starts reading aloud from the Lioness website: "By tracking patterns in your arousal and orgasm over time, you can learn what works for your body." He pauses, then adds, "I don't think you need technology for that. You need communication between two humans. This could create a lot of stress in a relationship! The human experience is about interaction and feedback with a person. Will people become obsessed with the temperature of their vagina and how it changes? Is [intimacy] becoming too mechanical? … If anything, it's going to dehumanize the whole concept of sexuality."
Yet sex and tech are already intimately involved. Today, one in five people use apps to learn about sex, according to a new study that surveyed more than 140,000 people using the period-tracking app Clue. The study also found that 40 percent of respondents say they've used an app to track their sexual activity (that's more than the 34 percent of people who used apps to hookup or find dates). The bad news for Lioness? Only 3 percent used an app to track sexual satisfaction.
Creating a 'Better Experience'
But Klinger is banking on the fact that women want new ways to explore their own sexuality.
She grew up in a conservative family in the midwest, and after studying studio art and philosophy at Dartmouth College, got a job in finance and moved to New York City. A year later, she quit and started hosting sex toy parties. "I remember this college party where someone asked, 'What is the g-spot? Where is mine?' Another time at a bachelorette party, the bride-to-be said, 'I've never had an orgasm before. I don't know how. I've tried different things. Do you have any suggestions? Is this normal?' It was eye-opening for me."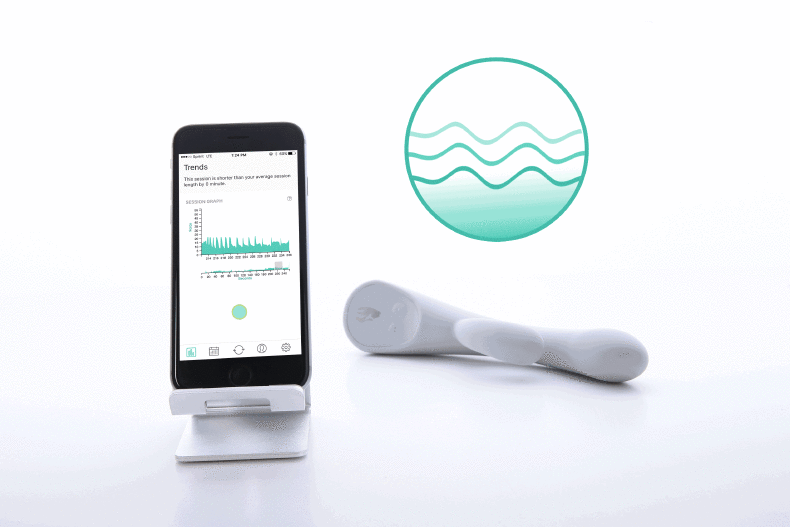 Klinger bought her first vibrator when she was in high school, with cash, from a dark CD shop. "It was a very uncomfortable experience. This wasn't Babeland, where they have a whole selection of nicely designed, higher end vibrators. It was all plastic stuff, jelly looking things and clit stimulators," she says. "I wanted to make a vibrator to create a better experience. It wasn't about being faster or stronger. It was about improving the design, the way I purchased it, and the experience I had."
With the We-Vibe lawsuit hanging over the smart vibrator market, Klinger says she and her team have created a system where users have complete privacy and any data that's collect remains anonymous. "In addition to all of the normal best practices in handling sensitive data, we've intentionally set it up so even we cannot see who someone is when accessing the data on our side," she says. "We've compared it to taking buckets of users' data and pouring it into a data 'lake' stripped of personal information. Once it's there, it's hard to figure out what water used to go in what bucket."
But the question remains, what exactly do you do with all that data, other than look at graphs and animations of your own orgasms? "It's more about getting people information about themselves that they never had access to before," Kingler says. "Later on, the vision is to use this information to provide more personalized guidance and knowledge, and to push the boundaries of our broader understanding of female sexuality."
Joanne Lo, 31, who works for the military and lives in the Bay Area, volunteered as an early Lioness beta tester. "Lioness makes the process of understanding yourself a little less scary for women." For the 10 to 15 percent of women who've never had an orgasm—for that bride-to-be who told Klinger she'd never had an orgasm and asked for help—Lioness might just be what the doctor ordered.