The voting machine company Smartmatic has filed a lawsuit against MyPillow CEO Mike Lindell, alleging that he spread election lies about the company as a marketing tool to sell more pillows.
Lindell, a conspiracy theorist who rose to prominence as a trusted friend of former President Donald Trump, became a lead voice pushing Trump's baseless claims that an unprecedented, nationwide conspiracy of voter fraud "stole" the 2020 election from Trump.
While Lindell has pushed numerous conspiracy theories to explain Trump's loss, he has mainly focused on voting machines from Smartmatic and Dominion Voting Systems. He has alleged that these machines switched votes from Trump to current President Joe Biden.
However, Smartmatic's voting machines were only used in one U.S. county during the 2020 election, Los Angeles County, Forbes reported. Neither Lindell nor anyone else has yet to produce concrete evidence proving that the machines flipped votes during the election.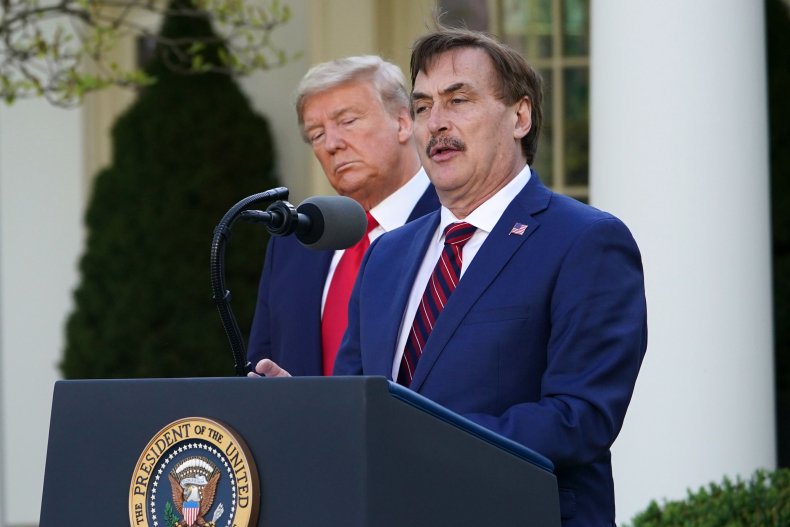 In its lawsuit, Smartmatic's attorneys point out that Lindell has published content repeating his claims about their machines on three different websites: FrankSpeech.com, MichaelJLindell.com and LindellTV.com. Each of these websites contains promotion codes and advertising for MyPillow and Lindell's autobiographic book, What Are the Odds? From Crack Addict to CEO.
In some of his media appearances accusing Smartmatic of voter fraud, Smartmatic lawyers' added, Lindell also promoted his book or ran advertisements for MyPillow.
"Mr. Lindell went from a limited public profile, to being known by the millions of
individuals across the country who support President Trump," the lawsuit states. "President Trump's supporters showed tremendous appreciation and admiration for what he was saying. This fame was a motivating factor for Mr. Lindell."
"Mr. Lindell understood he could not change the outcome of the election with his disinformation campaign," the lawsuit continues. "He could, however, gain a bigger audience for his book and gain more purchasers for his MyPillow products."
To back up their claims, Smartmatic's lawsuit contains images of social media commentators thanking Lindell for his continued support of Trump while also pledging to buy more of his products.
Smartmatic has filed similar defamation lawsuits against former Trump attorneys Sidney Powell and Rudy Giuliani, as well as Fox News, Newsmax and One America News Network.
Smartmatic alleges that the defamatory statements repeated by the defendants made its brand "synonymous with election fraud" among politicians and members of the general public.
Smartmatic's lawsuit against Lindell seeks damages, relief and legal fees to be determined by a jury.
Lindell is also being sued for $1.3 million by Dominion Voting Systems for allegedly making similarly defamatory claims.