Smartphone Wars: What to Expect from the iPhone X2, Google Pixel 3 and OnePlus 6T
The Samsung Galaxy Note 9 has officially been unveiled, meaning the next stop on the smartphone calendar is Apple's iPhone.
And there's more than just Apple to be seen this year. Countless leaks have been showing off Google's Pixel 3 and there's a new mock design (100 percent unconfirmed) of the OnePlus 6T.
Meanwhile, other companies are releasing flagship devices, including Oppo, Motorola and HTC—which recently reported its worst sales figures since pre-Android days. Nokia's Matrix phone even made its way over to the U.K. this month.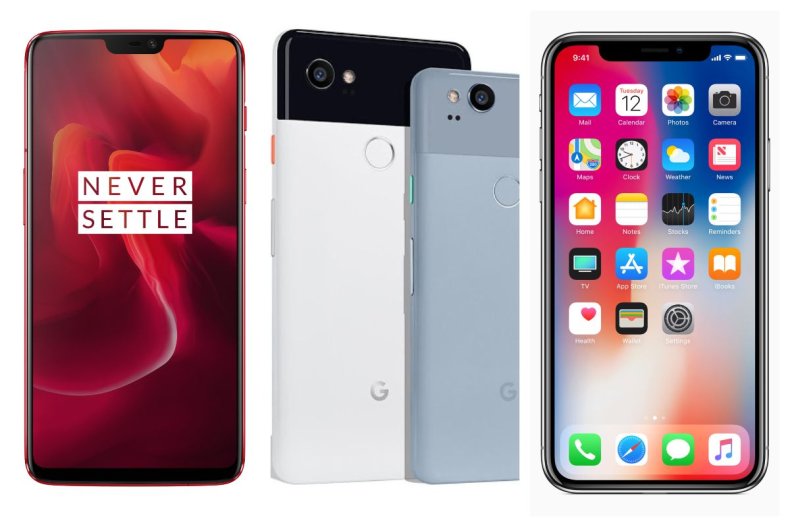 But forget all of those, because the big three we want to see come from Google, OnePlus and of course, Apple. Here is everything we (think) we know about the upcoming devices.
Google
Anticipation of the new Google Pixel 3 (and presumably 3 XL) has been low, thanks to a series of bizarre leaks. A video from XEETECHCARE shows the phone being unboxed and turned on. The first thing everyone will mention is the size of the phone's notch—a standard of all non-Samsung phones in 2018, apparently.
The notch looks to be almost twice the depth of the iPhone X's and it is coupled with a significant chin on the bottom of the screen.
Leaked specs show a SnapDragon 845 processor, 4 GB of RAM and an enormous 6.7-inch screen. The processor sounds good, but the 4 GB of RAM may struggle to hold up to 2018 standards. Google also apparently reduced the size of the battery from 3,520 mAh to 3,430. A strange decision given the bigger screen will require more juice.
Lastly, some good news, it looks like Google will ship the phone with a pair of USB-C headphones. An accessory it chose to omit from the Pixel 2, despite removing the headphone jack at the same time.
OnePlus
Despite the OnePlus 6 only just launching in May, rumors have already begun of a OnePlus 6T for later this year. OnePlus has released two phones a year since 2015, starting with the OnePlus 2 and OnePlus X.
Earlier this week, Oppo revealed its new R17 phone, which may have the best answer for the front facing camera bezel yet. As pointed out by BGR, OnePlus regularly mirrors the design of Oppo phones since they are owned by the same parent company.
Still, this video mockup shows off the potential OnePlus 6T in black, white and red. It also shows a triple camera setup on the back along with a fingerprint scanner beneath the display.
How much of this is true though, remains to be seen…
Apple
It seems like someone could write a book each year about iPhone leaks, and 2018 is no exception. Three new models seems to be on the cards:
An incremental upgrade of the iPhone X with a 5.8-inch, OLED screen.
The 6.1-inch, LCD budget iPhone X.
A 6.5-inch, OLED screen iPhone X Plus.
Apple is also rumored to be introducing a bevy of new colors for its 2018 range of iPhones. According to high-profile leaker Ming-Chi Kuo, via 9to5Mac, Apple plans to release the budget version of the iPhone X in blue, orange, red, grey and white.
The move would represent a similar strategy to the iPhone 5C range from 2013—which debuted a plastic design with green, yellow, white, pink and blue backs. Many expected the 5C to be a budget iPhone, but Apple launched the device at just $100 less than the flagship iPhone 5S, prompting buyers to pay extra for premium features.
Forbes reported in June that the iPhone X Plus will ship with three rear-facing cameras. After Huawei introduced three rear-facing cameras on the P20 Pro, Apple will be looking for ways to climb back to the top of the smartphone camera rankings. It also faces stiff competition from the Google Pixel 3, however that is still expected to have just a single rear-facing camera.